These Churro Cheesecake bars are going viral on TikTok for two reasons; they are delicious and easy to make.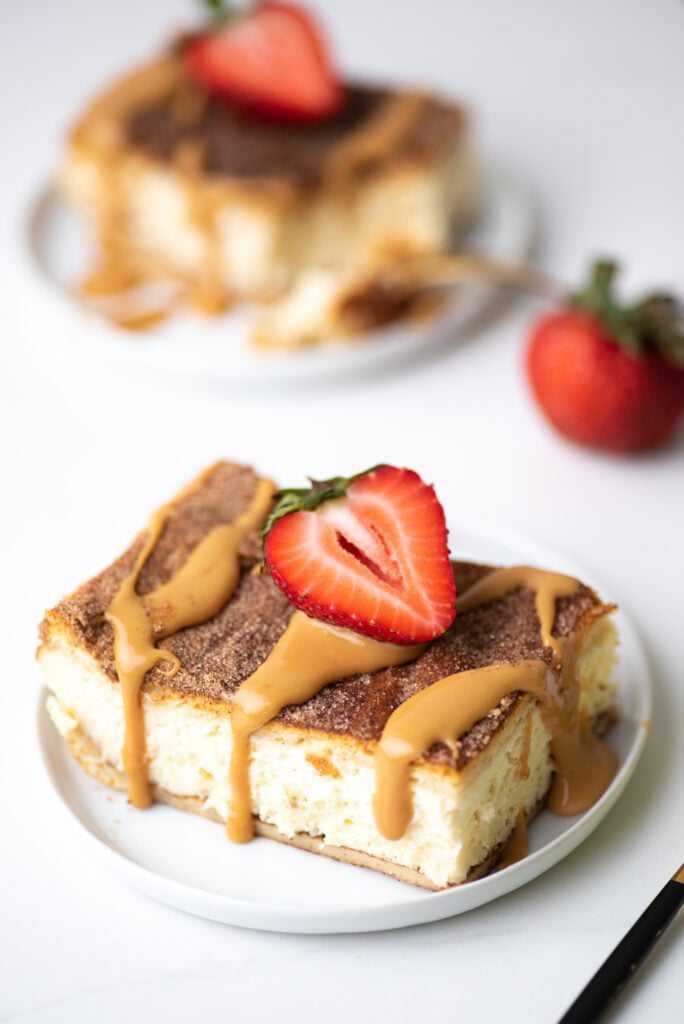 Why you will love this recipe
You will love these churro cheesecake bars because unlike churros, these require no deep frying which will save you a lot of work.
They use simple, easy-to-get ingredients and they are pretty easy to make. They mash the delicious flavor of classic cheesecake with the warm spices of churros.
Ingredients
For this recipe you will need 2 rolls of crescent roll dough, cream cheese, eggs, condensed milk and cinnamon sugar.
For garnish these go really well with fresh berries and a drizzle of dulce de Leche or chocolate sauce.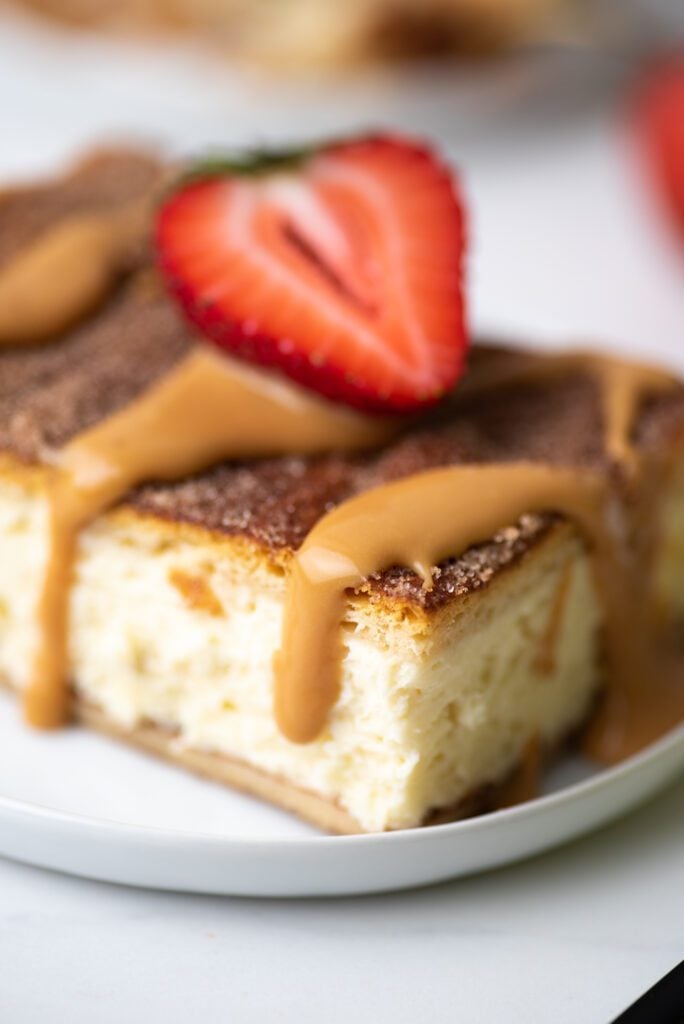 Crescent roll dough: this is going to be the base of our cheesecake and also the top. We sprinkle it we a generous amount of cinnamon sugar to create that churro flavor.
Cream cheese: any brand works, make sure the cream cheese is at room temperature to avoid lumps.
Eggs: We use just one egg in this recipe and the cheesecake filing is creamy and smooth.
Condensed milk: this ingredient adds sweetness and a great smooth texture to our cheesecake filling.
Vanilla extract: I like to use vanilla bean paste but vanilla extract works. It balances out the sweet flavor.
Cinnamon sugar: To make the cinnamon sugar we combine white sugar with ground cinnamon. This ingredient is key in this recipe, adds flavor and a lovely color to the top of the cheesecake bars, be generous with the cinnamon.
Toppings: I love dulce de Leche because it's a classic dipping sauce for churros, but chocolate sauce is a close second. Berries such as strawberries add a nice burst of freshness.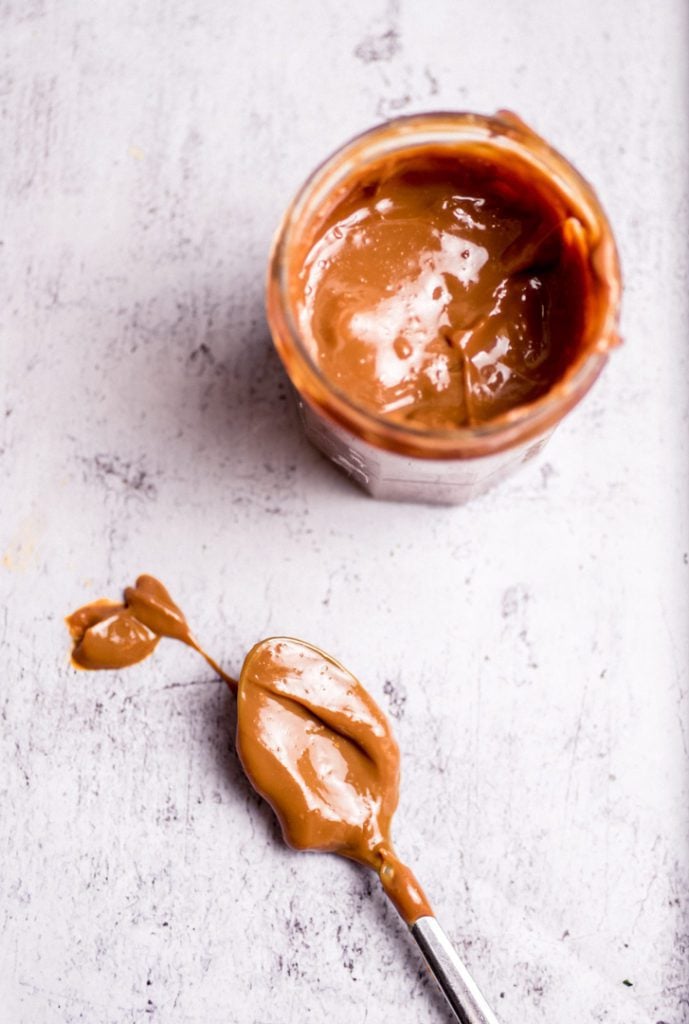 Step by Step instructions to make Churro Cheesecake
First make the cheesecake batter by mixing the cream cheese, egg, condensed milk and vanilla until well incorporated.
In a separate bowl, combine the sugar and cinnamon and whisk until well combined. Reserve the mix.
Grease a pan with spray oil and add about 2 tablespoons of the cinnamon sugar to the bottom, top with one layer of crescent roll dough and sprinkle another 2-3 tablespoons of cinnamon sugar on top.
Add the cheesecake batter on top of the crescent roll dough and even the batter out with a spatula.
Add the second layer of crescent roll dough and sprinkle with 3 tablespoons of cinnamon sugar, making sure is well distributed on top of the dough.
Bake the cheesecake for 35 minutes, remove from the oven, cool down and then refrigerate for at least 1 hour before slicing.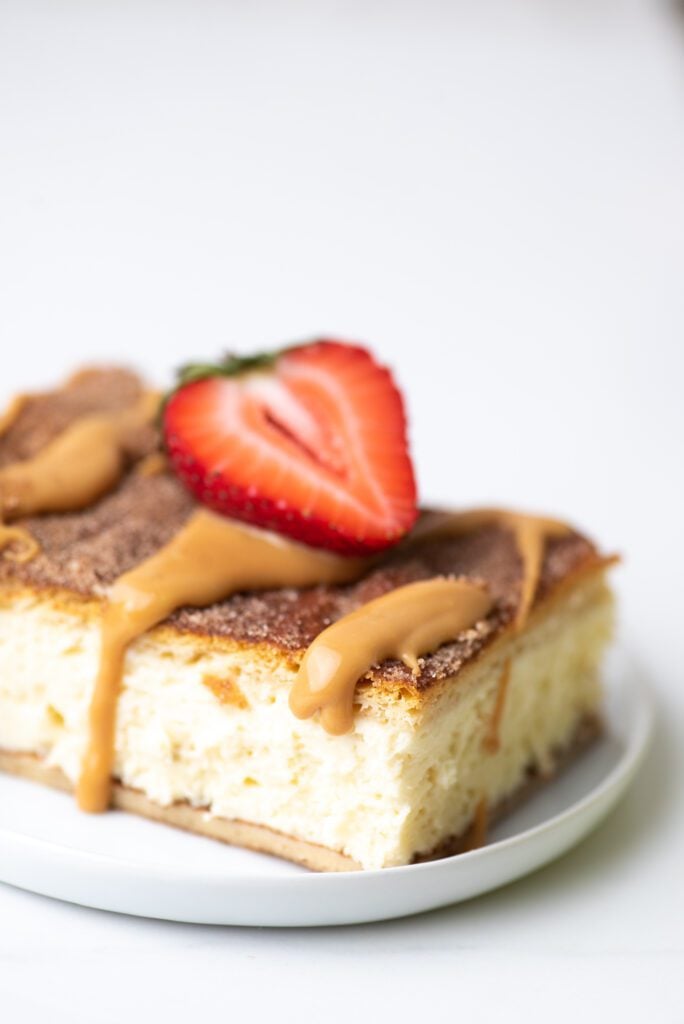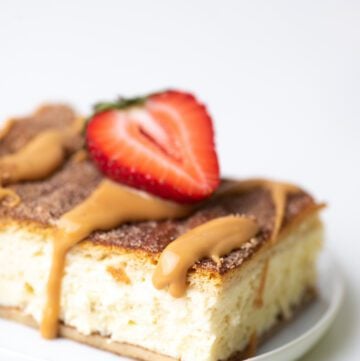 TikTok Churro Cheesecake
These Churro Cheesecake bars are going viral on TikTok for two reasons; they are delicious and easy to make.
Ingredients
16

ounces

cream cheese

2 blocks 8 oz each

1

can

condensed milk

1

egg

2

cans

crescent roll dough

⅓

cup

white sugar

2

tablespoons

ground cinnamon

1

tablespoon

Dulce de Leche

2

tablespoons

heavy whipping cream

6

strawberries

1

teaspoon

vanilla extract
Instructions
Preheat oven at 375 Fahrenheit

In a bowl mix the cream cheese, egg, condensed milk and vanilla extract. Beat until creamy and well incorporated. Use a stand or hand mixer

16 ounces cream cheese,

1 can condensed milk,

1 egg,

1 teaspoon vanilla extract

In a separate bowl, mix the sugar and cinnamon and whisk until well incorporated

2 tablespoons ground cinnamon,

⅓ cup white sugar

Grease a baking dish with spray oil and add 2 tablespoons of the cinnamon sugar mix

Unroll a sheet of crescent roll, place it in the baking dish and top it with 3 tablespoons pf the cinnamon sugar

Add the cheesecake batter and smooth out with a spatula

Add the second sheet of crescent roll dough and top with 3 tablespoons of cinnamon sugar

Bake in the oven for 35 minutes. Remove and let it cool down completely

Refrigerate for at least one hour before slicing

Make the dulce de Leche topping by whisking the heavy whipping cream and dulce de leche.

Drizzle over the sliced cheesecake and top with a strawberry slice