This Air Fryer Lemon Garlic Asparagus recipe is a quick and easy vegetarian side dish that can be at the table in less than 20 minutes.
With only a couple of simple ingredients, this recipe is full of flavor, quick to make and it's a perfect side dish to any weeknight dinner.
This side dish is low carb, keto-friendly and can be made whole30 compliant (use a whole30 approved oil).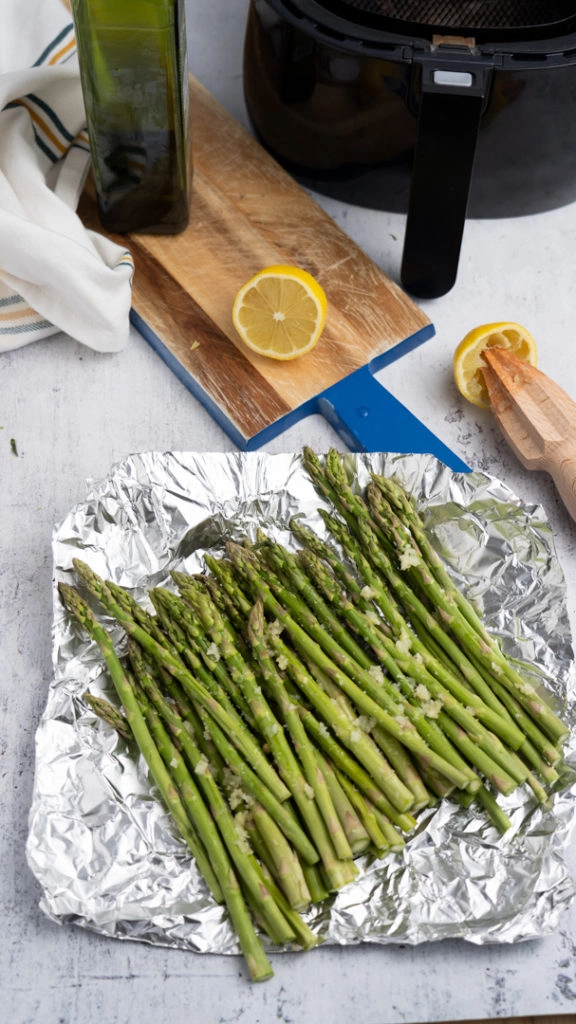 How long to cook Asparagus in the Air Fryer?
Depending on how thick your asparagus is, I cook mine in the Air Fryer for 4-6 minutes. I like to use fresh asparagus and I like them al dente, meaning they have a bit of a crunch to them when you take a bite.
What Temperature Do You Cook Asparagus in the Air Fryer?
I cook my asparagus at 375 degrees in the air fryer. This way I ensure that the asparagus is cooked through but keeps their bright green color and the a bit of the crunchy texture when you bite them.
Making asparagus in the air fryer has quickly become my favorite way to prepare this veggie, it turns out perfect every time and its, quick, easy and hassle-free.
How to season asparagus?
In this recipe I'm using fresh lemon and garlic to pack a punch of flavor in the asparagus. Salt and pepper are always a must but the possibilities are endless.
If you don't have fresh lemon and garlic handy, you can also use a dry rub or seasoning of your preference to enhance the asparagus flavor.
How to Store Asparagus?
I like to store my fresh asparagus in a mason jar with water to keep them fresh in the fridge for as long as possible.
Once cooked, I use an air tight container to keep them in the fridge for up to two days. They can also be stored in a ziplock bag and saved in the freezer.
I usually don't like reheated asparagus because the heating process will make them very soggy. Instead, if I have leftover roasted asparagus, I like to make this vegan asparagus soup.
Air Fryer Garlic Lemon Asparagus
Ingredients
1

bunch

Asparagus

1

lemon

½

tablespoon

olive oil

Salt and pepper to taste

3

cloves of garlic

minced

Trader Joe's Garlic Lemon Seasoning

Optional
Instructions
Cut the ends of your asparagus bunch

Mince the garlic and juice the lemon

Add the garlic and lemon to your asparagus and drizzle with olive oil

Add salt, pepper and the garlic lemon seasoning if using

Transfer to a ziplock bag and let it rest for 5 minutes

Line your Air Fryer basket with aluminum foil

Place the asparagus in the air fryer and cook at 375 degrees Farenheit for 4 minutes