This Creamy Roasted Asparagus Soup is a great option for a weeknight dinner when you want something light but filling.
Asparagus offers a lot of benefits including lots of fiber and it's known as a great diuretic.
Whenever I cook asparagus, I love to make soup with the leftovers since asparagus is a vegetable that does not reheat well. Once reheated, it becomes soggy.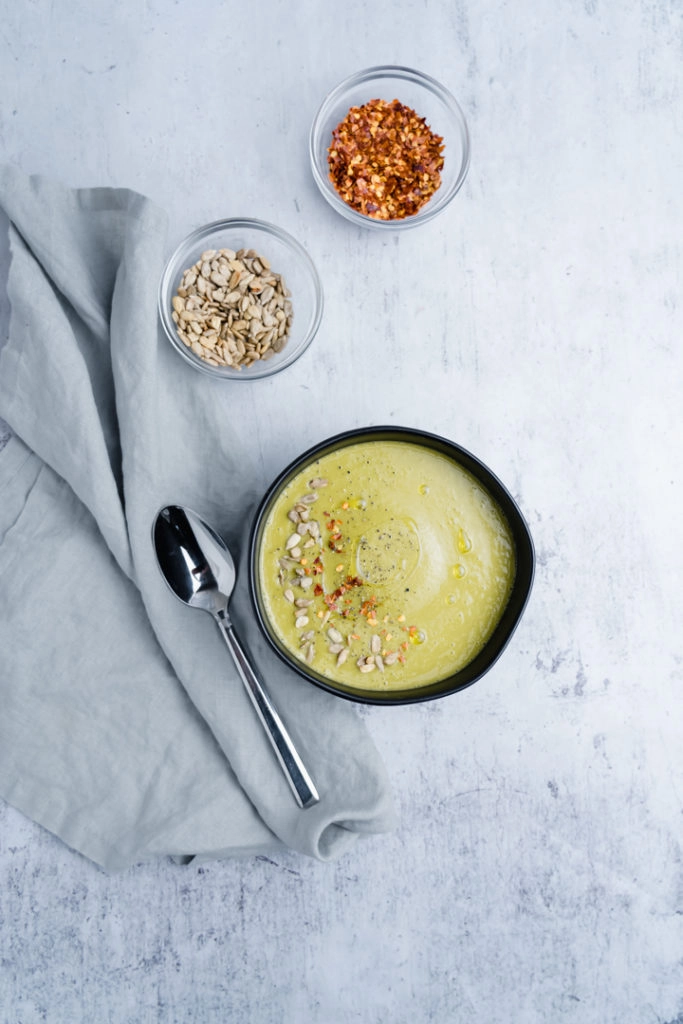 How to roast asparagus?
My favorite way to eat asparagus is roasted in the Air Fryer. I use lemon, garlic, olive oil, salt, pepper and my favorite Trader Joe's seasoning (Garlic Lemon).
Then I roast it in the Air Fryer for about 4 minutes. Once the asparagus is ready I make my vegetable broth for the soup.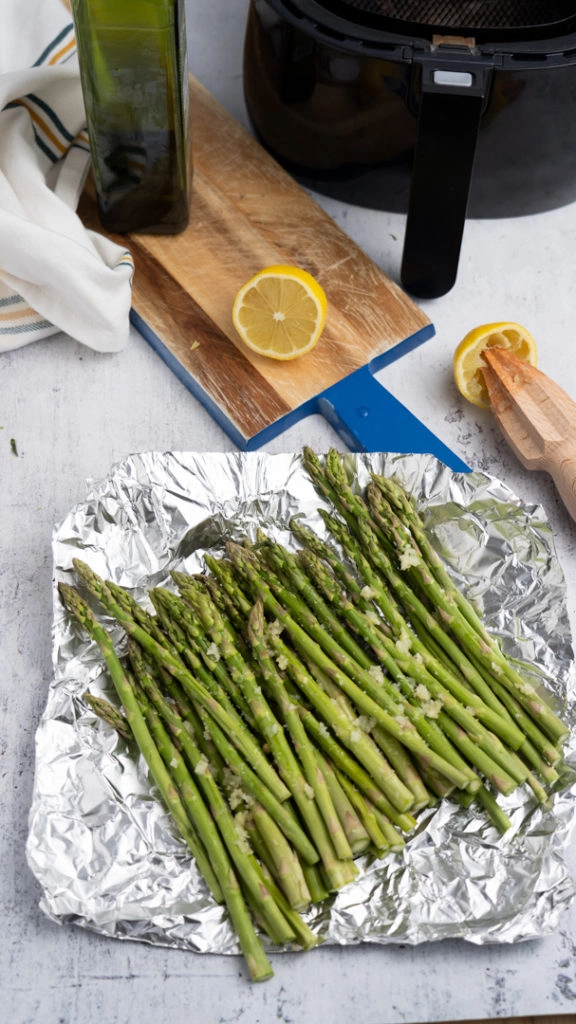 Vegetable Broth
I like to sauté onion, celery and carrots to create a deep flavor in my broth. Then I add a cup of store-bought veggie broth but you can also make your own with your favorite veggetables.
After the broth simmers, I add half a head of cauliflower and cook it until tender. This is the secret to a super creamy, vegan-friendly Asparagus Soup.
Soup toppings
I love to top this vegan soup with some chili flakes to add a bit of heat and sunflower seeds to add texture. I drizzle it with olive oil and but you can add any toppings you'd like.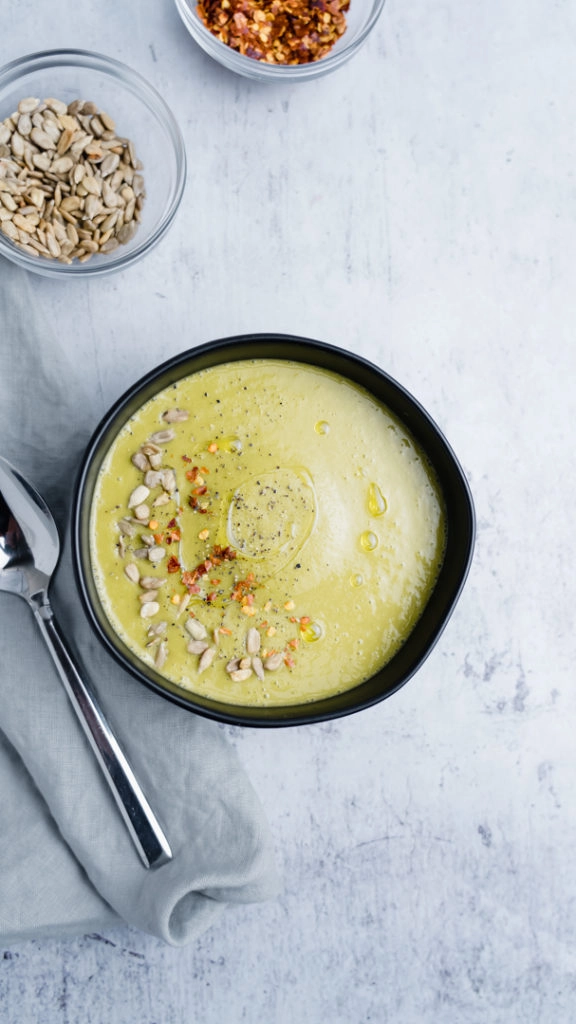 Of course if you are not vegan you can add cream, cheese or any other topping to the soup. Keeping its base vegan makes this soup very versatile and both vegans and non vegans can enjoy it!
Creamy Roasted Asparagus Soup
Vegan-friendly asparagus soup
Ingredients
1

bunch of Asparagus

3

garlic cloves

minced

1

lemon

salt and pepper to taste

2

cups

vegetable broth

½

head of cauliflower

1

celery stalk

chopped

¼

white onion

chopped

½

cup

carrots

chopped

1

tablespoon

olive oil
Instructions
Cut the ends of the asparagus

In a ziplock bag add the garlic, lemon, salt and pepper and the asparagus and drizzle with olive oil. Let them marinate for 10 minutes

In a saucepot add the olive oil, onion, celery and carrots and saute for 5 minutes until fragrant.

Add the vegetable broth and the cauliflower and simmer until cauliflower is tender (about 8 minutes) and remove from the heat.

In the air fryer, roast the asparagus at 375 Fahrenheit for 4 minutes. If you don't have an air fryer, saute the asparagus in a pan for about 5 minutes in medium-high heat.

Add the roasted asparagus to a blender with the vegetable broth and cauliflower, blend until smooth.

Serve with your favorite toppings and drizzle with olive oil.