Mashed potatoes are a staple holiday dish. They are a must for Thanksgiving dinner, Christmas and Easter Brunch.
These mashed potatoes are creamy, comforting and delicious.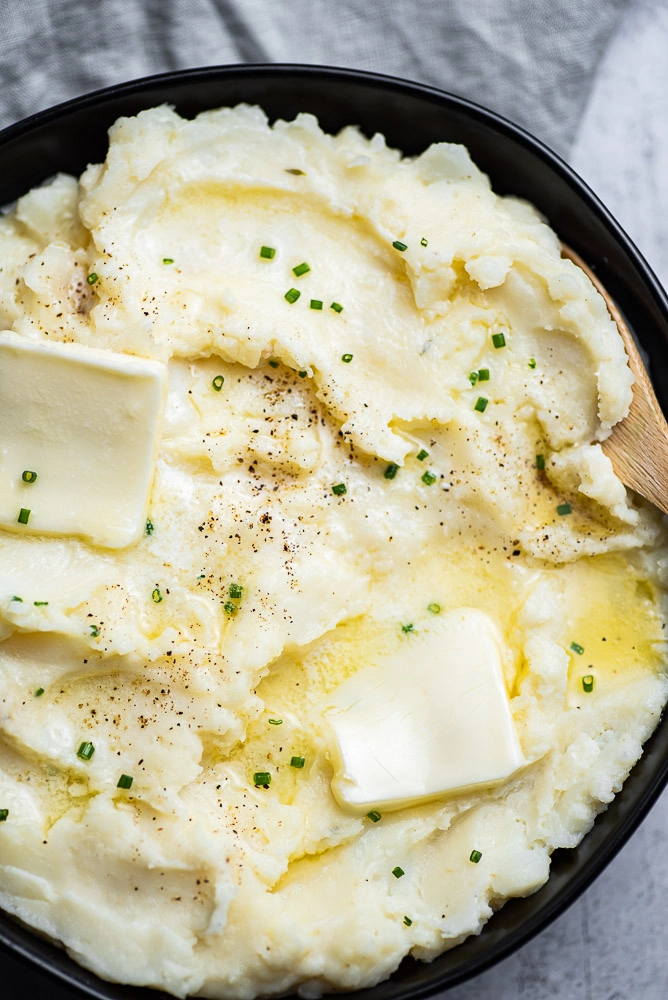 Making mashed potatoes is easy and there are many ways to get similar results. Some people like to use milk and butter, sour cream, cream cheese, heavy cream...there are so many possibilities. My favorite is cream because it adds depth of flavor (can be infused with herbs or garlic) and smooth texture.
What is the best potato for mashed potatoes?
Starchy potatoes like Yukon or Russets are my preferred type of potato because of their rich flavor and texture. If using other type of potato (waxy potatoes) you need to be careful not to over mix them, otherwise they get a glue-like texture.
You want to use a starchy potato because the starch will absorb the fat from the butter and/or cream and create a smooth texture, therefore a creamier potato.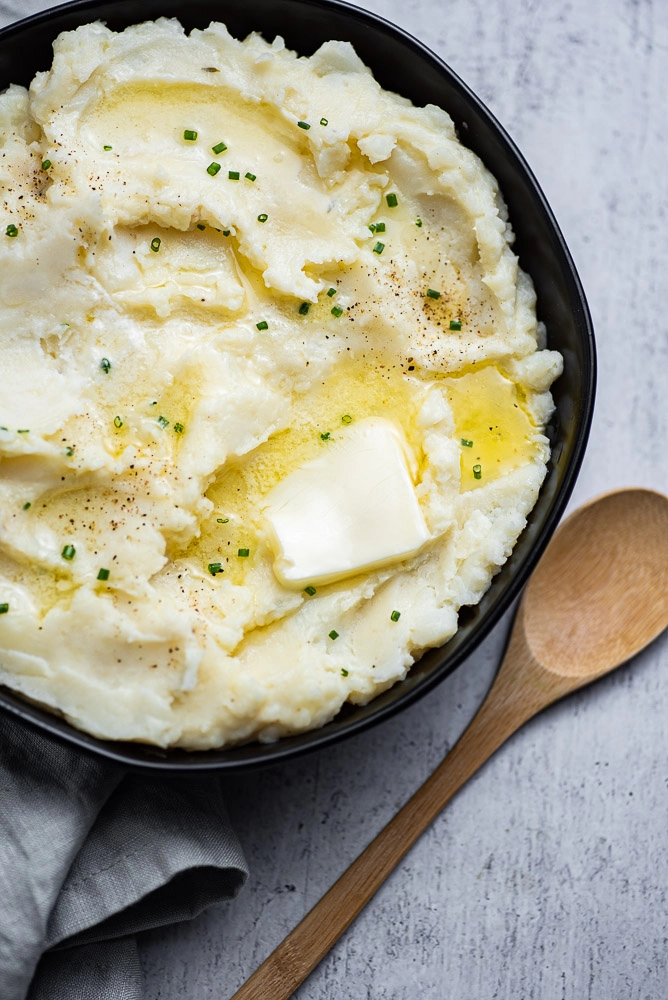 What is the best tool to use
Some people like to use a potato ricer which makes them really light and fluffy, but you can also use a regular potato masher and work the potatoes until they have the texture you desire.
How to store leftovers
The best way to store leftover mashed potatoes is in a tightly sealed container. Because they contain diary and fat and they can easily pick up other flavors from the fridge.
To reheat, use a splash of cream and microwave in 30 second intervals and mixing them until they are warm.
Tips and tricks for the best mashed potatoes
Cook the potatoes really well: If potatoes aren't cooked through, you will get a lumpy texture in your mashed potatoes.
Use a good quality butter and cream for best flavor.
Only use a potato ricer or masher. Do not use other gadgets like a food processor or blender because they will turn gluey.
Start the potatoes in cold water and use medium-low heat, this allows for a more even cooking from the inside out.
Don't over mix because the starches in the potato will break down and create a sticky texture
Use enough fat in the form of butter and/or cream, about 25% fat ratio to achieve the creamiest mashed potatoes
Should you peel the potatoes?
That is personal preference. If potatoes are not peeled they will have more texture so if you are looking for the smooth type of mashed potatoes, I highly recommend that you peel the potatoes.
What to add for flavor
If you want to elevate your mash, you can use aromatics such as sage, thyme or rosemary. I personally love roasted garlic to infuse a delicious, earthy flavor to my potatoes. Sour cream adds a bit of tang and you can definitely add a layer of cheese such as parmigiano for more flavor and texture.
If you are looking for other great side dishes for your holiday celebrations, check out this creamy corn recipe.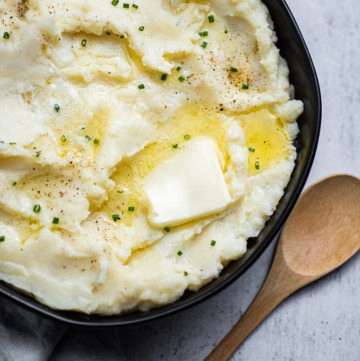 Mashed Potatoes
Ingredients
3

lbs

Yukon gold potatoes

1

stick

unsalted butter at room temperature

1

cup

heavy whipping cream

at room temperature

Salt to taste

White pepper to taste
Instructions
In a large pot add water and the potatoes and cook in medium heat

Once cooked through, remove from the heat and drain water

With a potato smasher, mash the potatoes without over working them

In a sauce pan, melt the butter and add the heavy cream and mix until just warm

Add the warm cream to the potatoes and gently mix until well combined

Garnish with chives or parsley