This Mexican Street Corn Recipe or Elote (pronounced EH-LO-TEH), is just like traditional grilled corn on the cob but with lots of fun toppings.
I love Elote! It is sweet and smokey, creamy and cheese all at the same time. The traditional Elote is smothered in a mayo and/or Mexican table cream, Cotija cheese, a sprinkle of paprika and garnished with cilantro.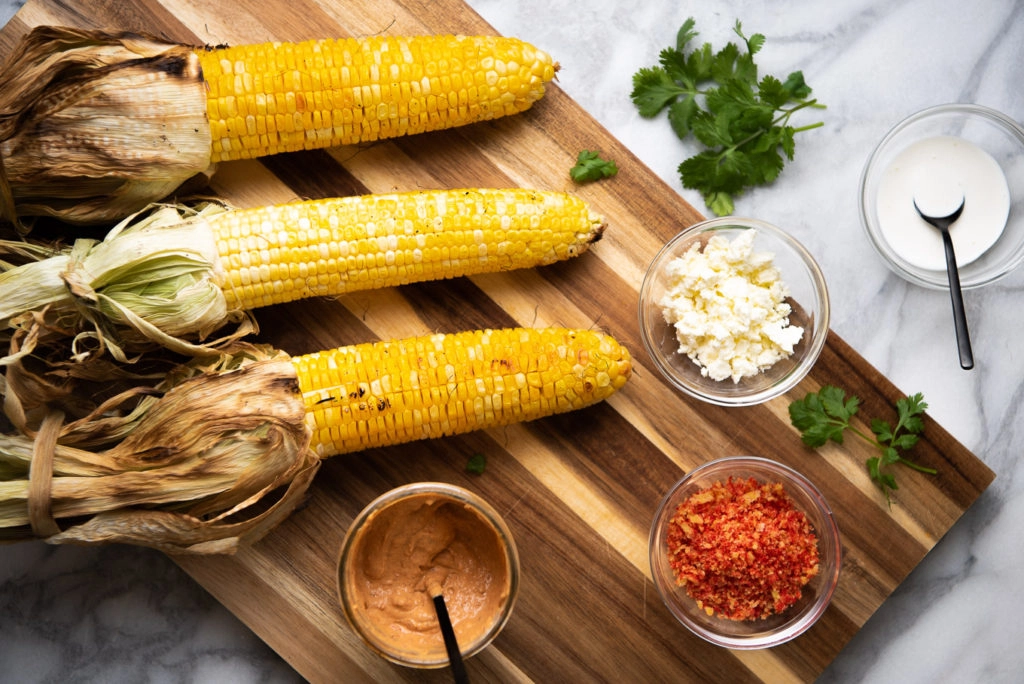 Cooking Method
The best way to cook Elote is on the grill. You want little bits of charred corn to add flavor and texture but it's totally up to you.
You can butter up your corn before grilling it for extra flavor and to avoid dryness but if looking to save some extra calories, you can just grill the corn bare.
I cooked the corn on high for about 10 minutes, making sure to rotate the cobs often to cook evenly. I decided to leave the corn husk pulled back just for the looks but you can de-husk and discard the leaves.
Elote toppings
Elote is traditionally topped with a mayo and cream blend, Cotija cheese and sprinkled with paprika. You can play with these base ingredients and create your own version.
This recipes uses homemade chiplote mayo, cream, feta cheese and hot Cheetos but feel free to substitute for ingredients that won't be spicy at all (regular mayo and skip hot Cheetos).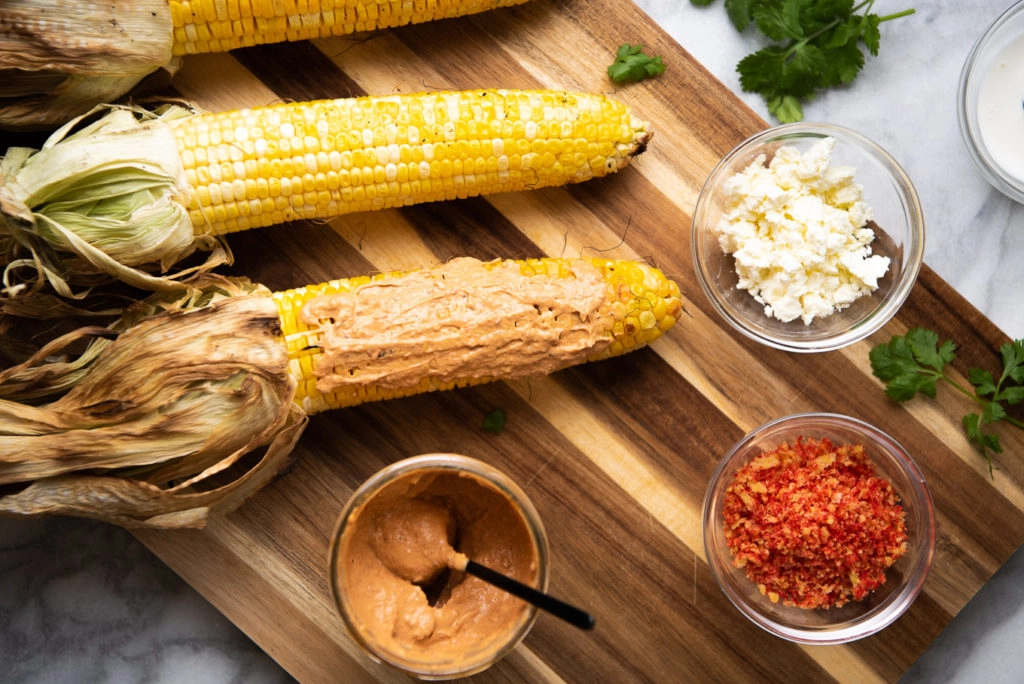 As far the cheese topping any crumbly cheese will work; queso fresco, feta and even parmesan would be a great substitute for the original Cotija cheese.
Cotija cheese is a Mexican cow's milk cheese that is produced in the region of Michoacan, in the town of Cotija. It is a white, dry and firm cheese that is particular for its crumbly texture and salty flavor.
Unlike melty cheeses that are bases for sauces and dips, Cotija cheese is an enhancer of flavor; it is best used as a topping to elevate a dish and a slight salty touch. It is great on Elote (of course!), beans, soups and tacos.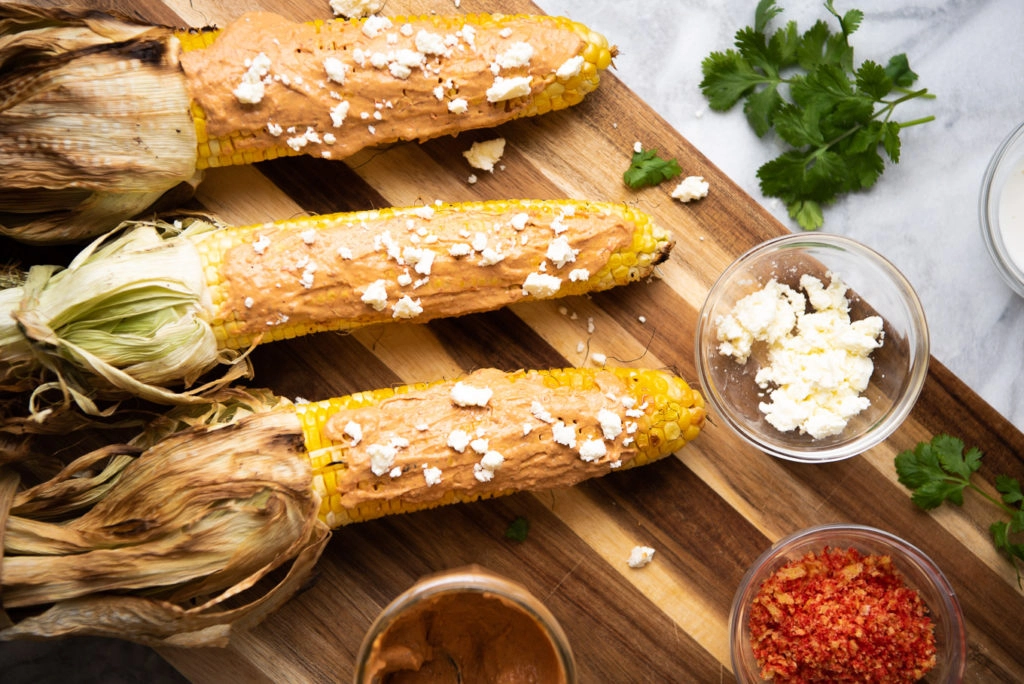 Ways to serve this recipe
This is a side dish that will go great with any meal, specially if made on the grill! I love to eat this with my chicken tacos. It is also delicious its own as a snack and we love to make it on game days.
If you don't feel like eating the corn off the cob, you can shave the kernels once the toppings are added and make Elote en vaso which literally means "corn in a cup".
This Elote recipe is best when fresh. I highly recommend eating it immediately after adding the toppings. I do not recommend re heating the Elote once the toppings have been added.
If you plan to make extra corn for left overs, leave the corn without toppings until you are ready to eat it. The corn can be re heated in the microwave or the air fryer.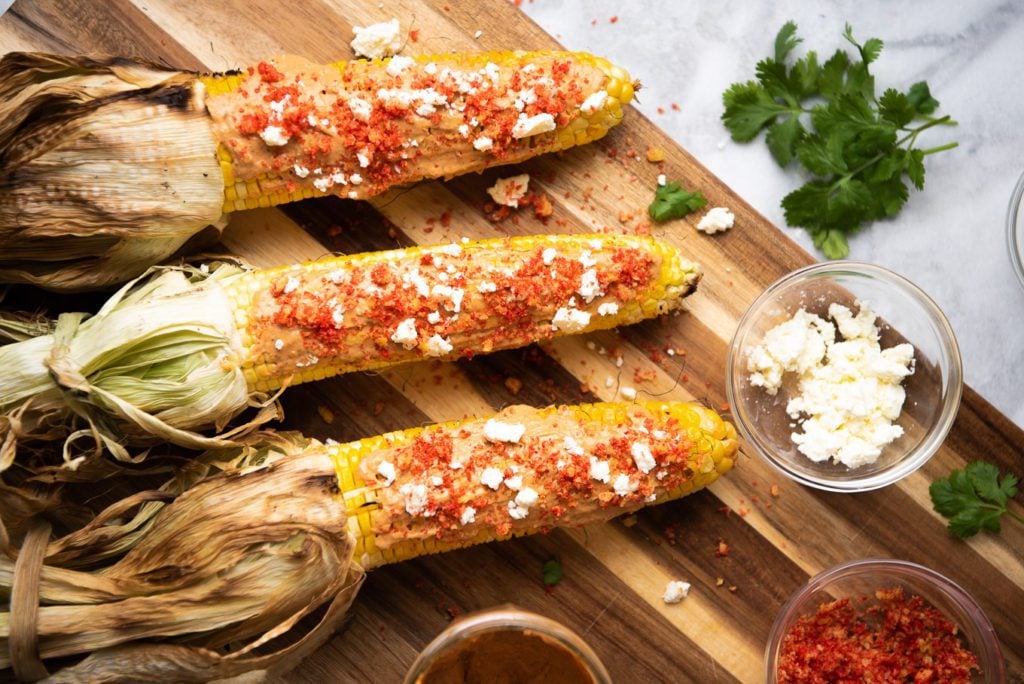 Last but not least I like to top my Elote with Crema Fresca (table cream) and garnish it with cilantro for pop of fresh flavor.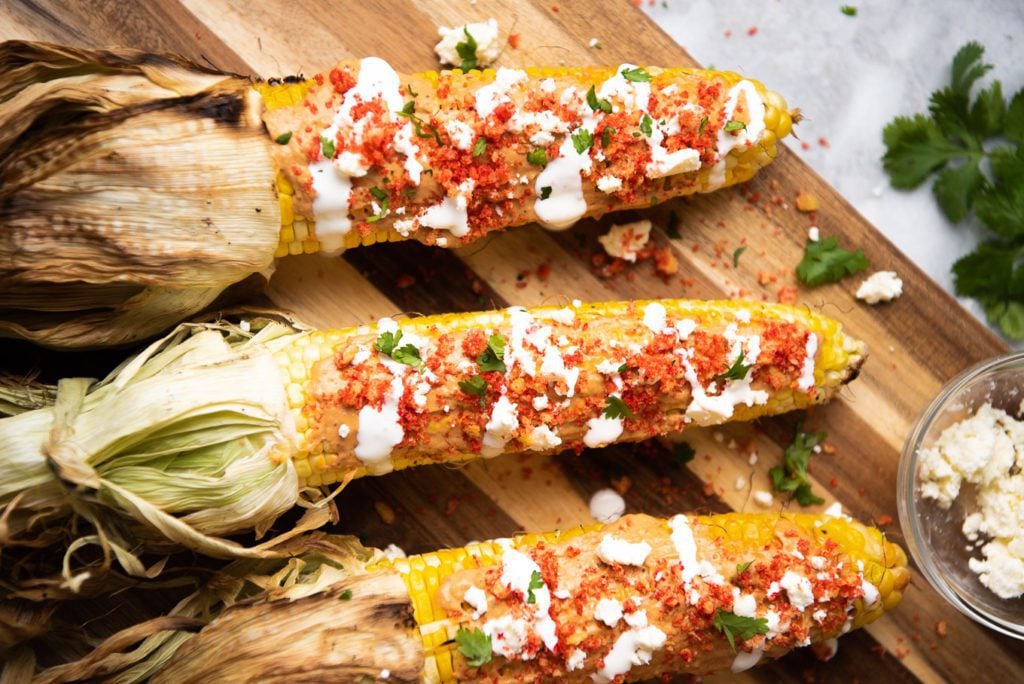 Mexican Street Corn Recipe
This Mexican Street Corn Recipe or Elote (pronounced EH-LO-TEH), is just like traditional grilled corn on the cob but with lots of fun toppings.
Ingredients
4

Corn

½

cup

Chipotle Mayonnaise

recipe follows

¼

cup

Mexican Table Cream (Crema)

¼

cup

crumbled feta

¼

cup

crushed hot Cheetos
Instructions
Chipotle Mayo
Combine ½ cup of regular mayonnaise and add 2 chipotles in adobo. Mix with an immersion blender and set aside.
Corn
Grill the corn on medium to high heat for about 10 minutes, rotating it on every side

Remove the corn from the heat and coat it with the Chipotle Mayo

Add the crumbled feta sprinkling it evenly

Add the table cream drizzling with a spoon

Add the crushed hot Cheetos
Nutrition
Calories:
242
kcal
Carbohydrates:
2
g
Protein:
2
g
Fat:
25
g
Saturated Fat:
5
g
Polyunsaturated Fat:
13
g
Monounsaturated Fat:
5
g
Trans Fat:
1
g
Cholesterol:
28
mg
Sodium:
346
mg
Potassium:
14
mg
Fiber:
1
g
Sugar:
1
g
Vitamin A:
127
IU
Vitamin C:
1
mg
Calcium:
72
mg
Iron:
1
mg