This Chicken Carciofi is a delicious combination of artichokes, tomatoes and tender chicken in a wine and lemon sauce.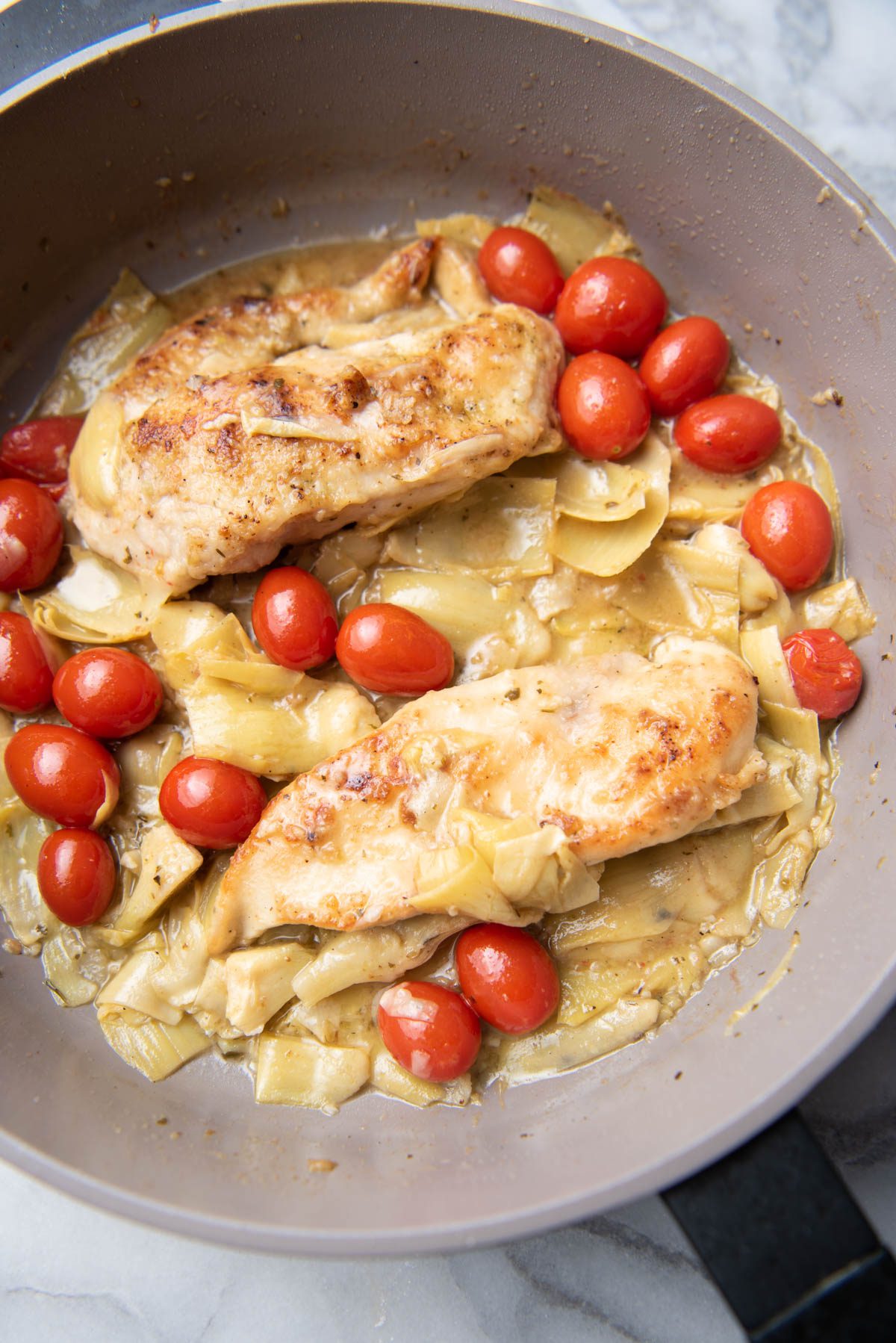 This dish is inspired by the classic Carciofi alla Romana or Roman artichokes which are cooked until tender in a delicious wine, butter and herb sauce.
Why you will love this recipe
In this recipe there are a lot of amazing flavors that combined together make this a decadent dish.
The chicken is cooked until golden brown perfection. Then we make a pan sauce that builds in layers of flavor until all the ingredients are married together in one pan.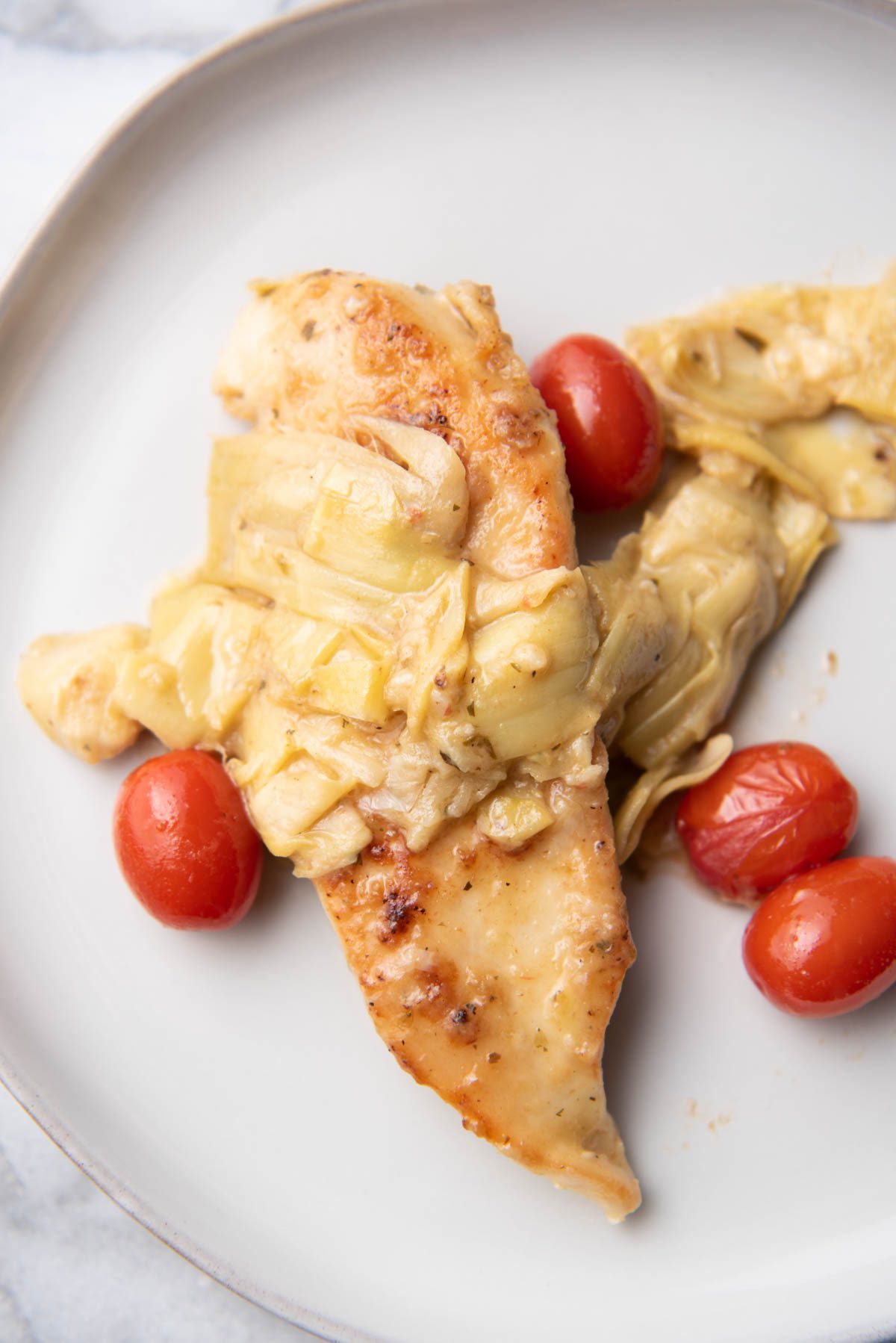 If you love wine-based sauces you will love this chicken recipe. It is an impressive dish and it is incredibly easy to make.
Chicken Carciofi (Chicken and Artichokes)
To make this chicken recipe you will need a handful of fresh, every day ingredients that are easy to find if you already don't have them handy.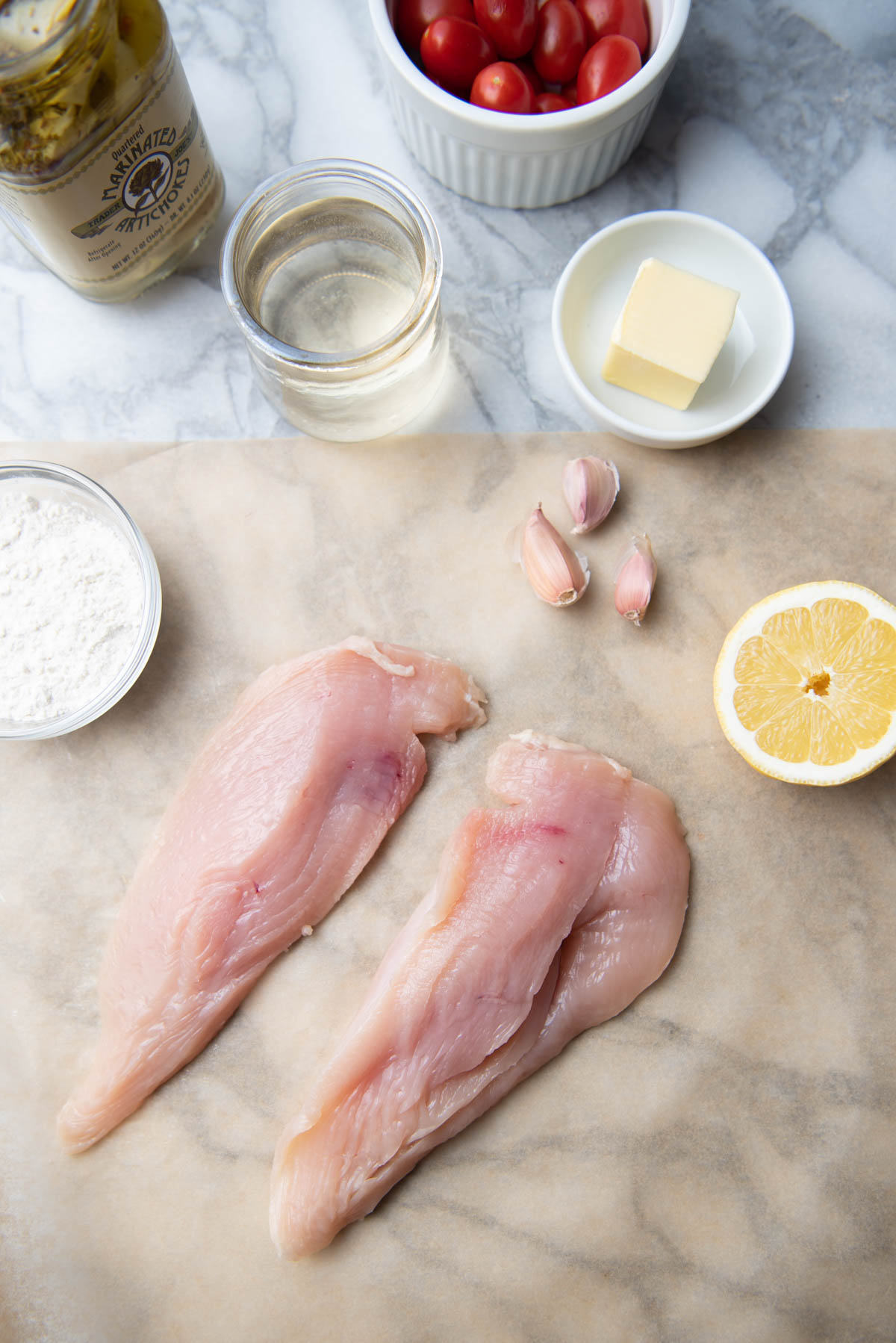 Chicken breast: I love making this dish with chicken breast, but you could also use boneless chicken thighs.
Artichokes: We used chopped marinated artichokes in this dish. The addition of the herbs that already come with the artichokes is a great way to add flavor
Butter: Unsalted butter allows us to control the flavor in the recipe and it is what gives the pan sauce a velvety finish.
Cheery tomatoes: They add a pop of freshness and a tart flavor note to the recipe.
Garlic: Always a must in any pan sauce. Its aroma goes perfect with the white wine and lemon in our pan sauce.
White wine: Use a dry white wine such as a Pinot Grigio.
Lemon juice: This adds an acidic note that is much needed in this sauce to make it light and refreshing.
Cooking instructions overview
Here is a quick glance at how to make this recipe. The full detailed instructions and step by step with expert tips are in the recipe card at the end of this post.
First we will cook the chicken that we have previously dredged in flour with salt and pepper.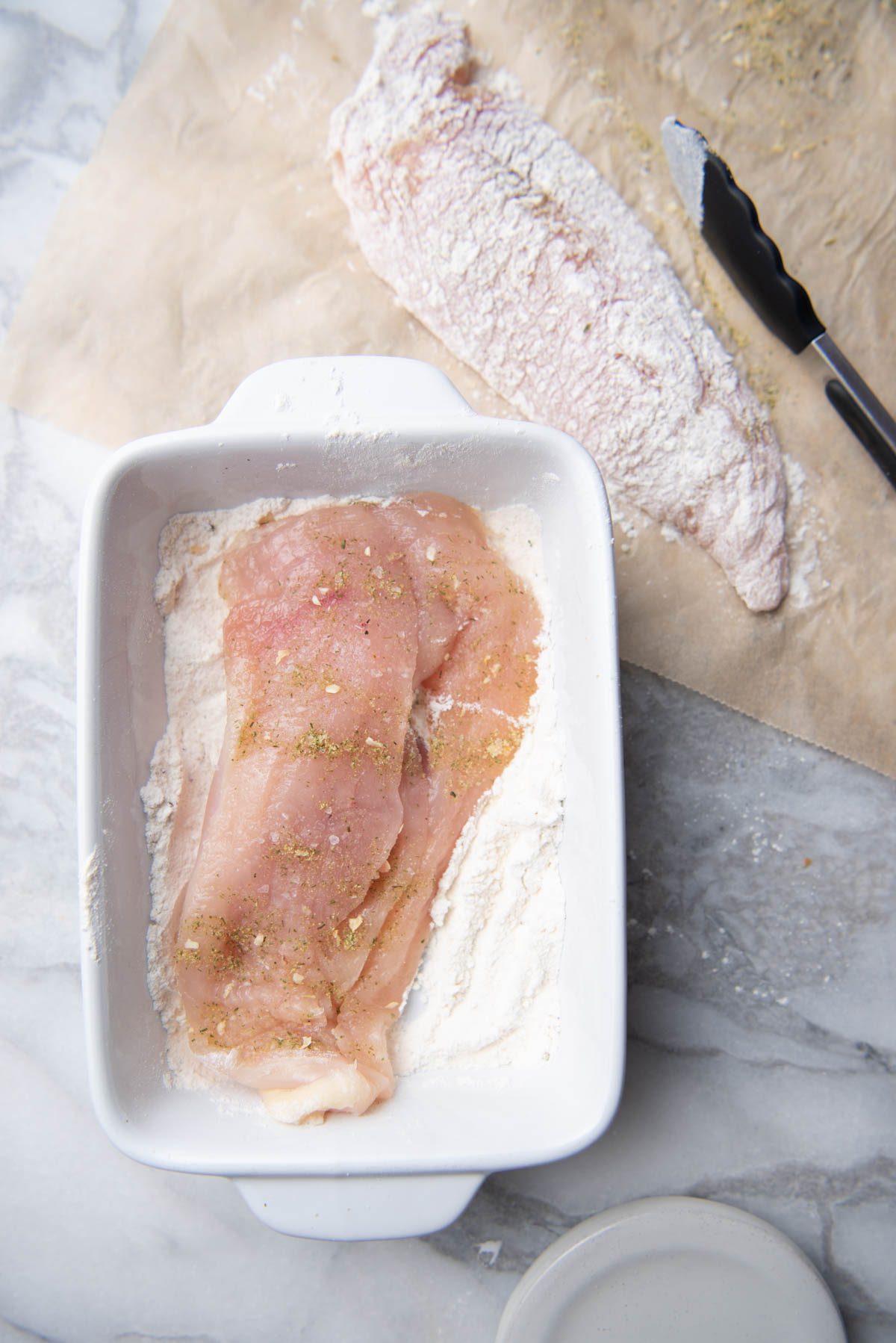 We will use one pan to cook the chicken and build the sauce in the same pan. After the chicken is cooked we will add butter and garlic and sauté it until fragrant.
Then we add the tomatoes and artichokes and cook them until the tomatoes start to burst.
Add the wine and cook until it reduces and the sauce starts thickening. Lastly we add a splash of lemon juice and add the chicken back in the pan and cover it with the sauce.
What to serve with this chicken
This chicken is perfect over a bowl of short cut pasta such as orzo.
Any pasta with a shape such as shells will carry this sauce well.
You can also serve this chicken carciofi over a bad of mashed potatoes and add a side of broccoli for a delicious and hearty meal.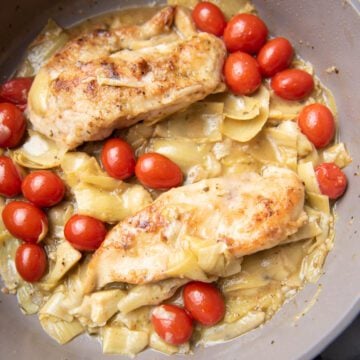 Chicken Carciofi
This Chicken Carciofi is a delicious combination of artichokes, tomatoes and tender chicken in a wine and lemon sauce.
Ingredients
2

boneless, skinless chicken breasts

3

ounces

Marinated artichoke hearts

½ a jar or about 1 cup

1

cup

Cherry tomatoes

½

cup

All-purpose flour

3

Tablespoons

Avocado oil

2

Tablespoons

Unsalted butter

3

Garlic cloves

minced/grated

Garlic salt

optional

Salt and pepper to taste
Instructions
Slice the chicken breast in half lengthwise. I like to season them with a bit of salt and pepper and same garlic salt.

Add the flour into a large plate and season with salt and pepper.

Dredge the chicken in the seasoned flour, shaking off the excess.

In a large fry pan over medium-high heat add the avocado oil until it is hot. Add the chicken and cook until golden brown on both sides. About 4 minutes per side.

Transfer the chicken to a plate and set aside.

In the same pan you cook the chicken (do not wipe clean) add one tablespoon of butter and add the minced garlic and cook for 1 minute until fragrant.

Add the artichokes and tomatoes and cook for 2-3 minutes.

Add the wine and scrape up any browned bits on the bottom of the pan.

Bring to a simmer until the wine reduces by half. Add the chicken back in and gently simmer.

Add the remaining 1 tablespoon of butter. Coat each piece of chicken with the sauce until the chicken is warmed through, about 2 minutes and serve.