This easy Crab and Mango Kani Salad is a Japanese inspired recipe that combines imitation crab, julienned veggies and mango with a spicy creamy mayo dressing.
This salad is fresh, crunchy, creamy and spicy. You can customize it to your own taste and add ingredients or omit those you don't like.
This Japanese inspired crab salad is perfect for a summer lunch or as a dinner starter. Kani is the Japanese word for crab, this salad features crunchy vegetables and in some cases fruit.
We are adding mango to this salad for a touch of color and some sweetness.
Real Crab or Imitation Crab
In Japanese, Kani is crab (real crab) and Kanikama refers to imitation crab meat.
You can make this salad with either crab or imitation crab. Imitation crab is a white fish cake with added ingredients and flavorings that resemble real crab.
Tips for the best Kani Salad
If possible, use real Japanese mayo. This mayo uses a higher ratio of egg yolks which makes it creamier and richer in flavor.
Japanese mayo also contains rice vinegar, which gives it a nice hint of sweetness. You can find Japanese mayo at Asian grocery stores or online. The most famous brand is Kewpie.
It is important to keep in mind the ratio of ingredients vs dressing in this recipe. This is a creamy salad but it should not be overly rich.
Serve this salad chilled and mix in the dressing right before eating it. That way your veggies will be nice and crunchy.
What to Serve with Kani Salad
This salad goes well with sushi and asian inspired dishes. It is good as a stand alone meal or as a side dish or starter.
This salad is delicious in poke bowls, as a sushi topping or it can be added to shredded lettuce or lettuce cups.
This recipe would also be fantastic with with this Salmon Bowl.
Ingredients in this Recipe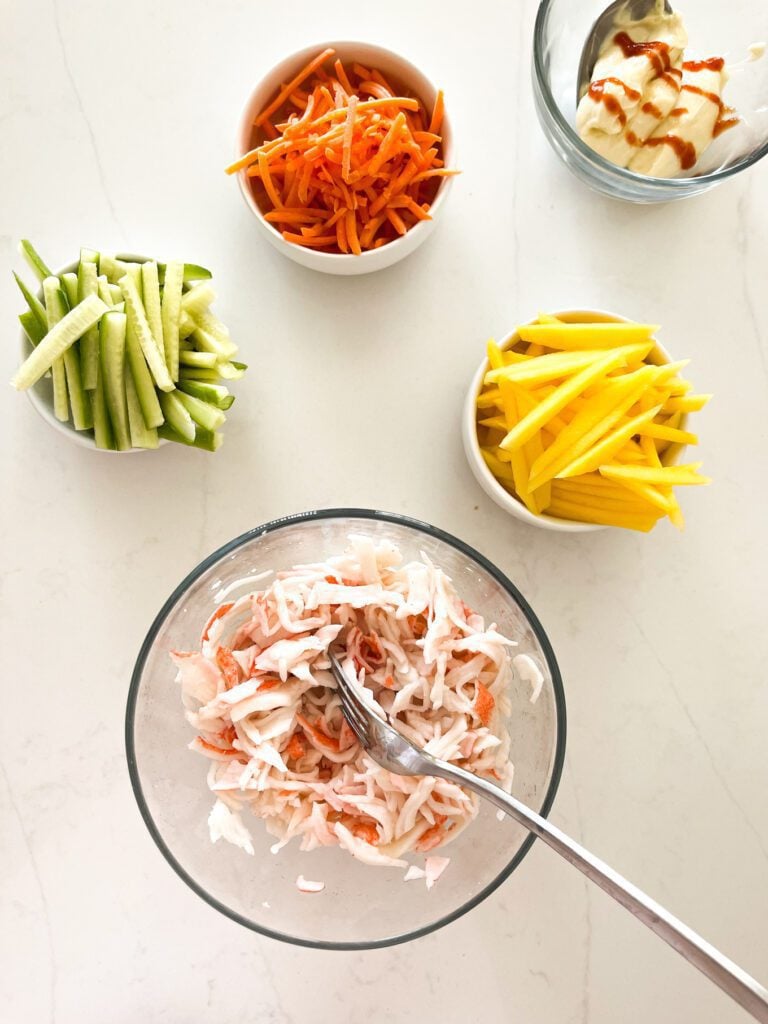 Crab: In this recipe I'm using imitation crab, but if possible use real crab (canned works well).
Mayonnaise: I used avocado mayonnaise. Any mayo will be fine for this recipe if you can't source Japanese mayo.
Sriracha: I added a hint of this chili paste sauce to add heat to this salad. Use sparingly so the salad is not too spicy. You can omit this ingredient if you don't like spicy food.
Cucumbers: I used English cucumbers cut into matchsticks. I like these cucumbers because they are extra crunchy and they work well in the salad.
Carrots: Use any variety of carrots you like. I used shredded carrots to make it easy but if you have whole carrots, just cut them into small matchsticks.
Mango: I added mango for a hint of sweetness. Use a mango that is firm to the touch, if your mango is to ripe it will be difficult to cut into matchsticks. I like to use mango Tommy if available.
Black sesame seeds: This ingredient adds visual appeal and texture to the recipe.
Avocado: I love avocados so I added avocado slices to this recipe, this ingredient is optional.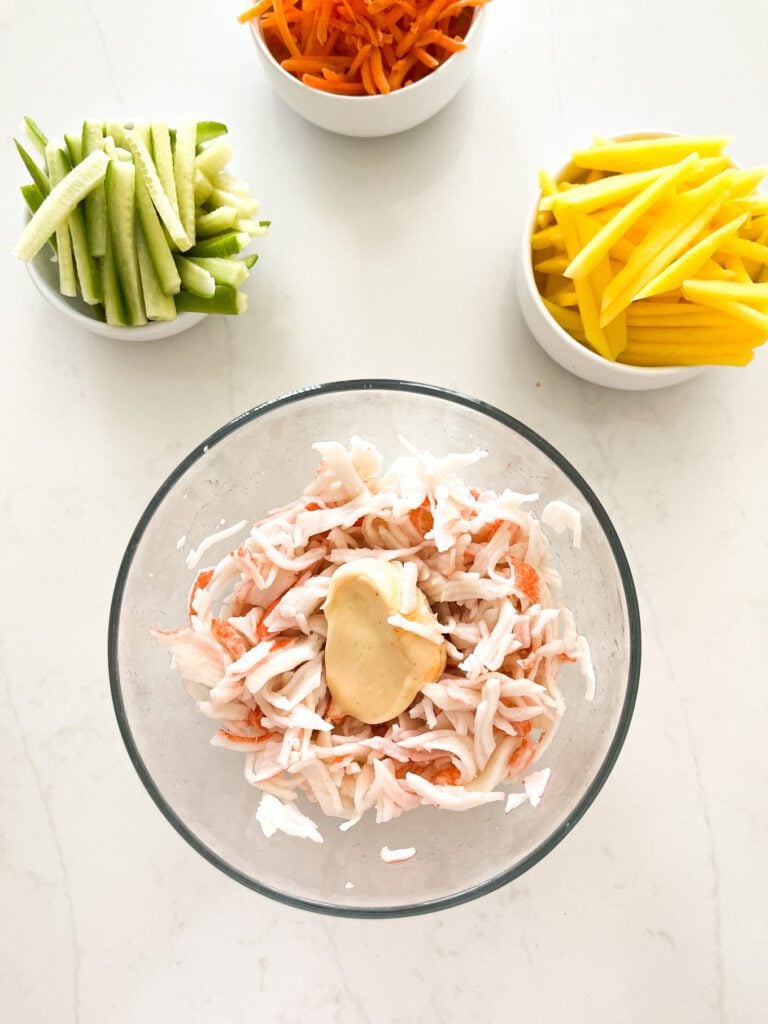 Storage Tips
After the salad is all mixed in, consume in the least amount of time possible. The mayo dressing will make the ingredients loose their crunchy texture quickly.
If you don't mind a less-crunchy salad, you can store it in an airtight container for up to 2 days. Always follow the storage instructions on your crab packaging.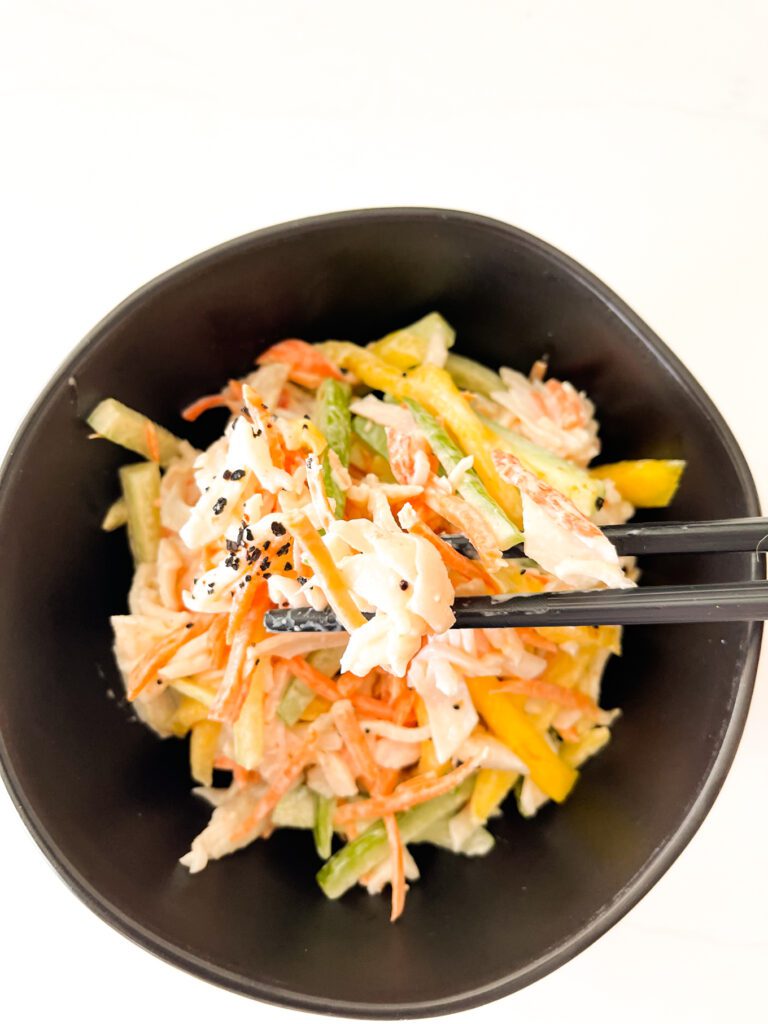 Crab and Mango Kani Salad
Ingredients
½

cup

Crab meat

shredded

¼

cup

Mayo

¼

cup

Carrots

Shredded

¼

cup

Cucumber

¼

cup

Mango

¼

Avocado

1

teaspoon

Black sesame seeds
Instructions
Cut the cucumber and mango into matchsticks

Mix the mayo, crab and sriracha if using

Add the shredded carrots, mango and cucumber

Mix well until combined and top with sesame seeds