Overnight Oats are an easy and delicious breakfast. You can easily customize the flavor and in this post I'm sharing 4 ways to flavor your oatmeal.
This is the perfect make-ahead breakfast for busy mornings. It takes little prep the night before and you wake up to a delicious and nutritious breakfast.
What are overnight oats
Overnight oats are simply oats that are soaked in water, milk or milk alternative (almond milk, coconut milk etc.).
Oats are soaked overnight and refrigerated to soften and create a creamy texture without having to cook them.
This is a perfect on-the-go breakfast that is perfect to eat cold, a great summertime meal option.
You can make overnight oats with any of oats you'd like; quick oats, rolled or old fashioned.
If using quick or rolled oats the texture will be creamier, almost mushy. If using old fashioned oats, the texture will be a little more chewy and give you a bit more texture.
In my opinion, old fashioned oats are best for overnight oats.
What do they taste like?
They taste similar to a cooked oatmeal. The flavor really depends on what toppings and sweeteners you use.
I love the taste of cashew milk and I like to sweeten my oats with stevia and a hint of maple syrup or honey (as a topping).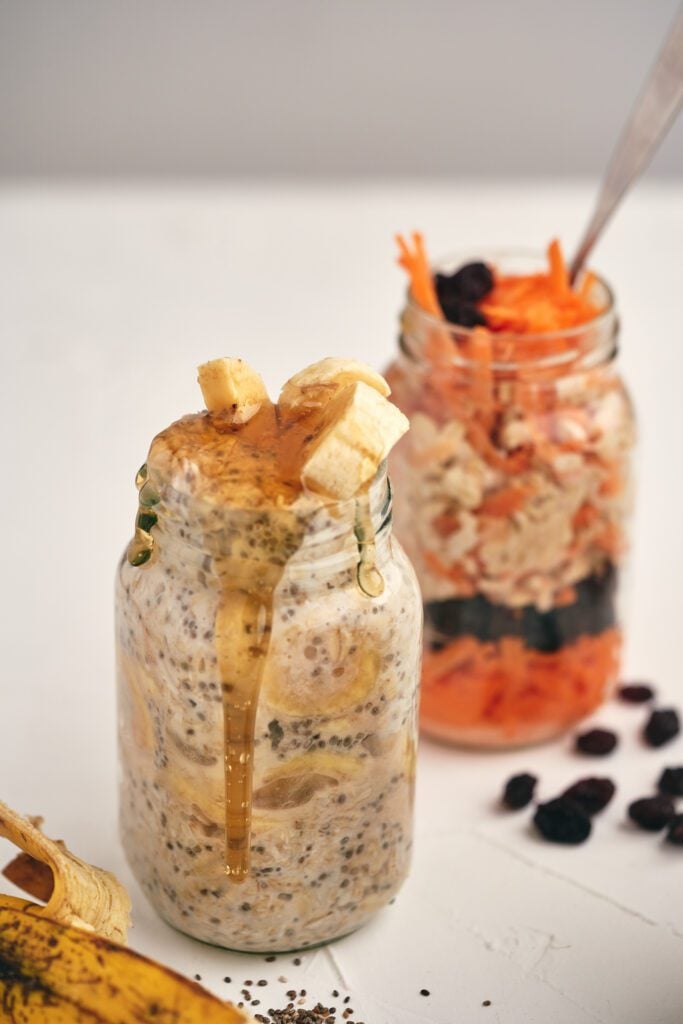 Storage tips
Overnight oats last for about 4-5 days in the fridge in an airtight container. The longer they sit in the fridge, the softer and creamier the texture will be.
You can always add back some crunch and texture with the toppings you use such as almonds, chia seeds and fresh fruit.
Protein Oats
This recipe is packed with healthy carbs, you can add protein powder if you want to make it a complete meal. I have instructions on how to add protein to your oatmeal without making it grainy.
You can make any of these recipes a high protein oatmeal. Just follow the instructions on how to add the protein powder once you are ready to eat your oats.
Overnight Oats 4 Ways
Apple Cinnamon Overnight Oats
This first recipe is probably my favorite. There is something special about the apple and cinnamon combo that makes this oats super tasty.
To make the overnight oats this way, I add 1 teaspoon of cinnamon to the cashew milk (or milk of choice) to infuse the flavor.
These oats taste amazing with the fresh apple pieces and the warmth of the cinnamon spice, almost like an apple pie!
You can add chunks of apple to the oats and let it sit overnight if you like the softer apple texture. If you prefer crunchy pieces, add the apple when ready to eat them.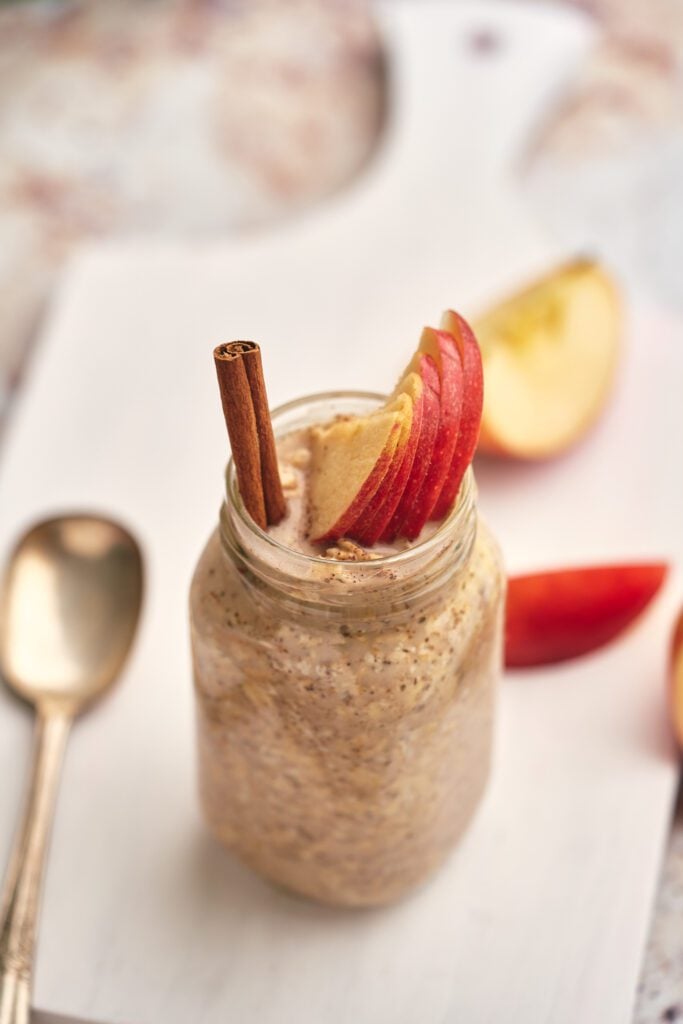 Strawberry Mint Overnight Oats
This one is a perfect summertime recipe. Infusing the oats with the refreshing flavor of mint and the sweet strawberries is like dessert for breakfast.
To prepare these oats, chop a few strawberries and add them in between a layer of oats, add an extra layer of oats on top and couple of mint leaves as garnish.
Banana Chia Overnight Oats
This combo is really tasty. Chia seeds add and extra burst of creaminess to this recipe.
To make overnight oats with chia seeds, you will need to add a bit more extra liquid because the chia seeds will absorb a lot of it.
To make these, add 1 teaspoon of black or white chia seeds to your milk of choice and then add the oats.
Make sure to shake it well. I like to add the bananas when ready to serve the oats so the bananas don't get too mushy and brown.
You can top it with a sprinkle of more chia seeds for added texture and with a drizzle of honey.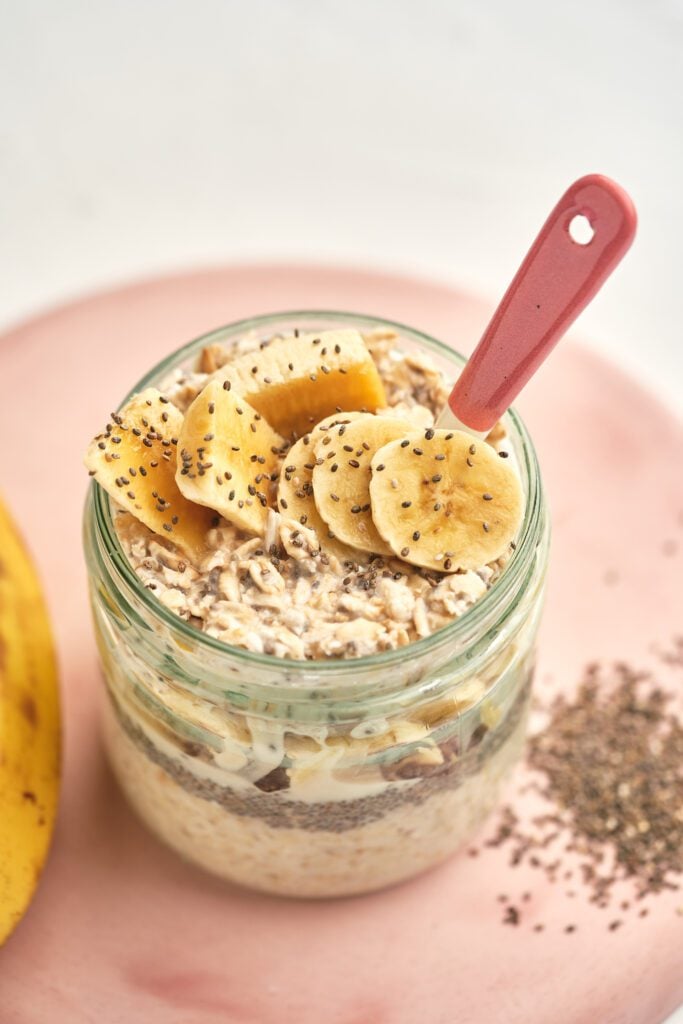 Carrot Cake Overnight Oats
This recipe is an amazing way to add more veggies into your diet. We use shredded carrots and raisins to create a delicious sweet treat.
To make this version of overnight oats, add a layer of shredded carrots and raisins to the oats. You can make this one all in advance and let the carrots and raisins soften overnight with the oats.
Adding nuts like walnuts or cashews, shredded coconut and honey takes these oats to the next level.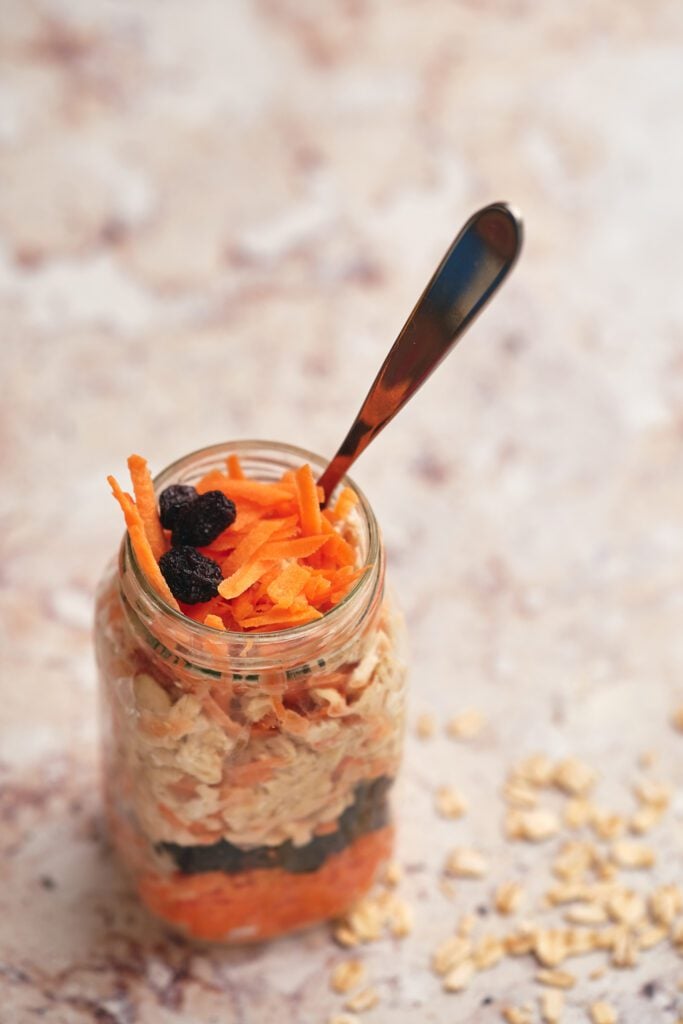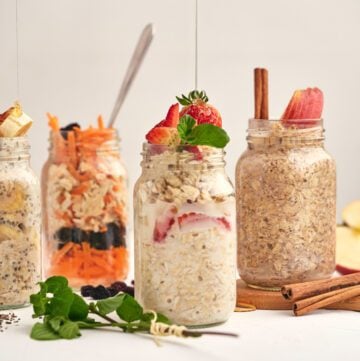 Overnight Oats 4 Way
These 4 recipes for overnight oats make breakfast healthy, delicious and convenient
Equipment
4 glass jars with lid such mason jars
Ingredients
2

cups

old fashioned oats

3

cups

Cashew milk

Or any milk you'd like

2

Tablespoons

Maple Syrup

5

drops

Stevia
For the Apple Cinnamon Overnight Oats
½

Honey Crisp Apple

1

teaspoon

Cinnamon
For the Strawberry Mint Overnight Oats
4

Strawberries

2

Mint leaves
For the Banana Chia Overnight Oats
½

Banana

1

teaspoon

Chia seeds

1

teaspoon

honey
For the Carrot Cake Overnight Oats
⅓

cup

Carrots

Shredded

1

tablespoon

raisins

1

teaspoon

chopped nuts

optional
Instructions
Prepare the Oat Mix
In a bowl mix the oats, cashew milk, stevia and maple syrup until well combined

2 cups old fashioned oats,

3 cups Cashew milk,

2 Tablespoons Maple Syrup,

5 drops Stevia
For the Apple Cinnamon Overnight Oats
Add the oat mix to a jar, add the cinnamon and shake well

Add diced apple and refrigerate overnight. Serve with fresh apple and more cinnamon
For the Strawberry Mint Overnight Oats
Add a layer of oat mix in a glass jar, in the middle add sliced strawberries and top with more oats. Refrigerate overnight.

When ready to serve, add the mint leaves and more sliced strawberries.
For the Banana Chia Overnight Oats
Add the oat mix and chia seeds to a jar and refrigerate over night

When ready to serve, add sliced bananas, honey and chia on top

½ Banana,

1 teaspoon honey,

1 teaspoon Chia seeds
For the Carrot Cake Overnight Oats
Add the oat mix, carrots and raisins to a jar and refrigerate overnight.

⅓ cup Carrots,

1 tablespoon raisins

When ready to serve top with chopped walnuts
Nutrition
Calories:
259
kcal
Carbohydrates:
49
g
Protein:
6
g
Fat:
5
g
Saturated Fat:
1
g
Polyunsaturated Fat:
1
g
Monounsaturated Fat:
2
g
Trans Fat:
1
g
Sodium:
133
mg
Potassium:
342
mg
Fiber:
6
g
Sugar:
13
g
Vitamin A:
1828
IU
Vitamin C:
10
mg
Calcium:
54
mg
Iron:
2
mg