Mango salsa is one of my favorite salad toppings. It is fresh, bright, sweet and light. It is perfect on tacos, bowls or your favorite fish filet.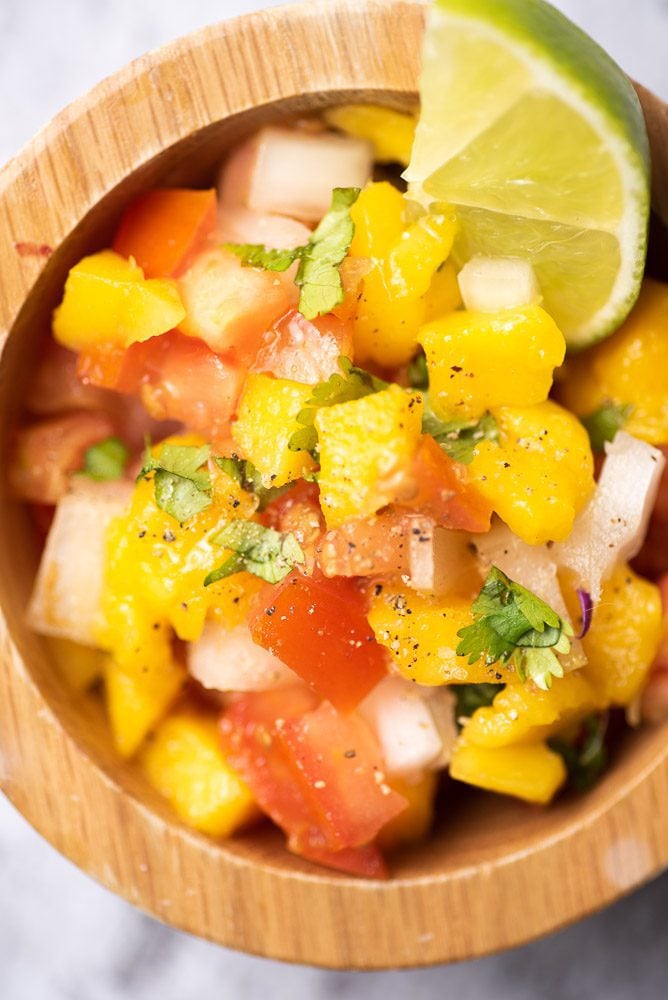 Adding fruit to your traditional salsa is a great way to add a touch of sweetness and balance any heat you might have in your plain salsa.
What is a salsa?
Traditionally, a salsa is a blend of onion, tomato and cilantro. Technically salsas are blended or pureed but because we add lime, the tomatoes release some juice, giving this blend a more liquid texture.
The diced onion, tomato and cilantro is known as pico de Gallo. Some people add some diced jalapeño but I like to keep it simple and I omit it.
The basic ingredients of a traditional salsa are these three:
Tomatoes (usually Roma tomato)
Onion (white is preferred)
Cilantro
From these simple ingredients you can build up the flavor profile with whatever additional ingredients you would like; jalapeños are great for a mild heat, if you prefer a spicier salsa use Serrano peppers.
What kind of mangos are best for salsa?
Mangos are just one option for this salsa. Pineapple is also a great twist. But either way, the fruit you use needs to be ripe and sweet.
For this recipe I like to use red mangos. Their skin is red and when ripe they are soft. Make sure your mango is soft and ripe but not overly ripe, otherwise it makes it hard to cut it in cubes.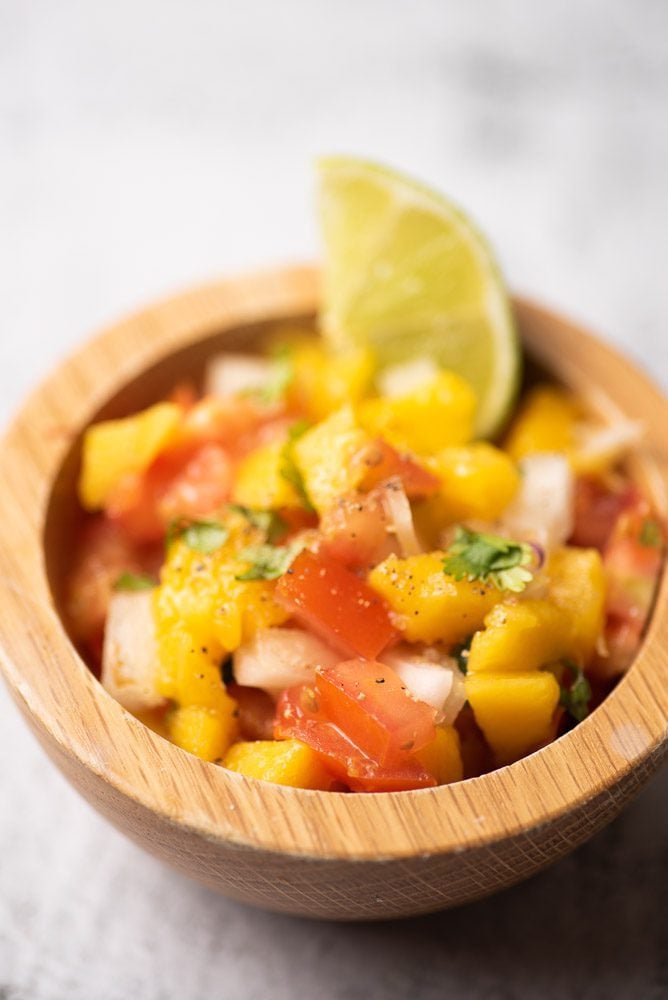 What to eat with this salsa?
This would be a great appetizer for your next gathering. It is great with chips, as a topper for salads, tacos and fish. I love to use this salsa to top my salmon or my halibut tacos.
If you need to pair this salsa with chips and guac, I highly suggest you try this recipe for traditional guacamole.
Mango Salsa
Ingredients
3

roma tomatoes

¼

cup

white onion chopped

1

ripe red mango

1

tablespoon

chopped cilantro

1

tablespoon

freshly squeezed lime juice
Instructions
dice the Roma tomatoes and the mango in small cubes

add the chopped onion, cilantro and lime juice

add salt and pepper to taste