This recipe for Gigi Hadid Pasta went viral on social media (TikTok) and for a good reason; it is delicious and easy to make.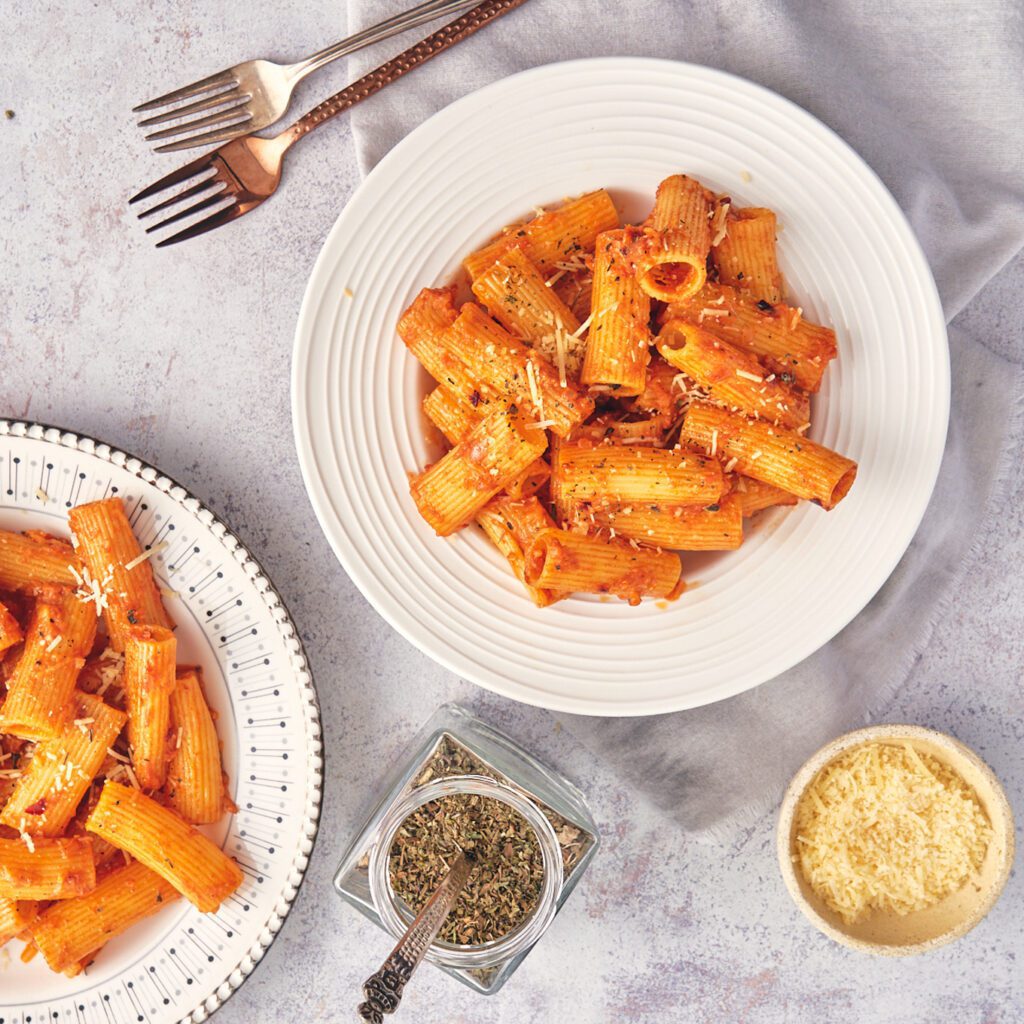 Gigi Hadid uses rigatoni in her recipe but this dish (Penne Alla Vodka) is a classic recipe that has been around for quite some time.
Gigi brought the spotlight back to this simple yet delicious dish. This pasta uses vodka but you can skip the alcohol if you decide to do so and the dish will still be amazing.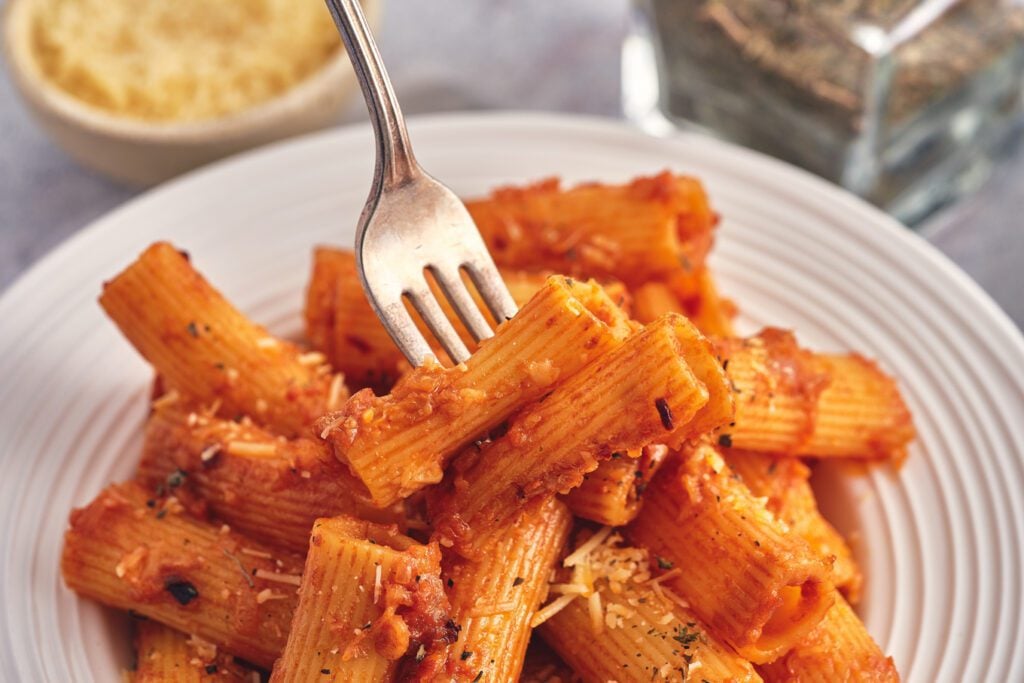 Ingredients for Gigi Hadid Pasta for 4
In this recipe we are going to make enough to feed 4 people. This dish is flexible and there are easy swaps that you can make to adjust this recipe to your taste and liking.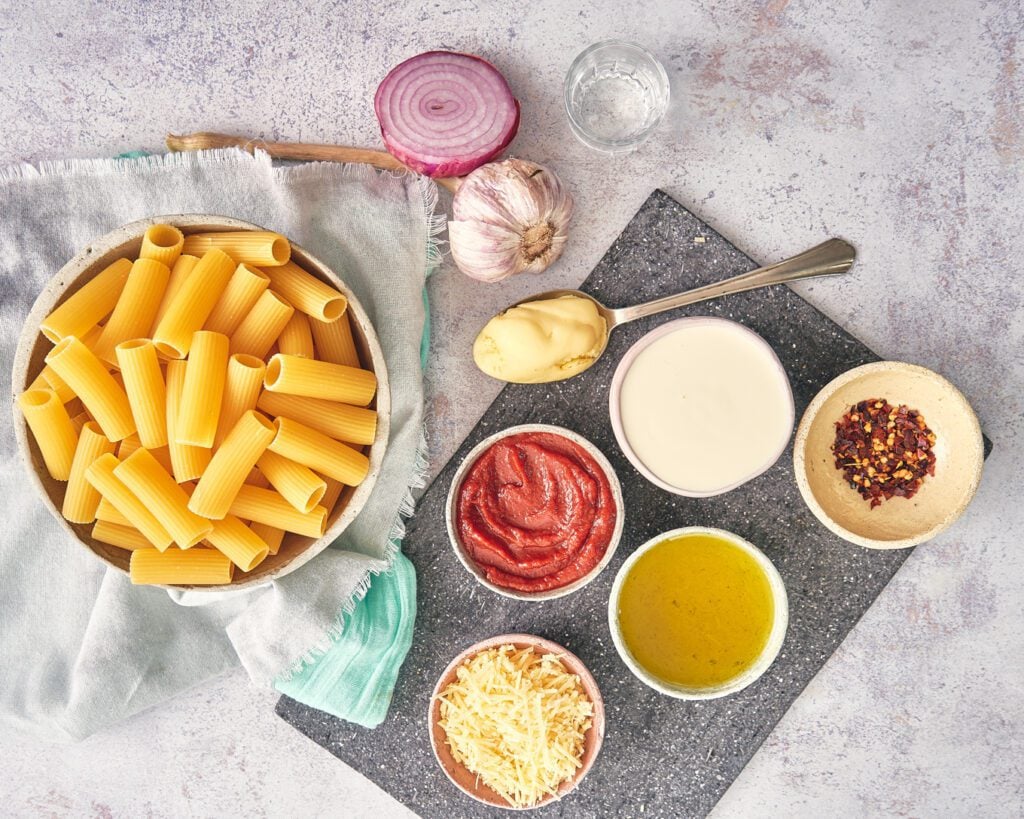 Rigatoni: This is the pasta shape Gigi uses, but you can easily use Penne or any short pasta you like. This kind of short shape pastas hold this creamy sauces very well.
Garlic: A must in any pasta sauce to add aroma and deep flavor.
Shallot: A mild red onion that adds incredible taste. You can substitute this for a half the amount of red onion.
Tomato Paste: This is a concentrated tomato puree that add richness because it is the base of this creamy sauce. If you don't have tomato paste, use pureed tomatoes and cook them until very caramelized and reduced.
Heavy creamy: This adds all the creamy texture and balances the tomato flavor.
Parmesan cheese: Adds depth of flavor and creaminess to the sauce.
Chili flakes: Gigi uses chili flakes to give the sauce a bit of a kick. You can skip it if you don't like spicy food.
Vodka: Used to add another layer of flavor to the sauce. Most of the alcohol evaporates during cooking while the vodka aroma remains. You can skip it if you choose not to use alcohol.
Swaps and substitutes in this recipe
As mentioned before this recipe is very flexible. Here are some common swaps and substitutes for this pink pasta recipe.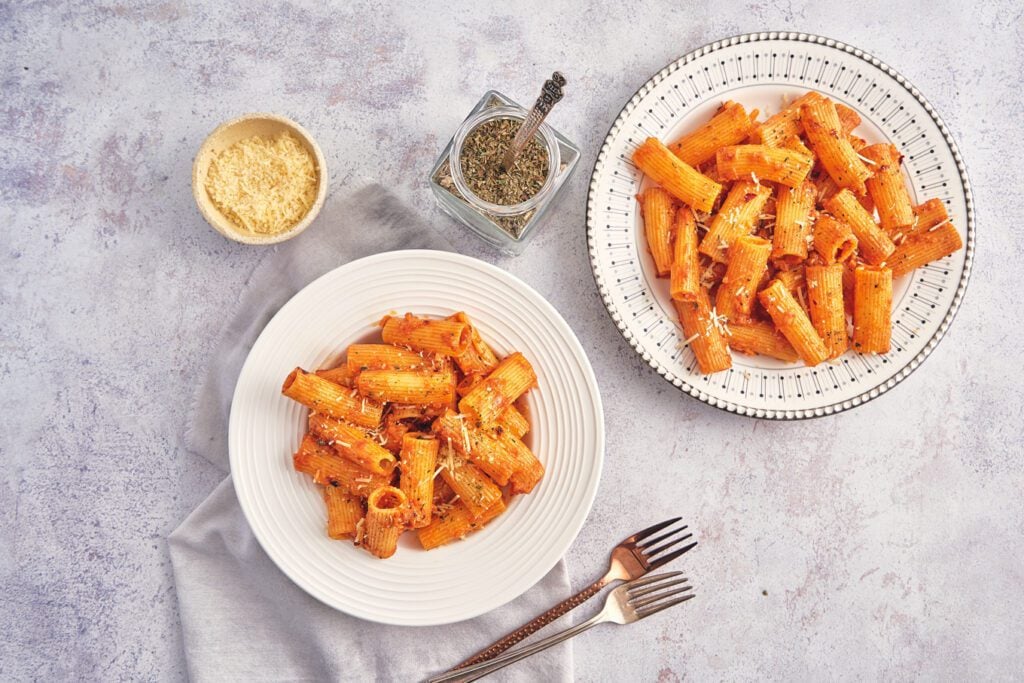 Make it Vegan:
You can replace the heavy cream for cashew milk or coconut milk and use nutritional yeast instead of parmesan cheese to make this pasta vegan-friendly.
Use Milk instead of cream
Although this swap will affect the creamy texture of the sauce, you can perfectly use full fat milk in the recipe. Just use half the amount of milk and if possible add more parmesan cheese to help thicken up the sauce. Also reserve about ¼ cup of the water used to cook the pasta and add it to the sauce to make it thicker/creamier.
Skip the vodka to make it a Pink Pasta Sauce
This sauce is basically just a pink pasta sauce which is a tomato and cream base sauce. We add vodka and chili flakes in this recipe but to make it more kid-friendly, skip the chili flakes and vodka.
Pink sauce is a great option for kids and people who find plain tomato sauces to be too acidic. The addition of cream balances the acidity and adds that lovely creamy texture.
How to store this pasta and reheat it
If you happen to have leftovers, you can store them in the fridge in an airtight container for up to two days.
To reheat this dish, use skillet with a splash of milk or cream and reheat over medium low heat. This will allow to keep the creamy consistency of the sauce without breaking it.
I highly recommend reheating the pasta on the stove and not the microwave because the sauce can break and the pasta be mushy and way overcooked.
Other delicious pasta to try is the Baked Feta pasta with cherry tomatoes. It is easy and delicious too.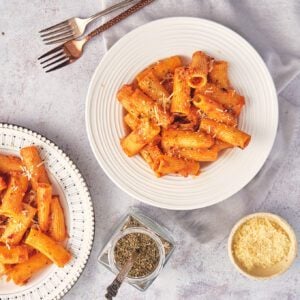 Gigi Hadid Pasta Recipe
This creamy tomato pasta is Gigi Hadid's take an pasta all vodka. It's rich and delicious, simple to make and very versatile
Ingredients
¼

cup

Olive Oil

extra virgin

2

Garlic cloves

¼

cup

Shallot

Or red or yellow onion diced

½

cup

Tomato paste

½

teaspoon

Chili flakes

Optional

1

Tablespoon

Vodka

Optional

1

cup

Heavy cream

½

cup

Parmesan cheese

grated

1

Tablespoon

Butter

1

Lb

Rigatoni pasta
Instructions
In a sauce pan, over medium high heat, cook the onion in the olive oil until translucent about 3 minutes. Then add the garlic and cook until fragrant about 1 minute.

¼ cup Olive Oil,

2 Garlic cloves,

¼ cup Shallot

Add the tomato paste and cook for an additional 3-4 minutes until the mixture has a deep red color and has reduced a bit.

While the sauce is simmering, cook the pasta according to cooking instructions.

Add the vodka and chili flakes to the sauce if using and simmer for an additional minute or two

1 Tablespoon Vodka,

½ teaspoon Chili flakes

Add the heavy cream and parmesan cheese and reduce the heat to low

1 cup Heavy cream,

½ cup Parmesan cheese

Add the cooked pasta and butter and mix until the pasta is fully coated in sauce

1 Tablespoon Butter,

1 Lb Rigatoni pasta

To serve add more parmesan and sprinkle some basil
Nutrition
Calories:
866
kcal
Carbohydrates:
96
g
Protein:
23
g
Fat:
43
g
Saturated Fat:
20
g
Polyunsaturated Fat:
3
g
Monounsaturated Fat:
17
g
Trans Fat:
1
g
Cholesterol:
83
mg
Sodium:
511
mg
Potassium:
714
mg
Fiber:
6
g
Sugar:
10
g
Vitamin A:
1634
IU
Vitamin C:
9
mg
Calcium:
233
mg
Iron:
3
mg