This Simple and Quick Chocolate Chip Cookies are a one-bowl, no chilling and no mixer needed recipe.
Using pantry staple ingredients and very little effort, you can enjoy this classic, bakery-style cookie in just under 30 minutes.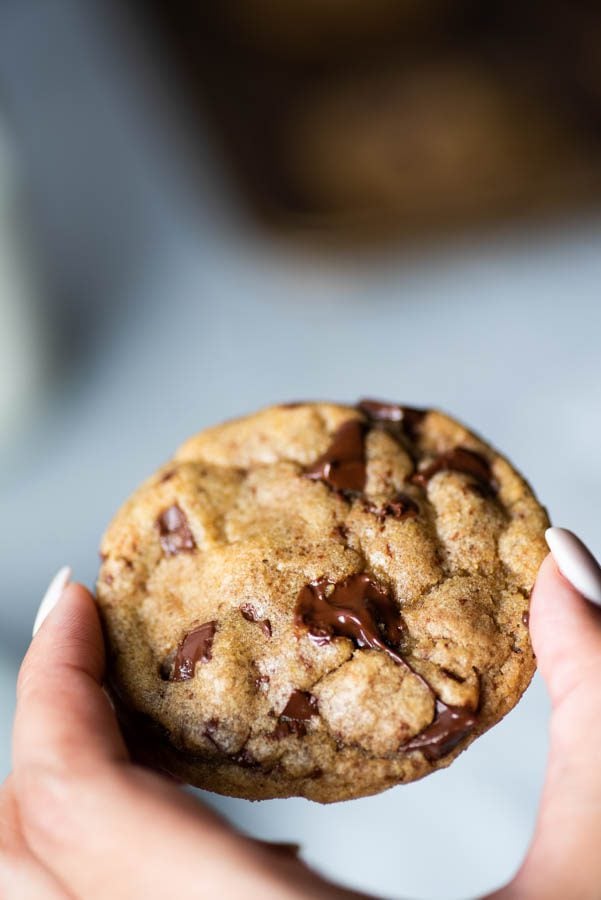 Melted butter is your ticket to quick and easy chocolate chip cookies. Since you don't have to cream the butter and sugar, you don't need a mixer either and the results are just as delicious as complicated cookie recipes.
Ingredients in this recipe
This chocolate chip cookie recipe uses pantry ingredients that you probably already have at home.
Flour: We use all purpose flour in this recipe because it yields the right texture and crumb. I like to measure my flour with a kitchen scale for accuracy but if you don't have one, make sure you spoon your flour into your measuring cup.
Unsalted butter: We want to control the amount of salt in our cookies, so a sweet, unsalted butter is best.
Brown and white sugar: the perfect ratio of brown to white sugar is what yields the crispy edge and chewy texture of the ideal chocolate chip cookie.
Baking soda: This ingredient adds the airy texture to the cookies.
Chocolate Chips: You can use your favorite chocolate chips or better yet, add a chopped chocolate bar.
Eggs: They act as the binding agent in this recipe. We use one full egg and one egg yolk.
Salt: A touch of salt brings the sweetness up a notch and balances the cookie overall.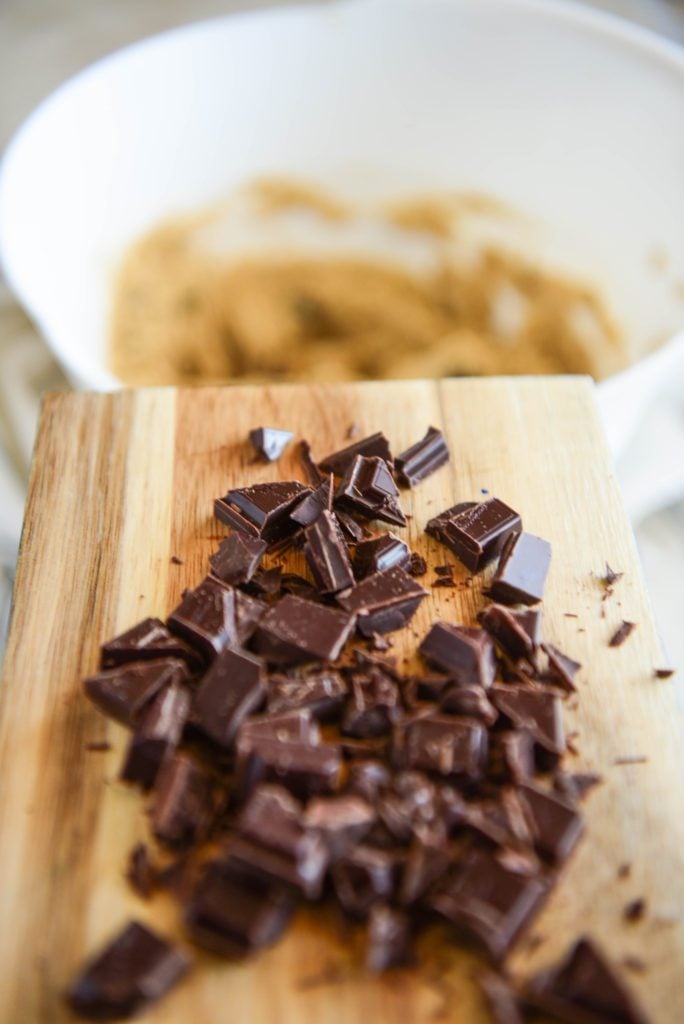 Tools
For this recipe you only need one bowl, I like a medium size glass bowl to make sure I get all the batter incorporated and nothing sticks.
You will also need a whisk to mix the wet ingredients and add a bit of air to the batter.
The other key tool is a silicon spatula, this will allow you to fold the dry ingredients with the wet and get a well mixed dough.
A kitchen scale for measuring ingredients is optional but highly recommend.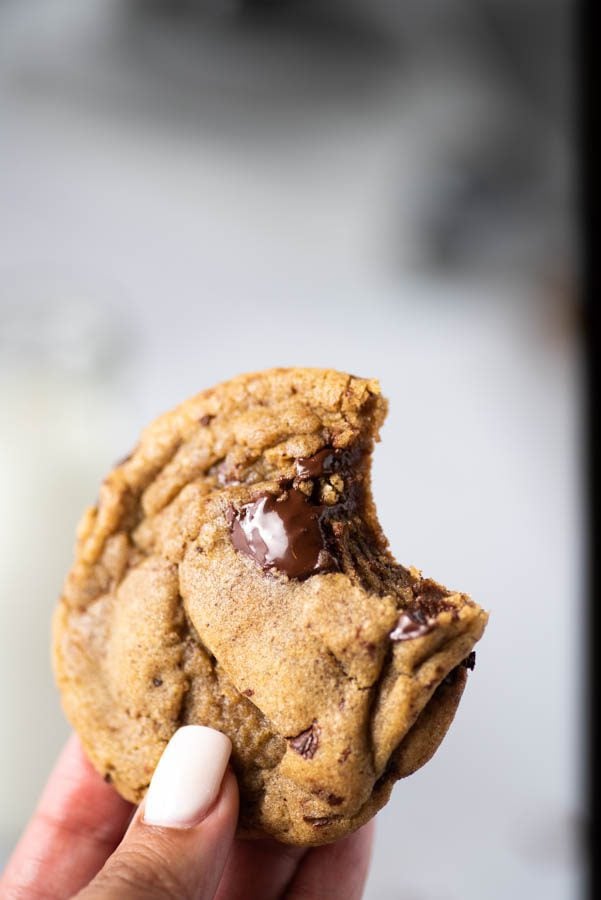 Tips for best chocolate chip cookies
Fresh is best when it comes to chocolate chip cookies, so I highly suggest scooping out the dough into balls and keeping them in the fridge (up to 5 days) or in the freezer and baking them in small batches.
All ingredients should be at room temperature (eggs and butter) to avoid temperature shock in the batter.
If you need to bring the eggs to room temp, just place them in lukewarm water for about 5 minutes. Be aware that once you place the eggs in water you should use them ASAP. If not, discard them.
Melt the butter and let it cool down. If using the microwave melt the butter in 10 second intervals and mix, continue like so until fully melted.
Avoid over mixing the flour. Once you add the dry ingredients, do not over mix because you will develop the gluten in the flour and create a cake-y cookie.
It is better to under bake the cookies a bit instead of bake them too long. The cookies will continue to bake and solidify once they cool down.
If you over bake the cookie it will turn out very dry and crispy. Those don't make good leftovers.
Storage tips
These cookies will last for 3-4 days in an airtight container at room temperature.
You can bake smaller batches and keep the dough in the fridge for up to 5 days and bake as needed.
You can also freeze the dough for up to 3 months. You can scoop out the balls and place them in a freezer-safe bag or container.
If you bake all the cookies at once, you can reheat the cookies in the microwave for 10 seconds to melt the chocolate and warm them up.
If you loved this cookie recipe you will definitely love the brown butter chocolate chip cookie. If you prefer a cookie with a bit more snap to it, try these Kylie Jenner Chocolate Chip Cookie.
Simple and Quick Chocolate Chip Cookies
This one bowl recipe yields simple and quick chocolate chip cookies that chewy with a nice crispy edge
Ingredients
¾

cup

Butter

unsalted, melted

1

cup

Brown sugar

½

cup

White sugar

1

Egg

1

Egg yolk

1 ¾

cups

All purpose flour

½

teaspoon

Baking soda

½

teaspoon

Salt

1

cup

Semisweet chocolate chips
Instructions
Pre heat oven to 330 Fahrenheit

Add the melted butter, sugars, egg and egg yolk to a glass bowl

¾ cup Butter,

1 cup Brown sugar,

½ cup White sugar,

1 Egg,

1 Egg yolk

Mix with a whisk until well combined, about 3 minutes

Add half the flour, baking soda and salt, mix with a spatula

1 ¾ cups All purpose flour,

½ teaspoon Baking soda,

½ teaspoon Salt

Add the chocolate chips and the rest of the flour and fold in until the dough is formed

1 cup Semisweet chocolate chips

Scoop out with a cookie or ice cream scooper. Bake on a cookie sheet at 330 Farenheit for 13 minutes

Remove from the oven and allow them to cool down for a couple of minutes in the cookie sheet (they will finish baking)