This Pancake Spaghetti is going viral on TiKTok and it's a fun recipe to make. Kids and adults will enjoy it alike.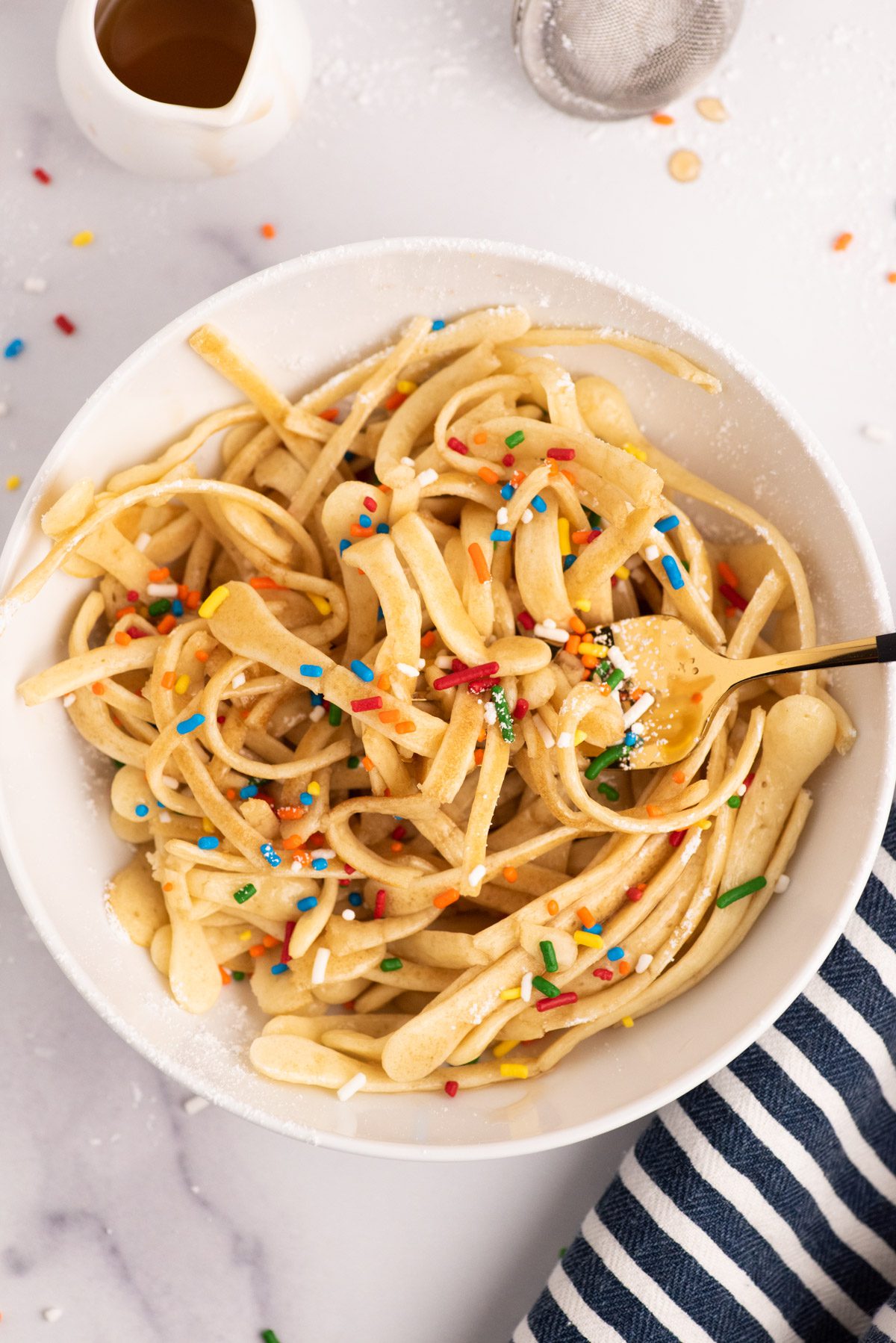 In this recipe you will use your favorite pancake batter and instead of cooking them the traditional way, use a fun twist by cooking them into stripes (spaghetti).
If you love easy TikTok recipes, check the famous TikTok Cinnamon Rolls with Heavy Cream.
What is Pancake Spaghetti
This trend is similar to the pancake cereal trend that went viral on TikTok in 2020, but this time instead of tiny pancakes we are making pancake strips. This recipe was inspired by @Brianaarchuleta on TikTok.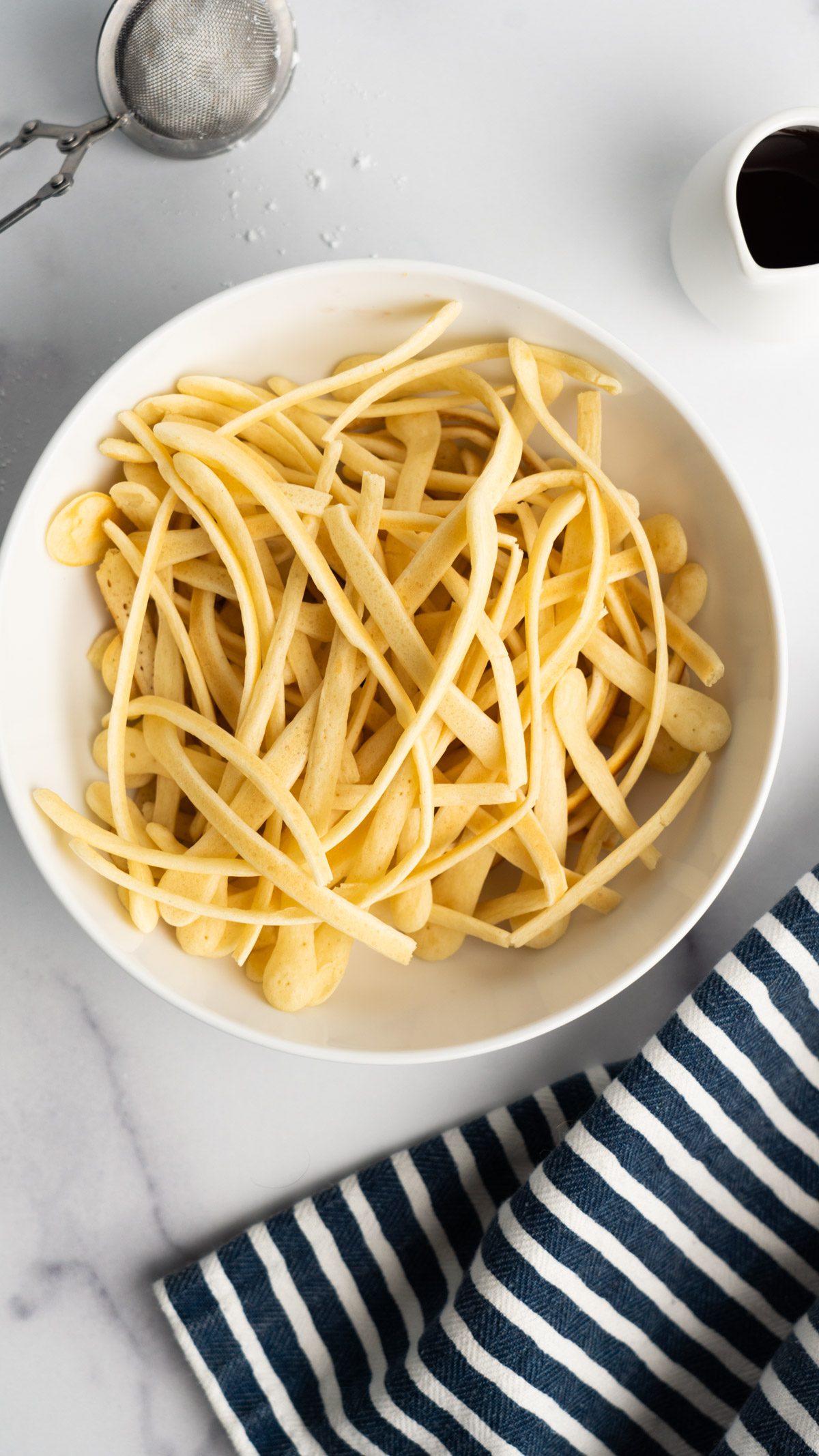 This is a fun twist on the traditional way of cooking pancakes and although it takes a bit of time and practice, kids love it!
This pancake spaghetti is similar to a funnel cake minus the frying. If you want to make your pancake batter from scratch, check my Sweet Cream Pancakes recipe.
Ingredients: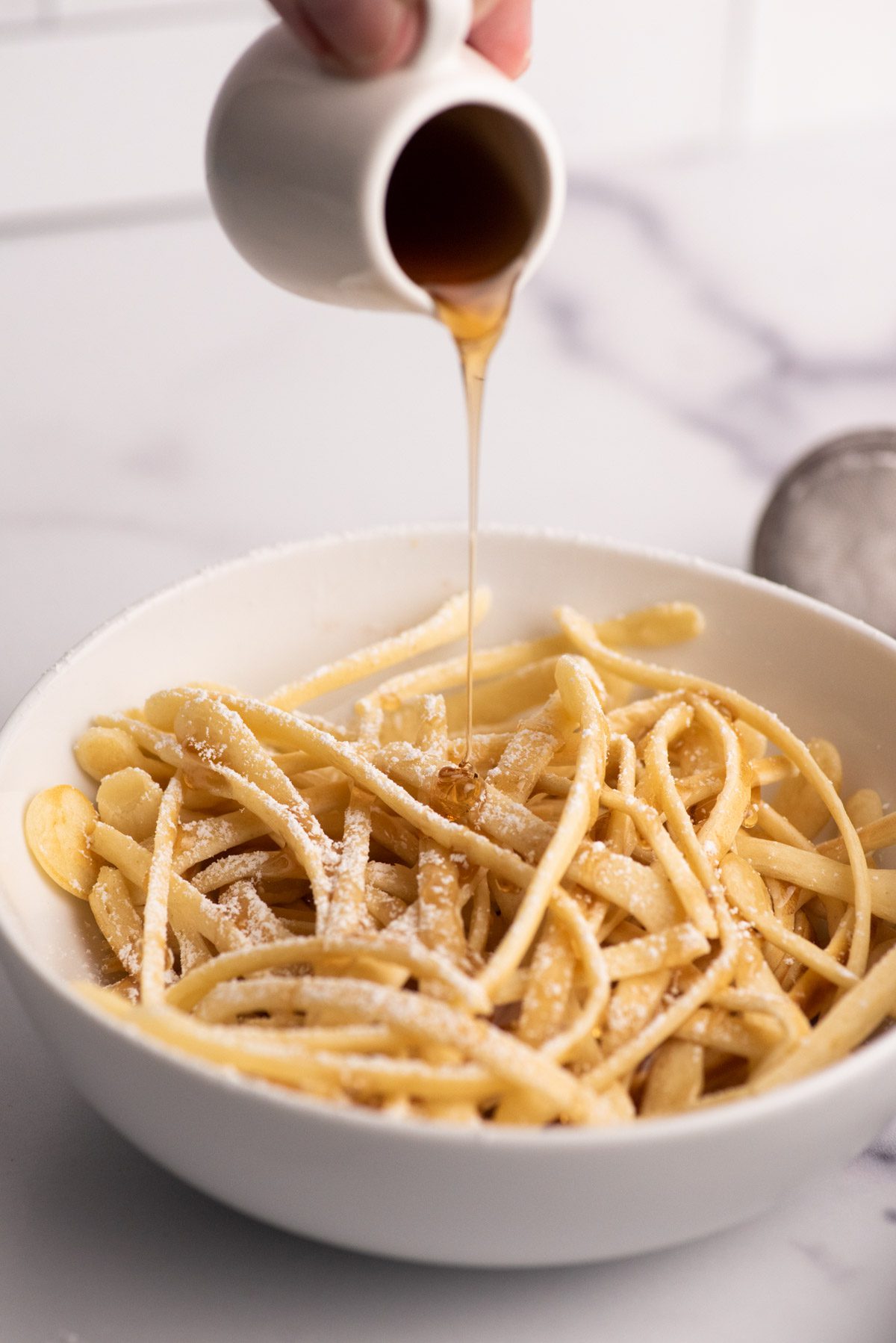 Pancake batter: Use your favorite box pancake mix or make your own. Your batter should have a consistency that is not too thick, follow the instructions on the box first and adjust if necessary.
Eggs: I only made used one egg as per pancake mix instructions.
Water: I used the Trader Joe's buttermilk pancake mix and it is mixed with water.
Spray oil: Use oil or butter to make sure you can flip the pancake spaghetti strips easily.
Syrup: Use your favorite syrup. We went classic with maple syrup.
Besides this ingredients you will need a condiment bottle or plastic bag (ziplock) to pour the batter in the skillet.
Tips to make this recipe
When we tried for the first time, we used a stainless steel griddle. We made sure to oil it well but the batter got stuck.
We opted for using a non-stick pan and that was much better and quicker.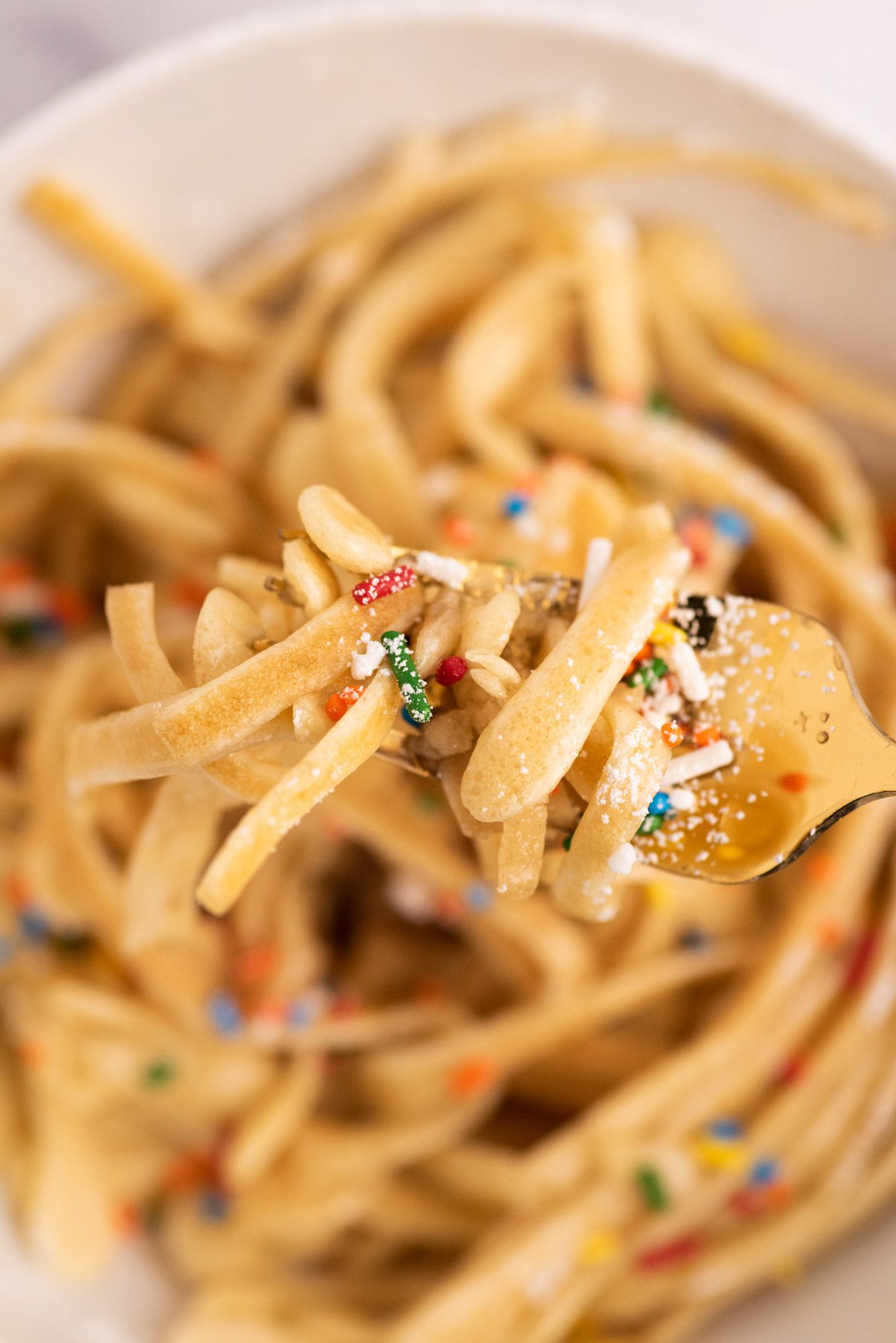 The trick to make this recipe work is to cook pancake strips in low heat, that way the batter is fully cooked through and there is no need to flip them.
If you want even color on both sides, use silicone tongs to carefully flip the strips.
Once you get a hang of the technique, the strips cook quickly. I suggest using a large non-stick skillet to cook as many strips as you can in one batch.
How to serve
You can get super creative with the toppings. Maple syrup is a classic and 10X sugar on top is great.
We added a pop of color with sprinkles but feel free to use your favorite fruit, chocolate chips or jelly.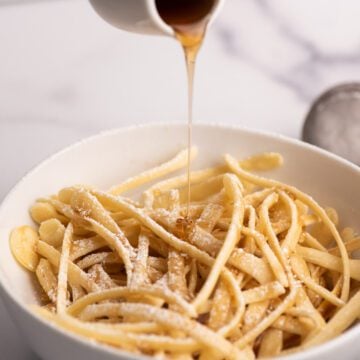 Pancake Spaghetti TikTok
This Pancake Spaghetti is going viral on TiKTok and it's a fun recipe to make. Kids and adults will enjoy it alike.
Equipment
1 condiment bottle

1 Non-stick pan
Ingredients
1 ¾

cups

Pancake mix

Trader Joe's Buttermilk

1

egg

1

cup

water

Maple syrup

Sprinkles

optional

Powdered sugar
Instructions
Prepare the pancake batter per box instructions. I mixed the baking mix, egg and water and whisk until well incorporated.

1 ¾ cups Pancake mix,

1 egg,

1 cup water

Pour the pancake batter into a condiment bottle using a funnel.

You can also use a ziplock bag and cut an opening to pour the batter into the skillet

Spray oil on a non-stick skillet over low heat

Pour the batter in thin strips until you fill the skillet

Cook them on low for about one minute, flip them with a silicone thong and cook for another 30 seconds on the other side or until golden brown.

Serve with sugar and maple syrup and add sprinkles

Maple syrup,

Powdered sugar,

Sprinkles
Notes
Cook the pancake strips over low heat
Use a non-stick pan and add some spray oil
Batter should be medium consistency, not too thick or too thin
Use tongs to flip the strips 
Nutrition
Calories:
302
kcal
Carbohydrates:
39
g
Protein:
12
g
Fat:
11
g
Saturated Fat:
3
g
Polyunsaturated Fat:
4
g
Monounsaturated Fat:
3
g
Trans Fat:
0.01
g
Cholesterol:
163
mg
Sodium:
606
mg
Potassium:
342
mg
Fiber:
2
g
Sugar:
5
g
Vitamin A:
836
IU
Vitamin C:
7
mg
Calcium:
262
mg
Iron:
2
mg