Carne Asada is a staple at our home. When we have leftovers, we love to make Carne Asada Quesadillas.
Carne Asada Quesadillas are easy to make even if you have to make the asada (steak) from scratch.
For the best Carne Asada check my detailed post about how to make this Mexican spiced steak.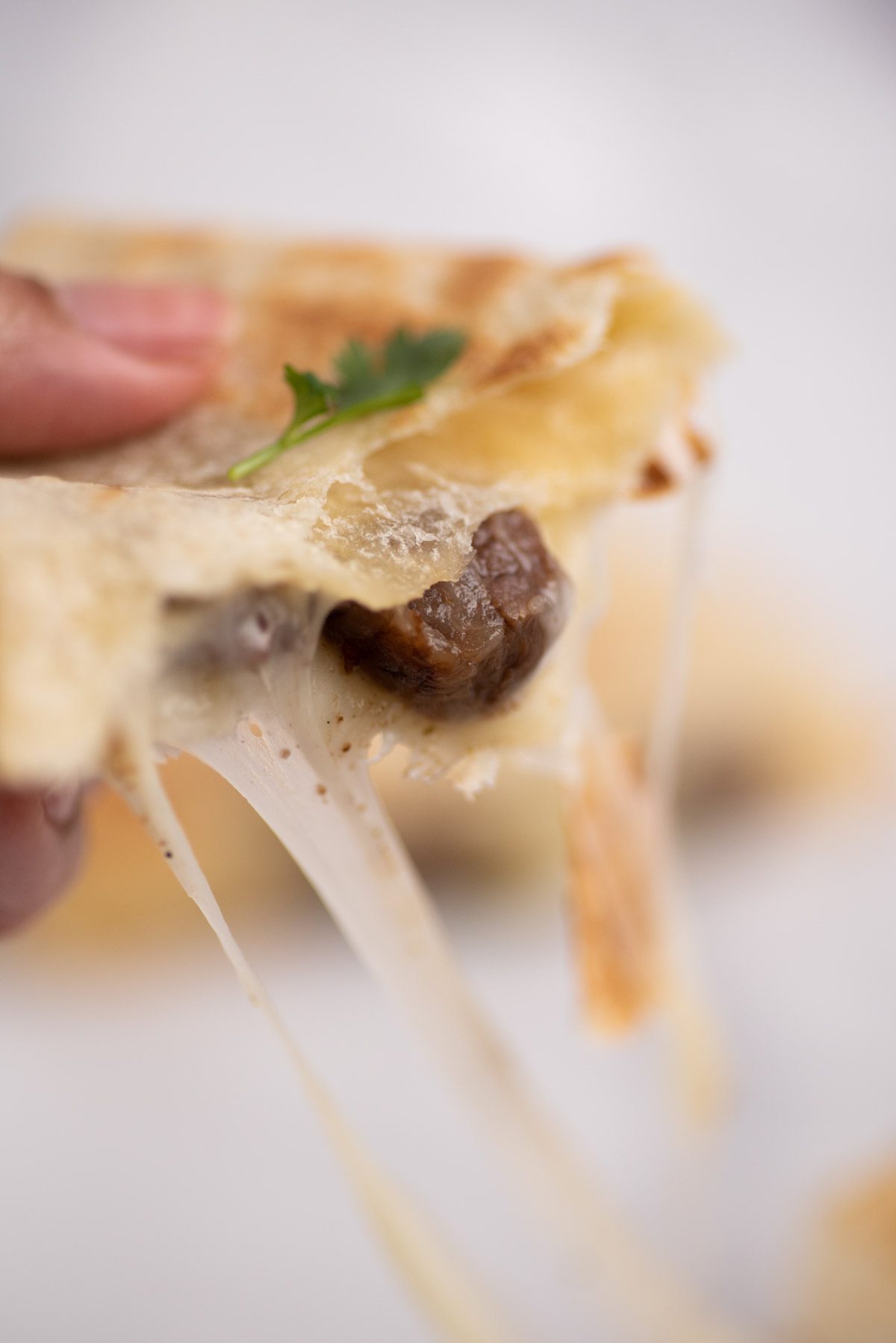 What kind of beef is Carne Asada
Carne Asada is usually made with flank steak that is marinated in a blend of citrus, chile and Mexican spices.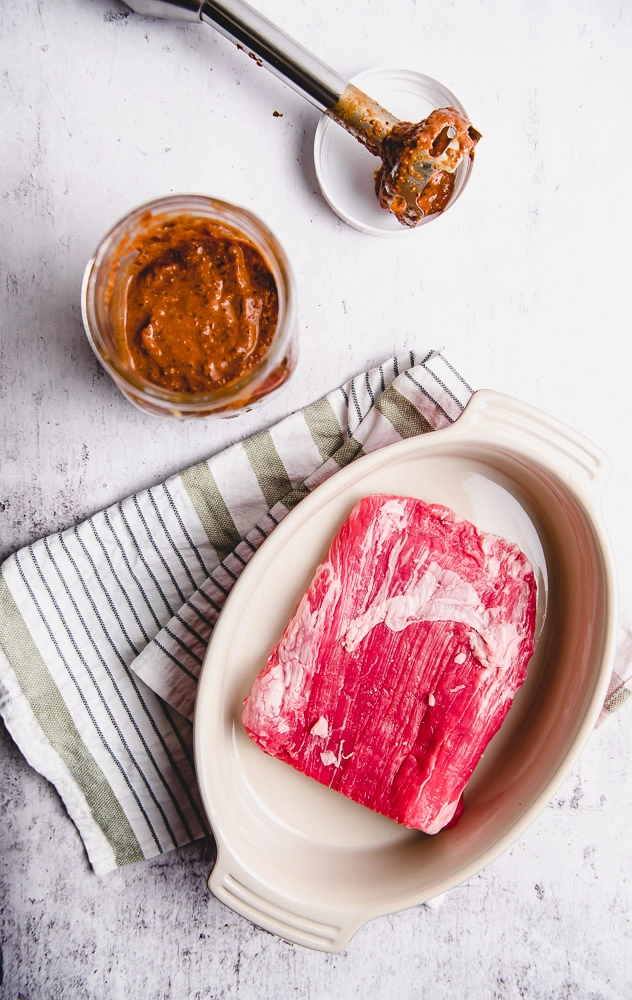 If I'm running short on time, I do a dry rub on my steak with smoked paprika and onion salt from Trader Joe's.
Check my detailed guide about Trader Joe's spices.
For my flank steak, I buy a high quality thick cut. I like to be able to cook my meat to my desired temperature.
If you buy a thin cut of meat you won't be able to cook it to a medium temperature.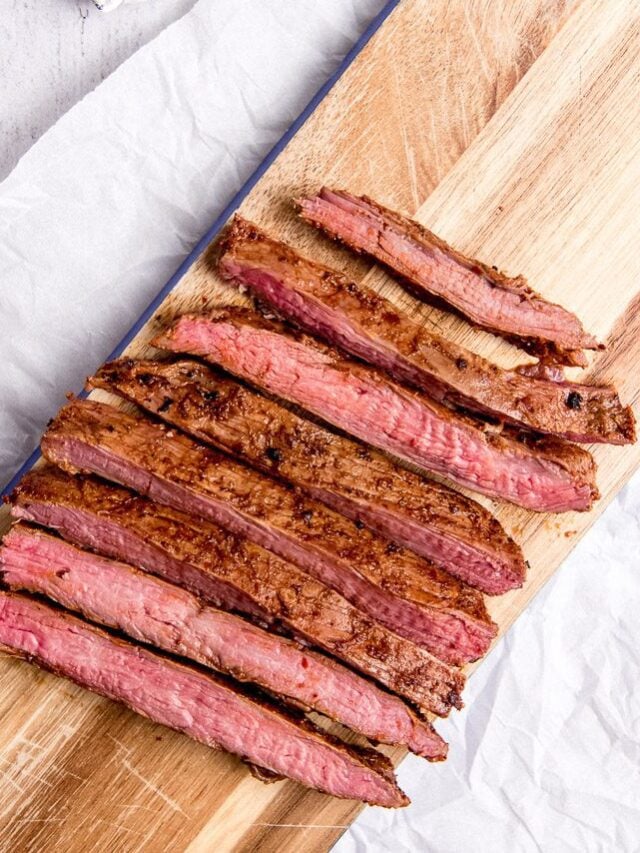 Usually flank steak has a good amount of fat and soft tissue, but getting a quality piece will still yield a great tasting steak.
What is the best cheese for quesadillas?
Mozzarella and pepper jack that are freshly grated are always great choices and you can easily find them.
If you are able to get your hands in some Oaxaca cheese or Asadero Mexican cheese, your quesadilla game will be next level.
Oaxaca cheese is a Mexican cheese from the region of Oaxaca. It is a white cheese similar to a mozzarella but milder in flavor.
Asadero cheese is extra melty and creates a great cheese pull. I love it in quesadillas and sandwiches.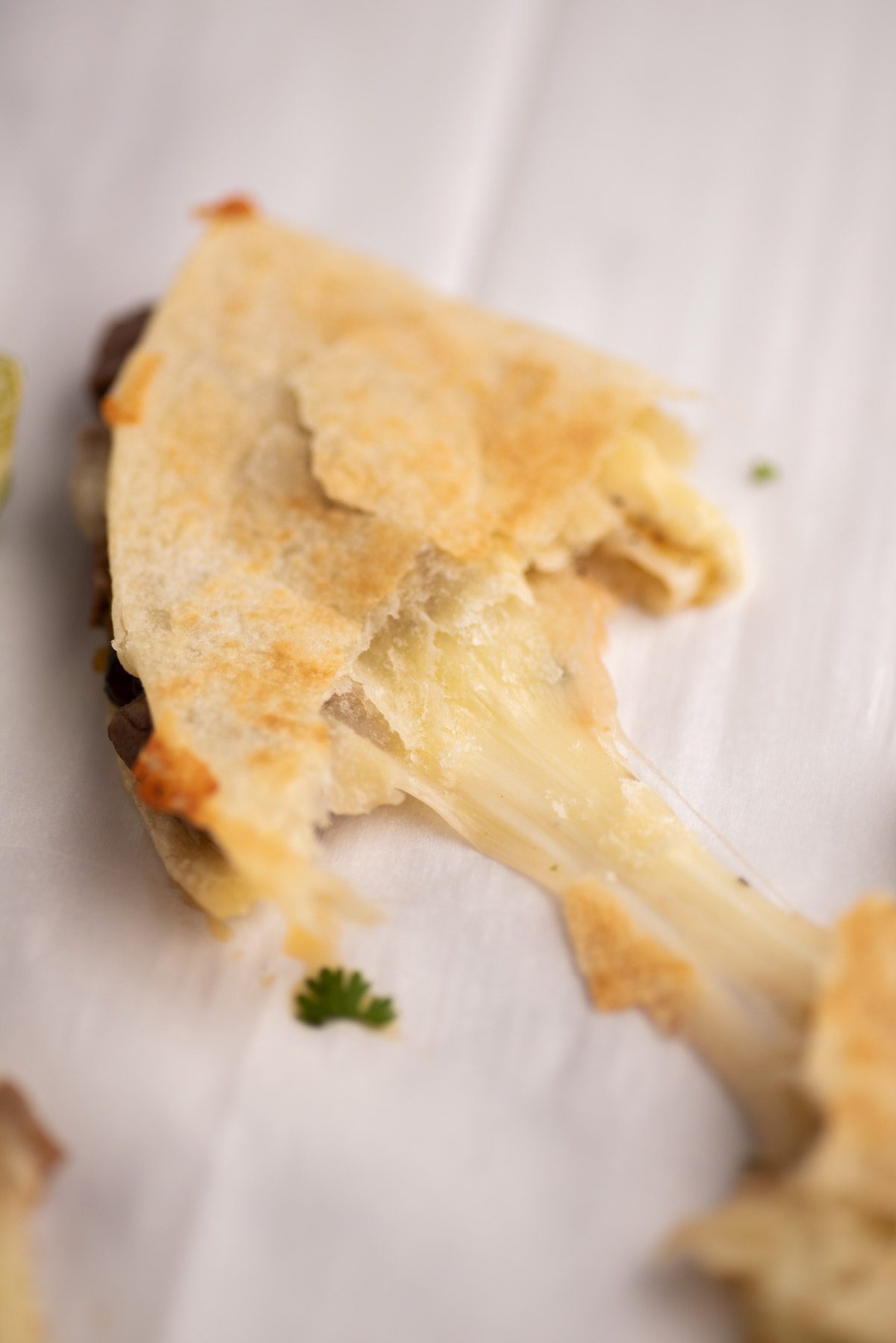 What kind of tortillas to use for quesadillas
I love my quesadillas on homemade flour tortillas. If I'm in a pinch, I get them from a local Mexican bakery.
As a last resort I get the tortillas from the supermarket but I make sure to buy the uncooked flour tortillas in the refrigerated section.
They are fresher and I can cook them in less than 2 minutes for the perfect tortilla stretchy texture.
Corn tortillas also work well but the texture is different. I use corn tortillas to make these quesabirrias AKA TikTok tacos.
Ingredients
In this recipe we just need a handful of ingredients.
You can make it as simple or as complicated as you want. For this one I will share the quick version with the dry rub on the steak.
If you have the time to marinate and make the Carne Asada, do so. It is such a flavorful steak.
Flank steak: I buy mine at Trader Joe's or Costco when we have people over. Thick cut of meat allows for better cooking and flavor.
Flour tortillas: Homemade are best, a Mexican bakery is your second best choice and uncooked tortillas from the grocery store are the third best choice.
Cheese: Use your favorite melty cheese. If able to get Mexican Oaxaca or Asadero cheese, you are in for a treat.
Garnishes: Guacamole, sour cream, cilantro.
Storage and reheating instructions
If you have leftover Carne Asada, store it in a container with an airtight lid for up to 3 days.
Reheating is best in a pan with oil spray over medium high heat for a minute or two until the steak is warm.
I do not recommend microwaving this meat as it will overcook and become though.
If you have the quesadillas already made, you can store them in an airtight container for up to 3 days and reheat in a pan over medium heat, turning them constantly until the cheese is melty.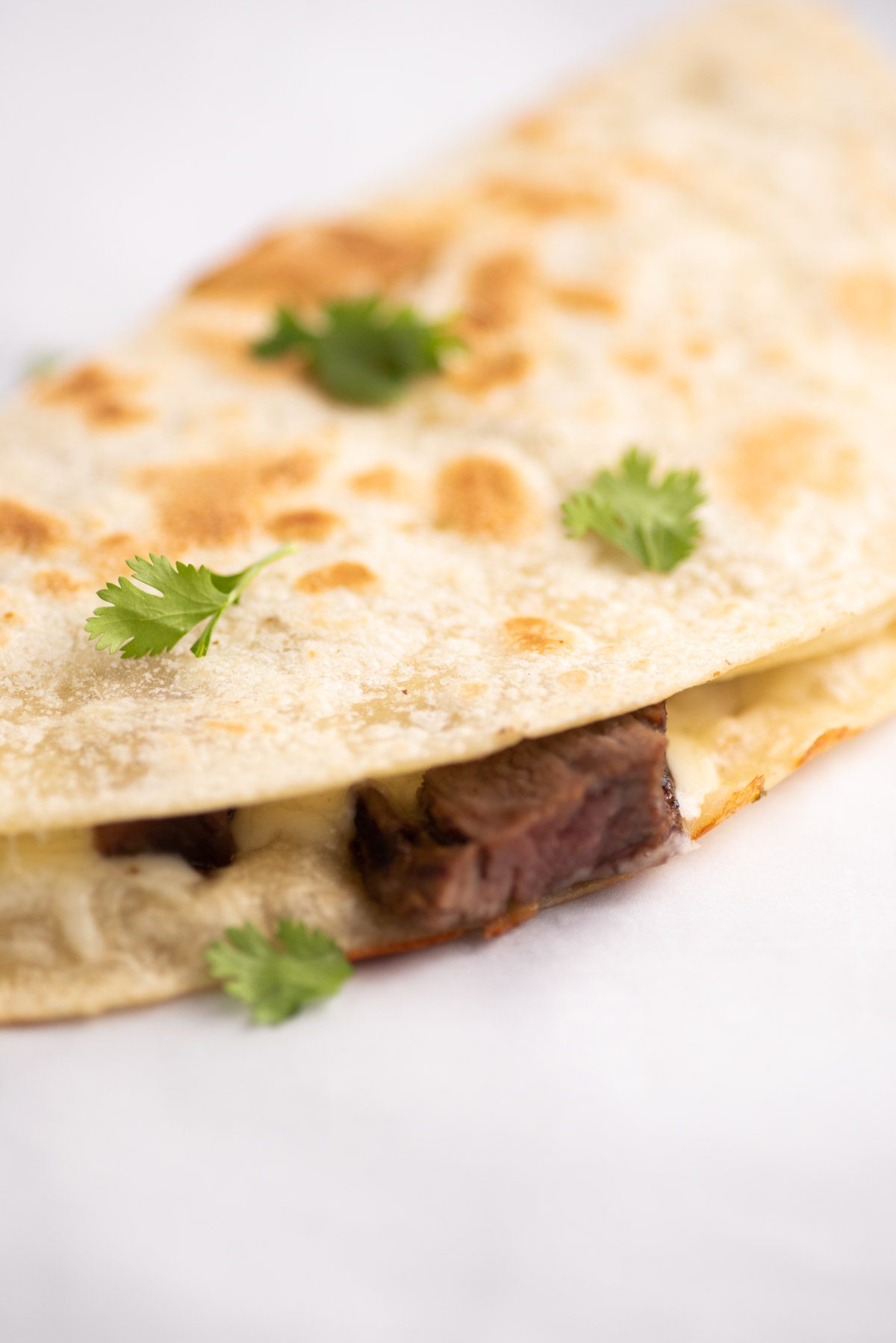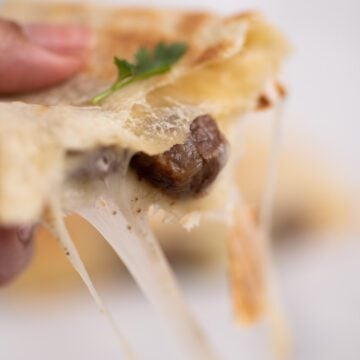 Carne Asada Quesadilla
Ingredients
1

LB

Flank Steak

1

teaspoon

smoked paprika

Trader Joe's

1

tablespoon

Onion Salt

Trader Joe's brand

4

Flour tortillas

Burrito size

2

cups

shredded cheese

Mozzarella, pepper jack, Oaxaca

Salt and pepper to taste

Cilantro for garnish

Guacamole and sour cream

optional
Instructions
Preheat the grill to medium high heat

Season the flank steak on both sides with the paprika, onion salt, salt and pepper

1 LB Flank Steak,

1 teaspoon smoked paprika,

1 tablespoon Onion Salt,

Salt and pepper to taste

Grill the steak for 4-6 minutes on each side for a medium rare temperature. Or use a meat thermometer to cook to desired doneness.

Let the steak rest for 5 and cut in strips and then cubes

Add spray oil to a non-stick pan and add the tortilla, add cheese and the cubed steak. Fold the tortilla in half and cook for about 1 minute on each side until the cheese is melted

4 Flour tortillas,

2 cups shredded cheese

Cook each side until slightly crispy, cut the quesadilla in half and serve with cilantro, guacamole and sour cream

Guacamole and sour cream,

Cilantro for garnish