Fairmont Scottsdale is one our favorite destinations for holidays, summer staycations and from now on, celebrations.
We recently stayed there to celebrate a special birthday and we had the best time enjoying all the pools and outdoor spaces The Princess has to offer.
Fairmont Scottsdale Birthday Party Staycation
Fairmont has everything you need to create beautiful and long-lasting birthday memories. A vacation, or in this case, a staycation is the best way to celebrate special moments.
The best part about celebrating at a local resort is the variety of activities and spaces people can enjoy. You are not confined to one space or to a tight time frame like a traditional birthday party.
Sonoran Splash Pool
We planned to stay overnight and enjoy the multiple pools, there was plenty of open sitting available which made it easy to have our own little area to sit and relax.
We spent most of our time at the Sonoran Splash Pool which is the family pool for a good reason; there are two slides for the older kids and a nice shallow pool area for the little ones.
I wish I would have booked sooner and reserved a cabana. Those are great for small groups (up to 8 people) and offer amenities such as TV, ceiling fan, mini fridge, bottled water, fruit platter and reserved lounging chairs.
We are definitely booking one soon for our summer staycation and keep in mind they book quickly so don't be like me and book in advance.
Service is always great and if you stop by this pool, you must try my favorite drink of all times, the Cocojito, a mix between a Pina colada and a mojito; super refreshing and delicious.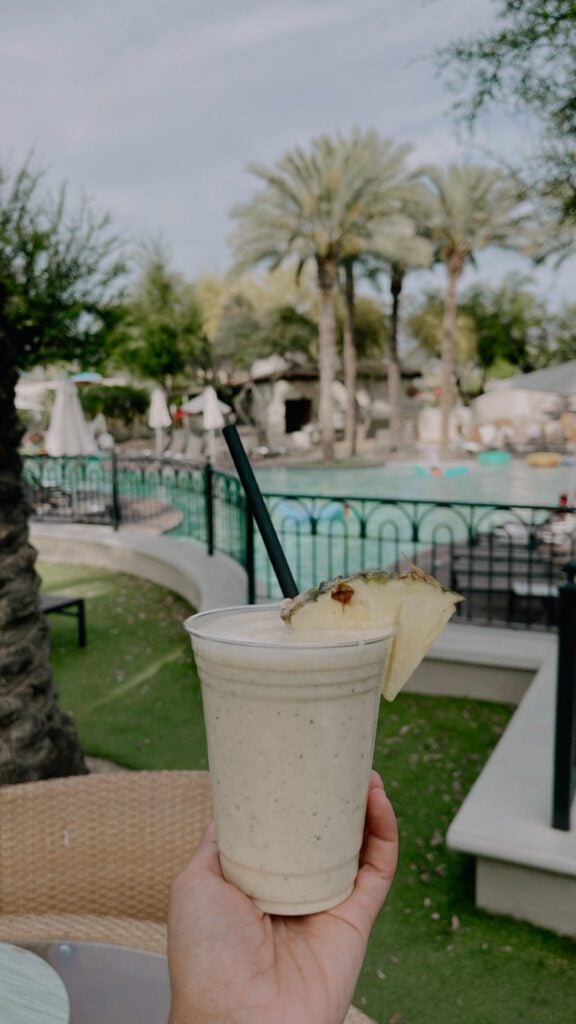 Room accommodations
Since we had a group of 4 kids with us for the birthday party, we booked 2 connecting rooms so the kids and adults could have their own space but still be close.
The kids room had two queen beds which was plenty of space for them to share. Their own balcony with a nice seating area perfect for dinner and the birthday cake cutting.
I checked in a bit earlier to decorate the room and put together the goodie bags. Kept it simple but definitely made it look like a birthday celebration.
Birthday Cake
Fairmont has you covered! You can order a custom birthday cake for your celebration directly from their amazing bakers.
We ordered a chocolate cake and it was a showstopper. Absolutely stunning looking and delicious. The kids were so thrilled when they saw the cake, it was the best surprise.
Food
We enjoyed lunch by the pool. I love the fresh options the Fairmont offers both for kids and adults.
The menu is a balanced mix of healthy and traditional fast food including an incredible juicy and delicious burger, a healthy turkey club wrap and the kid-favorite chicken nuggets.
For dinner we decided to venture out and pick up pizza and wings for the birthday party, I mean, what is a sleepover without pizza and wings, right?
For breakfast, nothing better than Ironwood American Kitchen, Fairmont's restaurant that servers breakfast, lunch and dinner. I have only been for breakfast and they have the best roasted potatoes ever.
This time we decided to do the buffet which includes a vast selection of food including fresh fruit, omelette station and a donut wall! Yes, that was what the kids picked for breakfast; donuts with eggs and bacon, sounds like my kind of breakfast.
If you are planning a gathering but want to make it extra special, definitely head over to Fairmont Scottsdale for the best pools, food and activities.
Summer is just around the corner and this is our favorite place for a local staycation. They always have fun activities for the kids and the whole family can have a great time.
Celebration ad ons
It definitely does not need to be a birthday party, but really, any special occasion that you just want to make "extra".
Fairmont Scottsdale can assist you with anything from a custom dinner experience at one of their restaurants, a special spa visit or some more adventurous experiences outside of the resort such a hot air balloon ride, a jeep tour or a horseback ride outing.
For a full list of all the things you can book to make your experience unforgettable, check out this Celebration Vacation brochure.
Summer 2022 at Fairmont Scottsdale Princess
Adventure Summer is the 2022 theme for this year at Fairmont Scottsdale.
From Memorial Day to Labor Day, The Princess will celebrate summer with adventurous themed activities, fireworks every Saturday night, dive in movies, laser tag, welcome gifts for kids at check in and much more.
Adventures include the Legend of The Lost Temple where kids are tasked to beat a mercenary crew.
The Trailblazer's Kid Club will host a archeologist adventure welcoming kids 5-12 from 9 AM to 1 PM daily.
The Crusaders Canyon will feature zip line, laser tag, clim rock wall and much more including treats and drinks.
Fishing at the lagoon on Saturdays and Sundays from 8-10 AM and Volcano Glow parties at the Sonoran Splash Pool on Fridays and Saturdays from 8-10 PM.
Also, don't miss the Freedom Fest for 4th of July, which is a celebration like no other. It includes live music, special food and drinks and an amazing fireworks show.
Fairmont Scottsdale Summer Packages
The Summer Adventure Package, available for stays from May 25 - September 6, 2022 features $150 daily resort credit and preferred restaurant reservations. A portion of the proceeds will benefit the Boy's and Girl's Club of Arizona.
Book your stay soon and take advantage of this amazing package.