This caramelized Colombian coconut rice is one of the best dishes from the Caribbean coast of Colombia.
Made with fresh coconut milk, sugar cane (panela) and long grain rice. It is sweet and savory in the best way possible.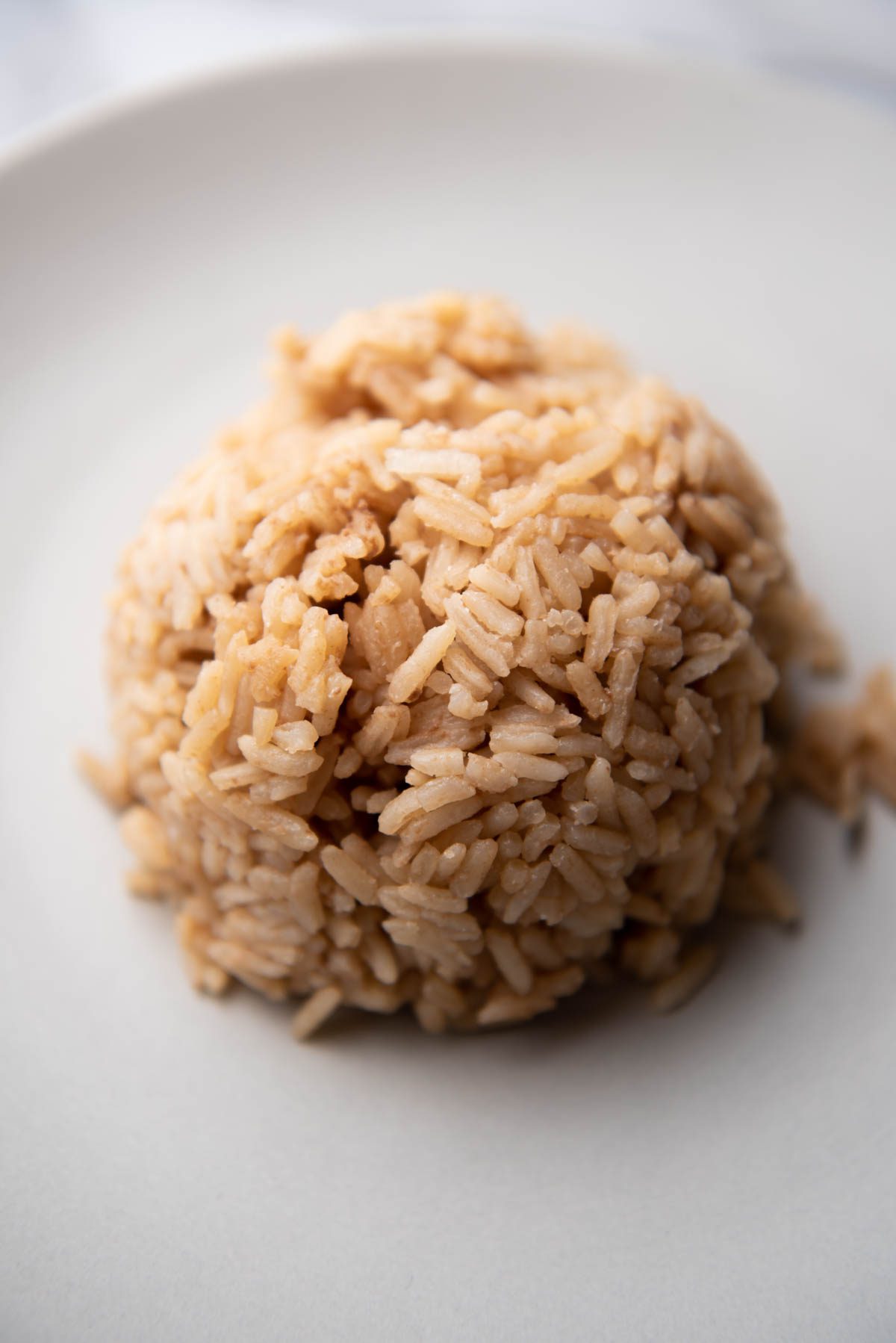 Why you will love this recipe
If you have been to Colombia, you probably had a dish consisting of fried fish, patacones and coconut rice. It's the staple dish of the coast side towns of the country (hello Cartagena!).
This rice is unique to our country and is a mix of sweet and savory notes. It is brown because of the caramelized sugar cane that reduces in the coconut milk.
Here I'll share my best tips and tricks to make this recipe from scratch and enjoy a delicious Colombian dish.
Ingredients
I love using fresh coconut in this recipe. I have not yet test this rice with canned coconut milk but it is on my to-do list.
Coconut: You want to use hard shell coconut (mature coconut). You can buy it at the store and crack it open but it is a lot of work. I prefer to buy packaged fresh coconut pieces, my go to for this is Whole Foods. Make sure you are not using the young coconut pulp, you need the coconut from the brown, hard-shell mature coconut.
Rice: I love using jasmine rice but basmati would also work here.
Sugar cane: This is also know as piloncillo or panela, it comes in a solid cone. If you can't fin it, brown sugar is a good substitute.
salt to taste
Step by step instructions
You will need 16 ounces of fresh coconut chunks. Using a high speed blender and warm water, we are going to extract the milk from the coconut flesh to obtain a rich, thick "milk".
Use a cheese cloth to strain the milk and set aside. I like to use a mason jar to strain the milk because it makes it easier.
This first milk is going to be used to make the caramel that will give the rice the dark color and the sweet flavor.
Reserve the pulp from the first milk extraction and blend again with water to obtain the second milk. This one is going to be used to cook the rice after we make the caramel. You should get about 2 cups of the second milk.
In a non-stick pan place the first milk and the panela (raw sugar cane) and bring to a gentle boil over medium heat.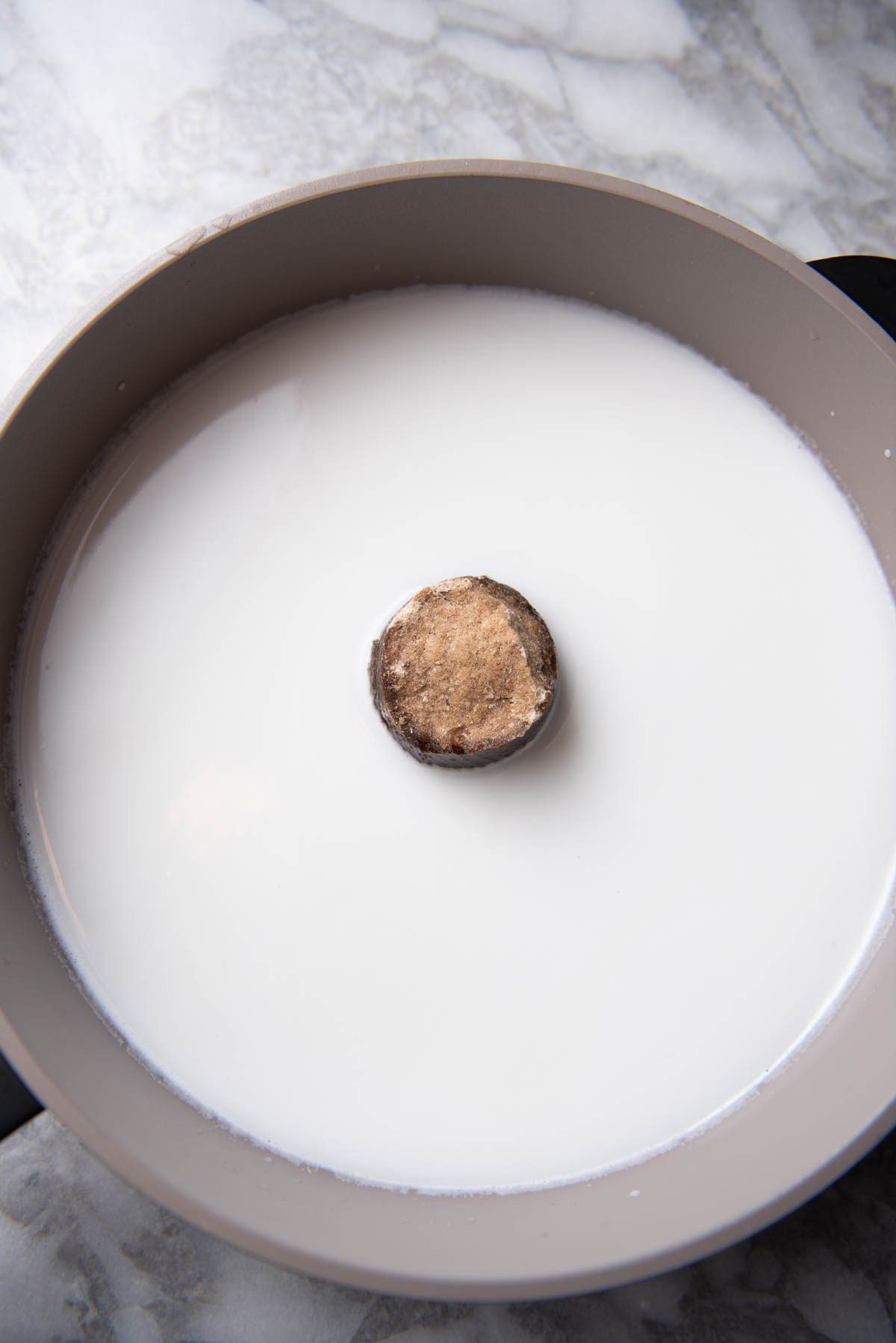 Cook for about 25 to 30 minutes until the panela is melted and the milk is evaporated, leaving you with a rich, dark brown caramel.
You will see some of the coconut oil separated from the caramel and that is perfectly fine.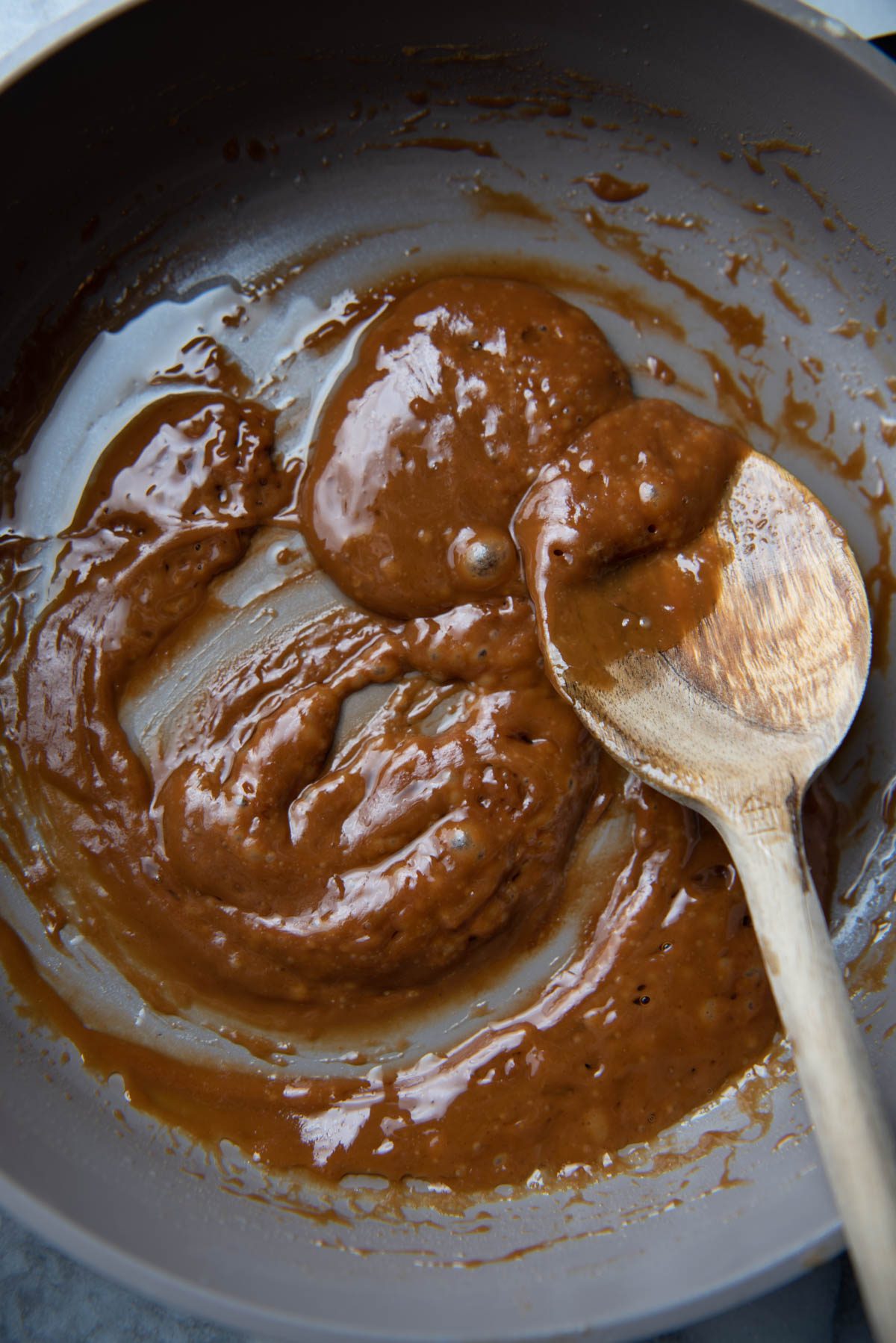 At this point, add the rice and completely coat it with the caramel. Add the salt and second milk and bring to a boil.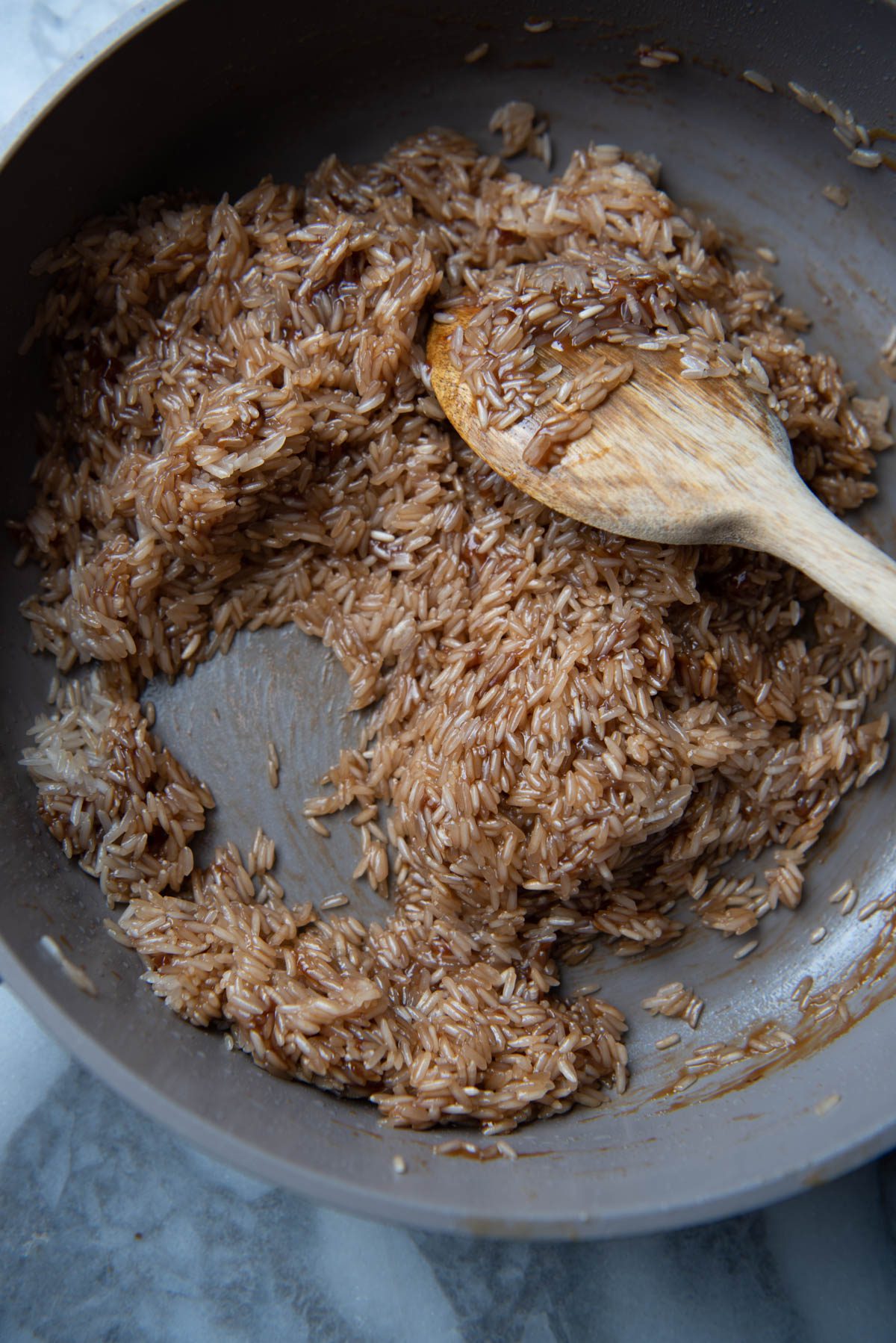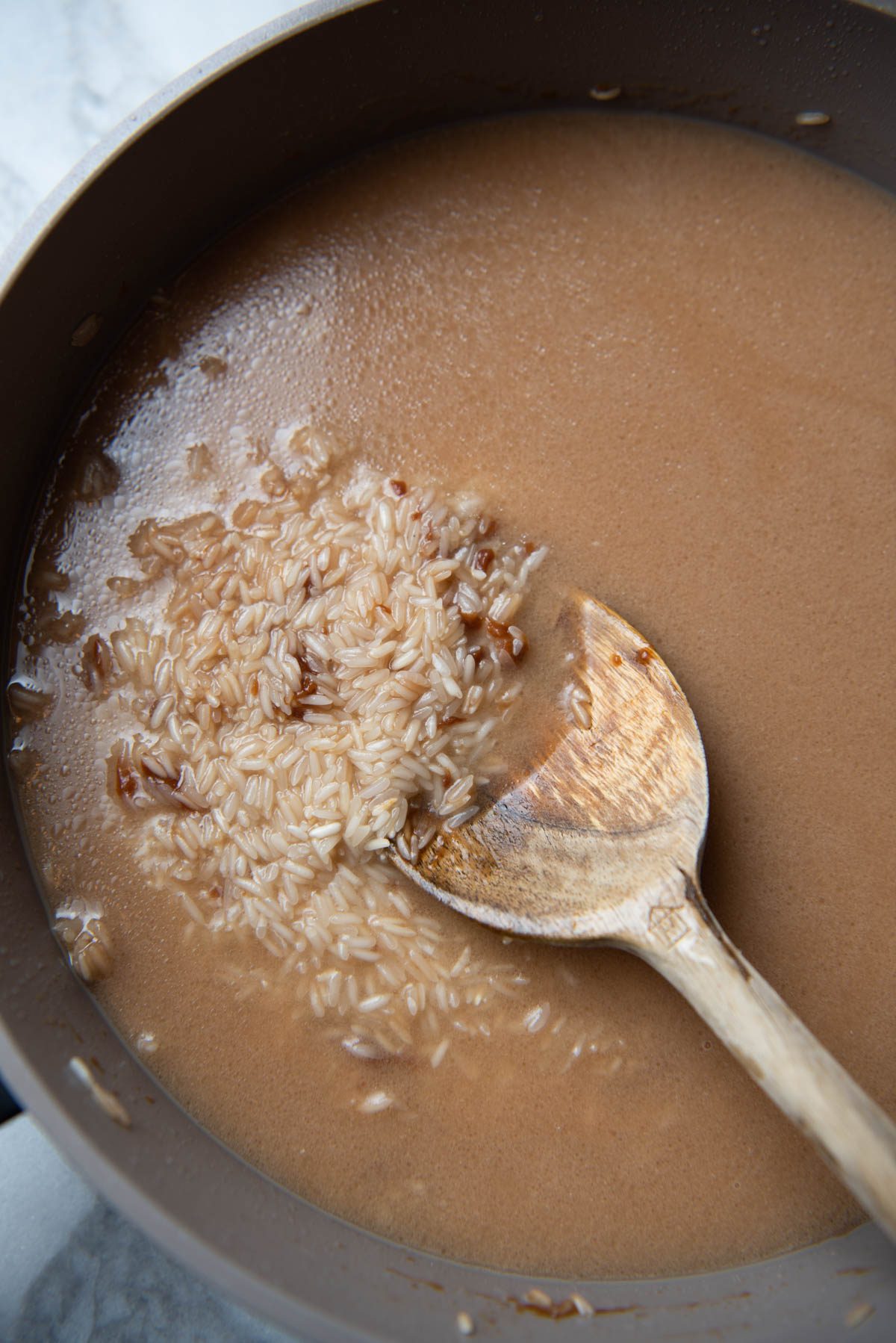 Boil the rice until you start seeing thick bubbles in the center, about 5 minutes.
Cover the rice and lower the heat to a medium-low and cook for about 20 minutes without stirring or removing the lid.
Fluff the rice and serve with your favorite seafood (fried fish highly recommended) and tostones with guacamole and a side salad.
What to serve with Colombian coconut rice
The dishes you will find in the streets of Cartagena or other towns of the Colombian coast are mainly fried fish, tostones and a side salad.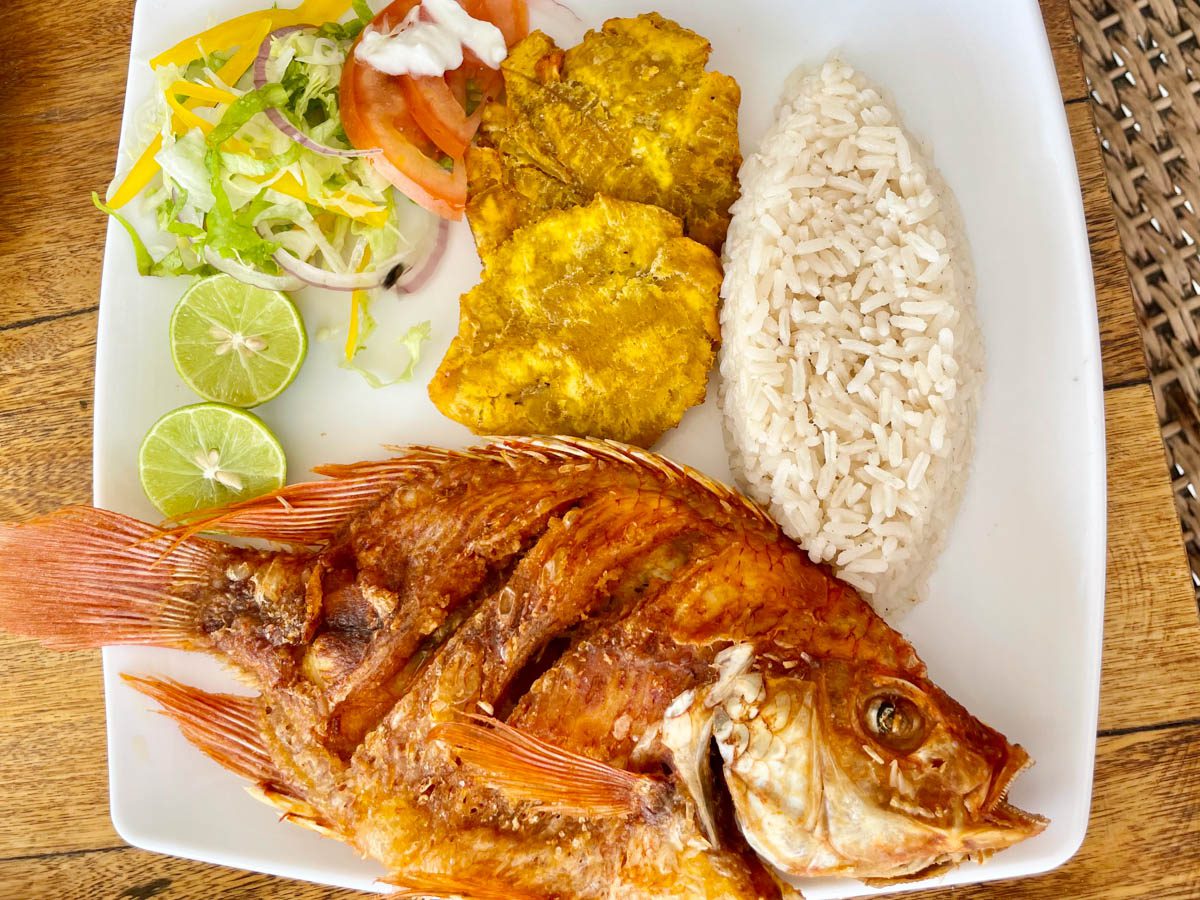 I love to eat this rice with my baked halibut that I make in the air fryer and some simple salad with avocado and cucumbers.
Storage and reheating instructions
This rice keeps well in the fridge in an airtight container for up to 4 days.
Freeze like you would normally freeze other rice; in a freezer safe container for up to 3 months.
To reheat simply place in a bowl and microwave until heated through, 45 to 60 seconds.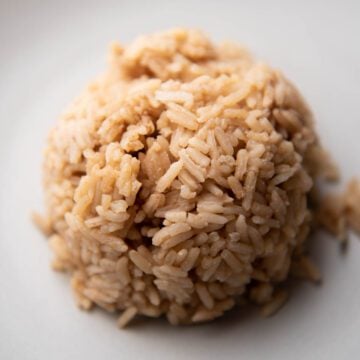 Colombian Coconut Rice
Equipment
1 cheese cloth

1 high speed blender

1 Mason Jar
Ingredients
16

Ounces

Coconut chunks

about 2 cups

4

cups

hot water

divided

2

cups

rice

100

grams

Raw cane sugar

about ⅓ of the sugar cone. Substitute for about ¼ cup brown sugar.

1

teaspoon

salt
Instructions
Place the coconut chunks and 2 cups of hot water in a high speed blender.

Blend for about 3 minutes until you get a rich coconut milk.

Strain the coconut milk using a cheese cloth. Reserve this "first milk" and the pulp.

Return the pulp to the blender and add the other 2 cups of hot water. Blend well and strain with the cheese cloth to get the "second milk".

Add the "first milk" to a heavy bottom pan, add the panela (raw sugar cane) and bring to a boil. Let it reduce for about 25-30 minutes over medium-high heat keeping an eye on it and stirring constantly. You don't want to burn the coconut caramel.

Add the rice to the caramelized coconut milk and coat the rice well.

Add the salt and second milk and stir well. Cook uncovered for 5 minutes over medium-high heat.

Cover the rice and cook for about 15-20 minutes.

Fluff the rice and serve.
Notes
Use fresh or frozen coconut chunks. They are easy to find in a well-stocked supermarket. Make sure is not the young coconut pulp, you need the coconut that comes from a mature, hard-shell, brown coconut.
If you can't find the raw sugar cane (panela) use brown sugar.