These Honey Garlic Lemon Pepper Chicken Thighs are flavorful and easy to make.
This recipe uses the best aromatics you can infuse in chicken; garlic and lemon.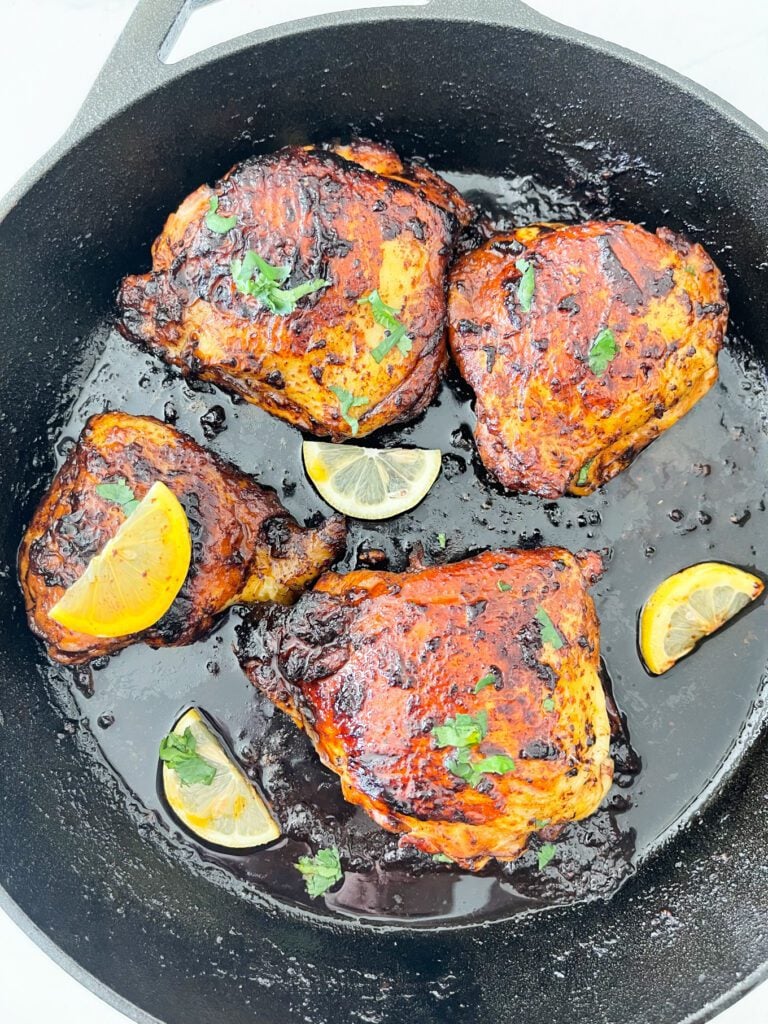 These 2 ingredients yield and incredibly delicious chicken thigh and the addition of honey and pepper compliments the dish perfectly.
For this recipe we need skin-on, bone-in chicken thighs. But feel free to use chicken breast if you'd like or to remove the skin and bone from the thighs.
Ingredients to marinate chicken thighs
In this recipe we use a lot of aromatics to infuse the chicken thighs with flavor.
Garlic: Aromatic and honestly, chicken's best friend. It diminishes the strong poultry flavor/smell.
Lemon: In this recipe we use lemon juice, lemon pepper seasoning and lemon zest for an extra lemony zing.
Honey: Honey allows for a balanced flavor and helps caramelized the chicken for lovely texture and flavor.
Lemon pepper: This seasoning enhances the lemony flavor in this recipe but you can substitute it for additional lemon zest and ground pepper (fresh if possible).
Paprika: Adds color and smokey flavor to the chicken thighs.
Onion powder: to round up the seasoning and add another aromatic layer to the recipe.
How long to cook a chicken thigh
The best answer to this question is to get a meat thermometer and check the internal temperature of your chicken to know that is fully cooked.
How long to cook a chicken thigh is going to depend on a lot of factors, the most important ones are how big your chicken thighs are and what cooking method you are using.
Times and cooking temperatures vary significantly, so a food thermometer is your best bet to get a precise cooking time.
Using a meat thermometer ensures that your chicken is cooked to perfection. The ideal meat temperature for chicken is 165 degrees Fahrenheit.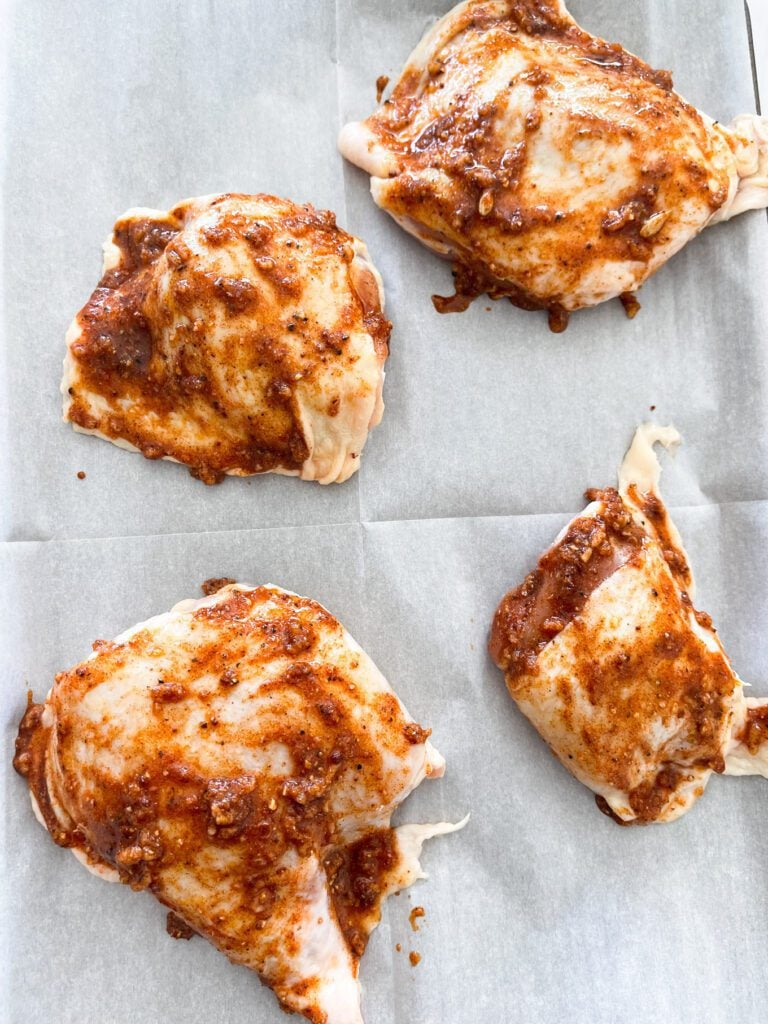 Chicken thighs make a great inexpensive dinner. They are cheaper than chicken breast and way more flavorful.
It is also more difficult to overcook chicken thighs than chicken breast so the end result is a more flavorful dish with less hassle.
This Honey Garlic Lemon Pepper Chicken Thigh yields a crispy chicken skin and juicy and tender meat.
You can pretty much customize this recipe to your liking. I first saw it on royaleats tiktok. You can easily swap or omit ingredients according to your liking.
Difference between chicken thighs and chicken breast
There are some significant differences between chicken thighs and breast. Chicken thighs are considered "dark meat" while chicken breast is "white meat".
The texture of chicken thighs is more dense than the texture of chicken breast, that is why chicken breast is ideal to shred while thighs are better whole or chopped.
Chicken thighs are more moist than chicken breast and they are more flavorful.
Chicken thighs can withstand higher cooking temperatures and are more difficult to over cook or dry out while chicken breast are easily overcooked.
Chicken breast are a leaner cut of meat, therefore considered a healthier choice when fat is a concern.
Chicken thighs are higher in fat and cholesterol so if you are on a low fat diet, use chicken breast instead.
If you like this Honey Garlic Lemon Pepper Chicken Thighs, you may also like this garlic shrimp recipe.
Honey Garlic Lemon Pepper Chicken Thighs
This recipe is easy to make and full of flavor
Ingredients
4

Chicken Thighs

4

Garlic cloves

minced

4

Tablespoons

Honey

1

Lemon

Juice and Zest

½

teaspoon

Smoked paprika

Trader Joe's is my favorite brand

2

teaspoons

Garlic powder

2

teaspoons

Lemon pepper seasoning

or extra lemon zest and freshly ground pepper

1

teaspoon

Onion powder

½

cup

chicken broth

Salt to taste
Instructions
In a bowl mix all the minced garlic, honey, lemon juice, lemon zest, paprika, onion powder, garlic powder, salt and lemon pepper seasoning

4 Garlic cloves,

4 Tablespoons Honey,

1 Lemon,

½ teaspoon Smoked paprika,

2 teaspoons Garlic powder,

2 teaspoons Lemon pepper seasoning,

1 teaspoon Onion powder,

Salt to taste

Mix well into a uniform paste

Rub the chicken thighs with the paste, making sure to get under the skin of the chicken

Marinate for at least 20 minutes and up to 2 hours

Heat a cast iron skillet on medium high heat and place the chicken thighs skin side down. Brown for 1 to 2 minutes on high and flip them

Use the chicken broth as needed to deglaze the skillet

Reduce the heat to medium low and cook the chicken thighs until internal temperature reaches 165 farenheit

Serve with mashed potatoes, rice or a salad.
Nutrition
Calories:
335
kcal
Carbohydrates:
23
g
Protein:
19
g
Fat:
19
g
Saturated Fat:
5
g
Polyunsaturated Fat:
4
g
Monounsaturated Fat:
8
g
Trans Fat:
1
g
Cholesterol:
111
mg
Sodium:
198
mg
Potassium:
357
mg
Fiber:
1
g
Sugar:
18
g
Vitamin A:
224
IU
Vitamin C:
18
mg
Calcium:
33
mg
Iron:
1
mg