This TikTok Taco recipe is a must try in the list of viral recipes. They are flavorful, cheesy and crunchy in the best way possible.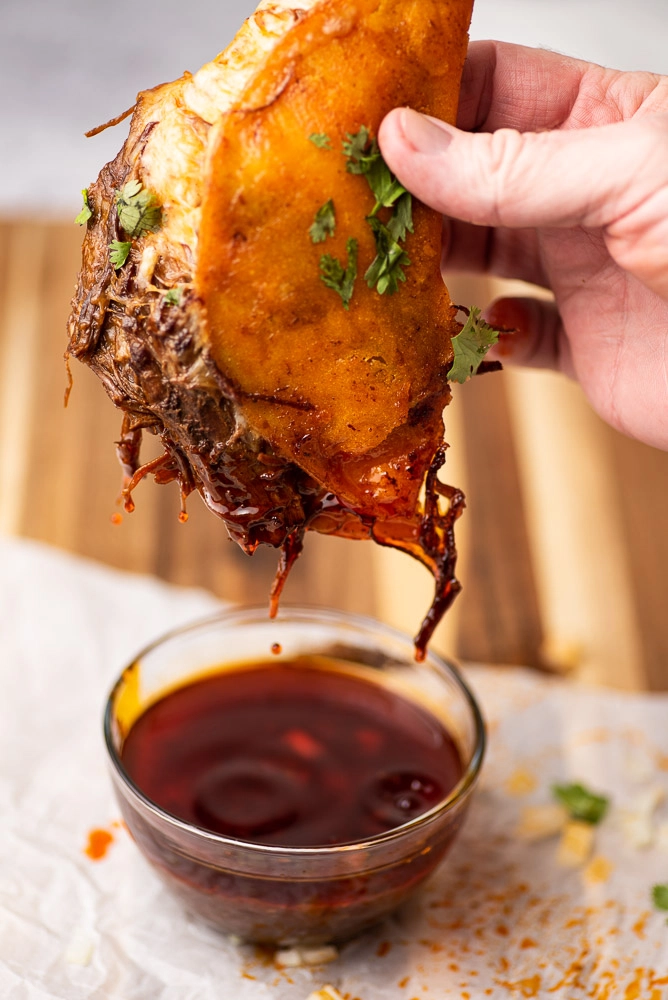 What are TikTok Tacos?
The viral TikTok tacos are also known as Tacos de Birria or Quesabirrias. The internet went wild with this recipe and there are many dishes that feature Birria, including Ramen.
Birria is a meat stew cooked in savory chile broth, the texture is similar to barbacoa but the spices are different. Birria uses Guajillo and Ancho chilies which are mild with more of a warm, flavorful heat.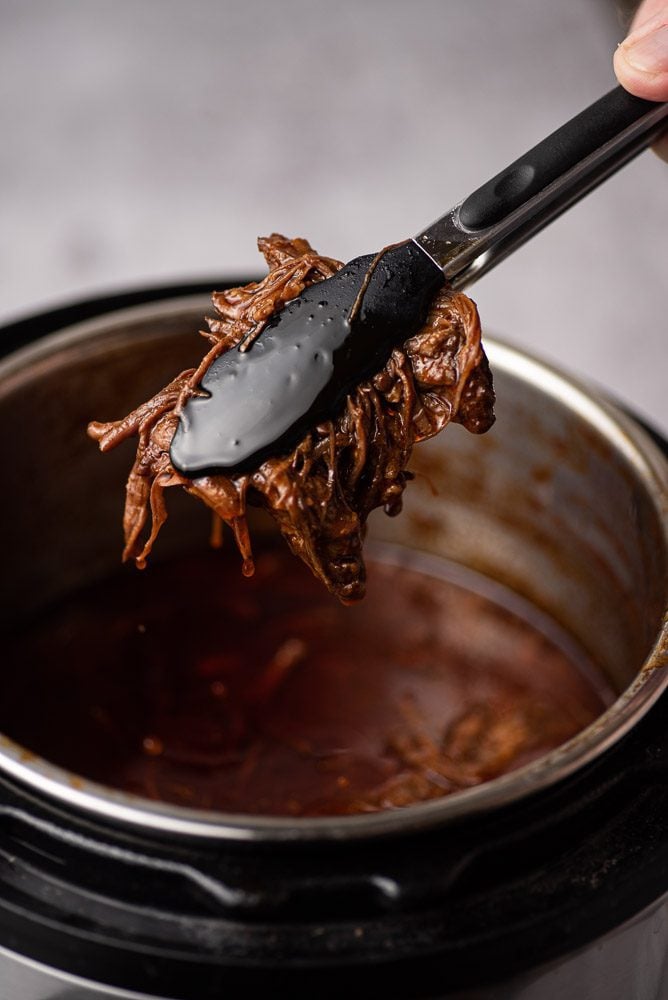 Ingredients
You can make this recipe from scratch cooking the birria for 2-3 hours, or using a shortcut such the Instant Pot. I have a recipe for Easy Birria Recipe.
Trader Joe's recently launched their own version of Birria and it is a great shortcut to this recipe. The TJ's Birria is great for someone who has never tried this dish before they invest the time cooking their own.
TJ's new Birria is in the freezer section and the portion easily yields about 5-6 tacos.
Trader Joe's Birria: an amazing shortcut to this recipe. If you want a leaner cut of meat, make your own Birria with one of the recipes I linked above. Be aware that Birria is a fatty cut of meat, usually chuck roast, so expect some fatty bites.
Mozzarella cheese: Or any cheese that is melty. If you can buy Oaxaca or Asadero cheese, these are excellent to make these tacos.
Corn Tortillas: I like to use the Trader Joe's corn tortillas because they have simple ingredients and taste great. You can also use flour but corn is usually the first choice for these tacos.
Cilantro and Onion: these are garnishes but highly recommended to add brightness to the dish.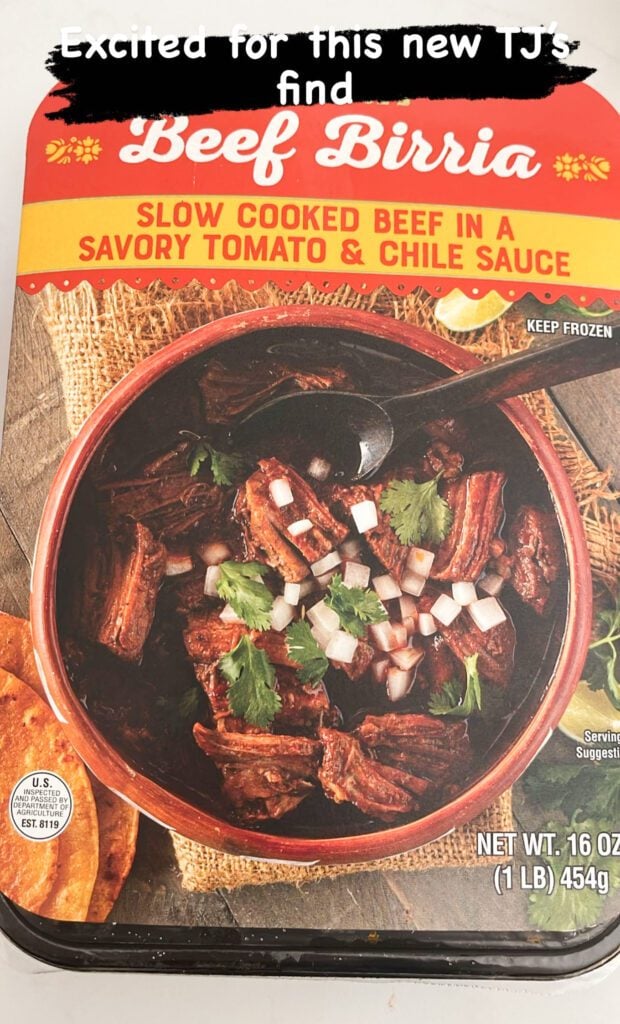 How to make this recipe
If you are using the Trader Joe's beef birria, it will come frozen. There are instructions in the packaging about how to cook it.
One method is microwaving but I personally steer clear from it because it tends to make meats though or dry.
The other way suggested includes defrosting in the fridge overnight, so you will need to plan ahead.
If you have a large enough pot or skillet, you can reheat the Birria until the sauce defrosts and the broth and meat are warmed up.
The next step is to dunk your corn tortillas in the meat broth on both sides, making sure to coat the full tortilla.
Place the tortilla is non-stick skillet, add the cheese and about 2 spoonfuls of meat on one side. Fold the tortilla in half and let it cook for about 2 minutes until the cheese melts and tortilla crisps up.
Flip the tortilla and cook on the other side for 1-2 minutes. Serve with chopped cilantro and white onion and a side of the broth to dunk the tacos in.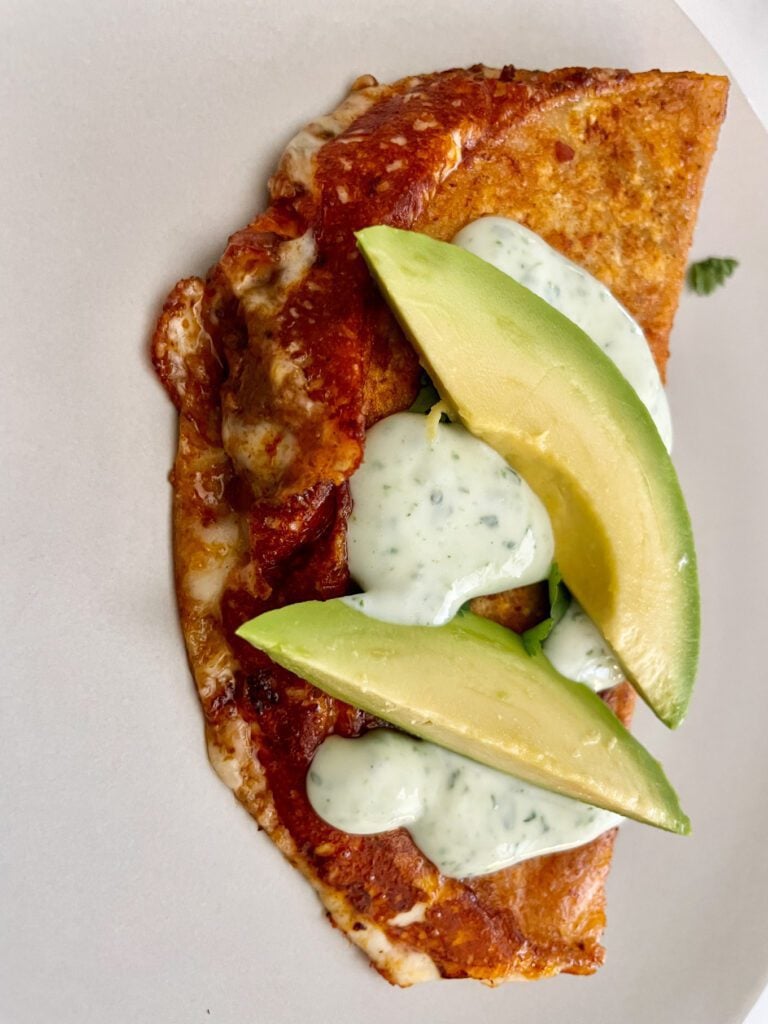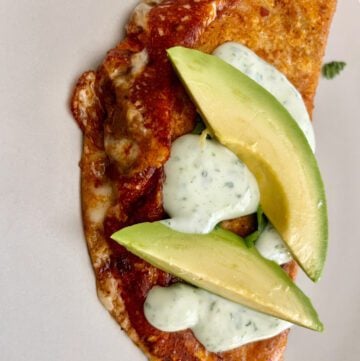 TikTok Taco Recipe
Ingredients
6

Corn Tortillas

Trader Joe's Yellow Corn Tortillas

1

Trader Joe's Beef Birria

2

Cups

Mozzarella Cheese

Shredded

⅓

cup

Chopped Cilantro

Optional

⅓

cup

Chopped white Onion.

Optional
Instructions
Re heat the birria according to package instructions. Remove the beef with a slotted spoon and reserve the juices from the meat

Dunk the corn tortillas in the meat juice and coat both sides evenly

In a skillet over medium heat, add the tortilla and add 2 spoonfuls of cheese and 2 spoonfuls of meat to one side.

Fold the tortilla in half and cook for about 2 minutes until the cheese starts melting.

Flip the taco and cook on the other side for another minute or two. Serve tacos with chopped onion and cilantro on top and a side of the meat juices for dipping