This Garlic Guajillo Steak is a succulent flank steak cut smothered in a smokey guajillo pepper sauce and cooked to perfection.
This recipe comes together easily, the marinade requires few, wholesome ingredients and it's whipped in just a few minutes.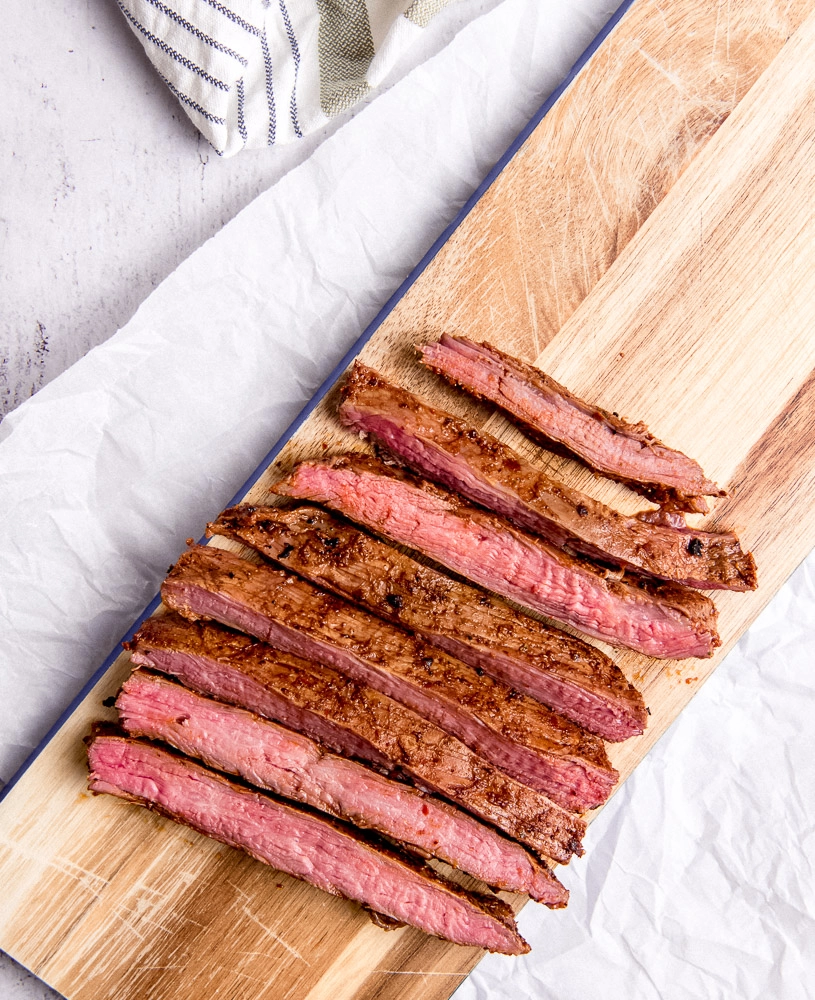 How to make the Garlic Guajillo Marinade
In this recipe the secret is in the sauce. The marinade makes the steak tender and flavorful at the same time.
Guajillo chiles are dried mirasol peppers. They are milder than jalapenos with a fruity, smokey flavor. Guajillos a common ingredient in Mexican cuisine.
The garlic complements the guajillo chiles and the lemon and cilantro finish the flavor profile.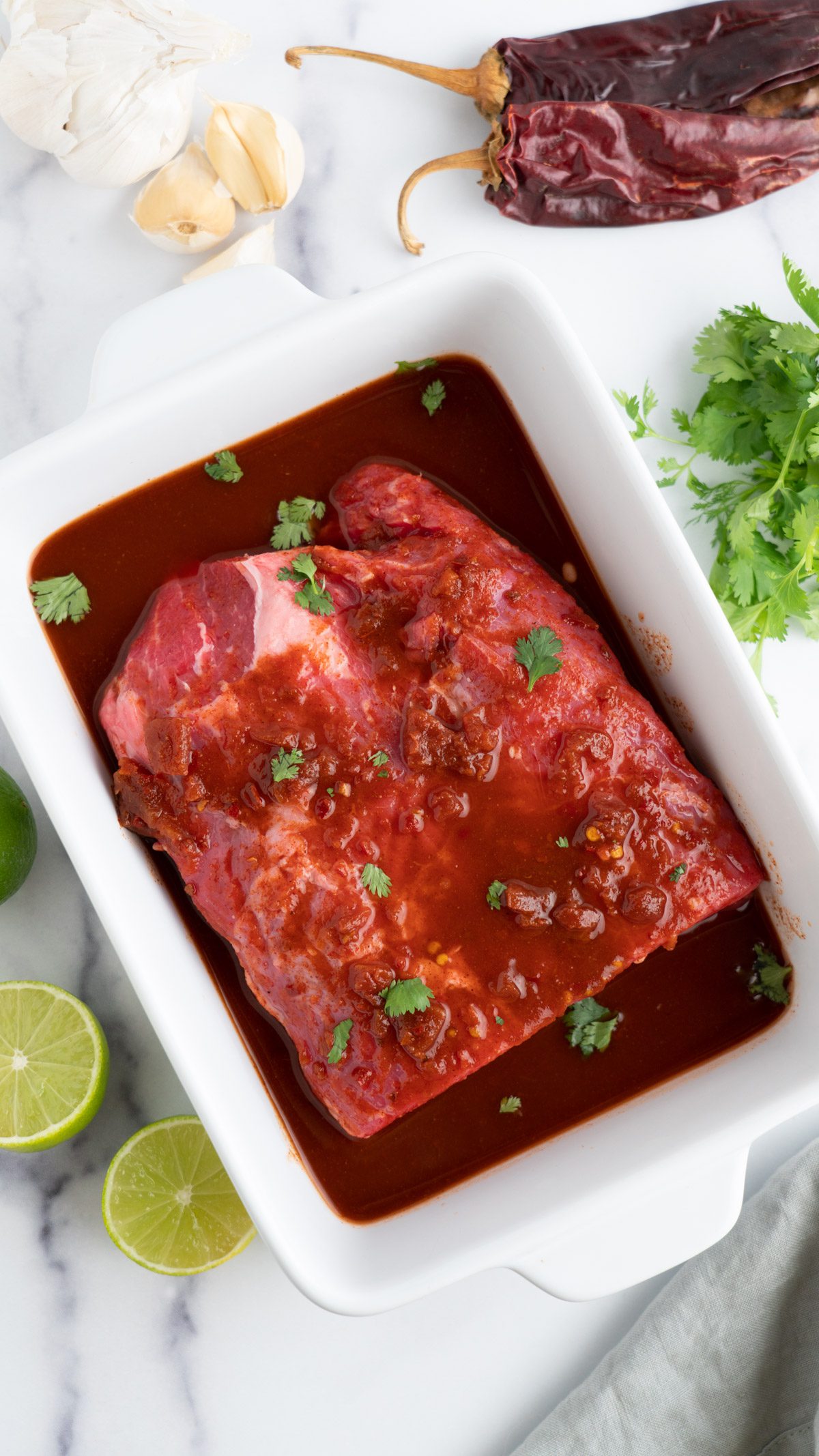 Recipe Ingredients
Guajillo chiles: These dried chiles are the base of our marinade, they need to be rehydrated in order to blend them and create our sauce.
Garlic: One of my favorite ingredients to cook with, fresh garlic is best in this recipe and I like to mince my own.
Limes: These brighten the marinade and help tenderize the meat.
Cilantro: A staple ingredient in Mexican cuisine, I love to finish my dishes with this herb. If you don't like cilantro you can leave it out and swap it out for scallions.
Flank Steak: This is the cut steak I like the most because is not too tender but not super though. The marinade tenderizes the meat and infuses it with flavor. I like to buy angus flank steak.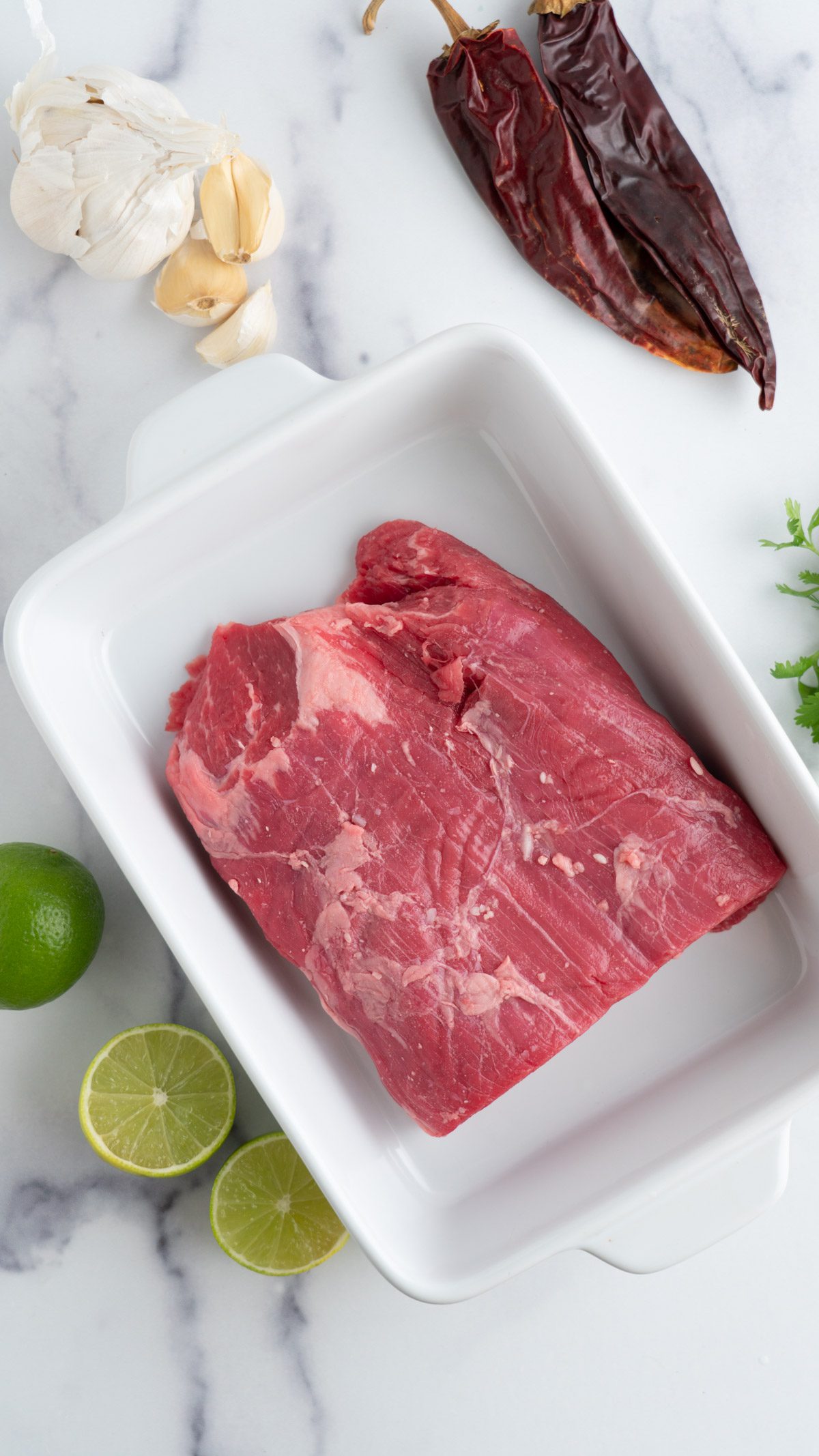 Step by step instructions
Make the Guajillo Paste
Hydrate the chiles in hot water. Place them in sauce pan and cover them in water and boil over high heat, then simmer for 30 minutes.
Let the chilies cool slighty before removing the seeds and stem. Reserve a cup of the cooking liquid.
Blend the guajillos with the cooking liquid and reserve.
Make the Marinade
Combine 1 cup of guajillo paste, garlic, lime juice and cilantro and blend until well combined.
Marinate the steak
Add the marinade to a bowl or baking dish big enough to place the steak in. Set aside in the fridge for at least two hours and up to twelve.
Grill the steak
Cook the steak to your preferred temperature. I like to cook it for 4-6 minutes on each side for a medium-rare temperature.
For an accurate temperature reading use a meat thermometer.
How to serve the steak
This steak is great for street tacos, salad or grain bowls or on its own with your favorite side dish.
If making a bowl like a Chipotle-style bowl, serve with pickled onions, rice and guacamole.
For street tacos I love to use homemade flour tortillas and serve with queso fresco and avocado.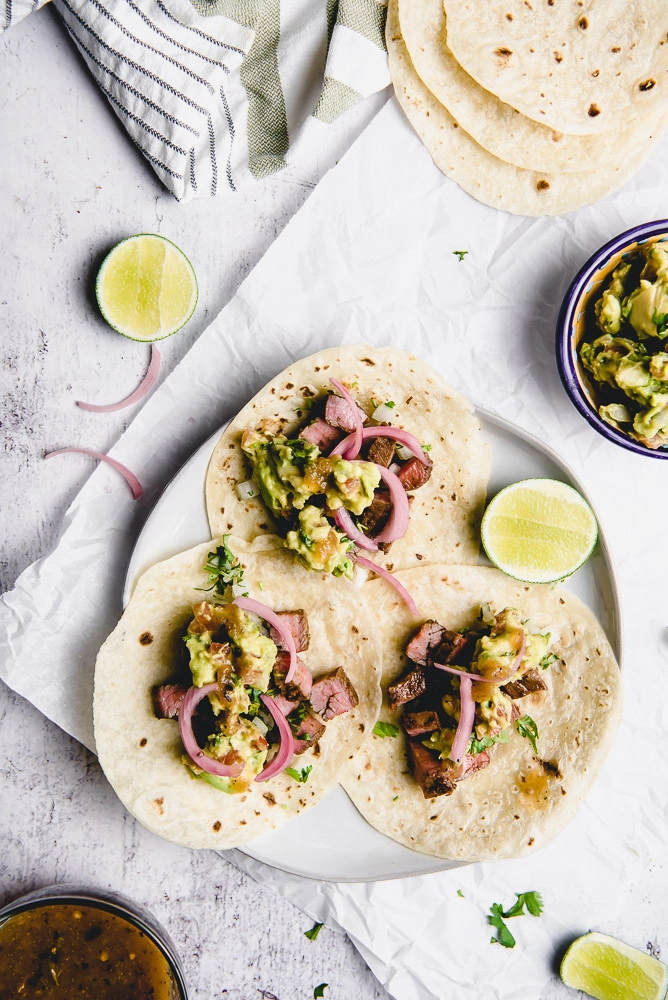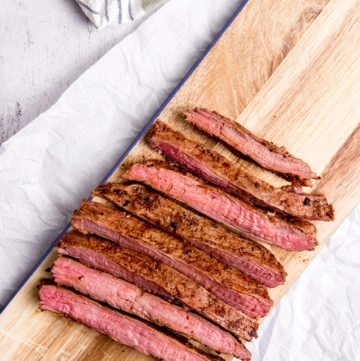 Garlic Guajillo Steak
This Garlic Guajillo Steak is a succulent flank steak cut smothered in a smokey guajillo pepper sauce and cooked to perfection.
Ingredients
6

Guajillo chiles

6

Garlic cloves

2

Tablespoons

Lime Juice

1

Tablespoon

Cilantro

chopped

1

LB

Flank Steak

Thicker cut

Salt and pepper to taste
Instructions
Remove the seeds and stems from the guajillo chiles.

Make the guajillo paste by boiling the guajillo chiles in a sauce pan.

Reduce the heat to medium-low and simmer for 30 minutes. Set aside and cool them down. Set aside a cup of the cooking liquid.

In a blender, mix the guajillo chiles and the cooking liquid.

Add the garlic cloves, lime juice and cilantro and blend again.

6 Garlic cloves,

2 Tablespoons Lime Juice,

1 Tablespoon Cilantro

Add the steak to a bowl or baking dish and cover with the marinate. Set aside in the fridge for 2 hours.

Preheat the grill to high heat and grill the steak 4-6 minutes on each side for medium well or using a food thermometer until your desired doneness.

Serve with rice, pickled onions and avocado